'Enough, enough, enough': Scott Morrison says he will cut Australia's migration intake
'Enough, enough, enough': Scott Morrison says he will cut Australia's migration intake, 
THEAGE.COM.AU
.
Prime Minister Scott Morrison will cut the number of migrants coming to Australia, declaring the "roads are clogged" and buses, trains and schools in Sydney and Melbourne "are full".
In a dramatic shift in rhetoric as cabinet plots a new population policy, the Prime Minister predicted the impending changes would lower the annual immigration target from its cap of 190,000.
.
WHAT REALLY SCARES US ABOUT IMMIGRATION
The Prime Minister now says he might cut permanent immigration to Australia. He says the roads and trains are too crowded.
True, but I suspect most Australians are privately worried more about things like today's news: three Turkish Australians arrested on terrorism charges, new statistics on the incredible crime rate of African Australians and riot police overnight battling Africans in St Kilda.
Who let them in?
Australia arrests three (Mohammedans) on terrorism charges in Melbourne
SYDNEY (Reuters) – Police said on Tuesday they had arrested three men who were allegedly preparing to attack the public in Melbourne, less than two weeks after a man killed one person in Australia's second-largest city in what police said was an act of terrorism.
African Crime Overwhelming in Labor seats
African crime in Victoria is overwhelmingly a problem in Labor seats, with the major hotspots overlapping key sand-belt marginals as well as many electorates considered rock solid for the Andrews government. (Continued below)
Australian federal and state police, the Australian Security Intelligence Organisation, and other agencies that form part of the Joint Counter Terrorism Team carried out the arrests on Tuesday morning.
Police said three men, aged 30, 26 and 21, were taken into custody after they allegedly sought to acquire a semi-automatic gun to carry out an attack. All were Australian citizens and their passports had been canceled earlier this year.
"We now have sufficient evidence to act in relation to preventing a terrorist attack," Graham Ashton, Chief Commissioner of Victoria Police, told reporters.
Police said the suspects had yet to decide on the site of their planned attack but they believed the act was imminent.
"They were certainly looking at a place of mass gathering, where there would be crowds," Ashton said. "They were trying to focus on trying to have a place where they could kill as many people as possible."
Police said they believed the arrests had nullified any threat from the group.
Australia, a staunch U.S. ally that sent troops to Afghanistan and Iraq, has been on heightened alert since 2014 for attacks by home-grown militants returning from fighting in the Middle East or their supporters.
Police said the three men were known to authorities and their passports were canceled because of concerns they would travel to a conflict zone overseas.
The arrests come less than two weeks after a man set fire to a pickup truck laden with gas cylinders in the center of Melbourne and stabbed three people, killing one, before he was shot by police.
As in the case of that attack, police said on Tuesday the three men had been inspired by Islamic State rather than being directed by the militant group.
African Crime, continued:
Analysis by The Australian shows 19 mostly Melbourne local government areas with a significant history of crime by offenders born in Sudan and other Horn of Africa countries over the past 10 years. Those areas overlay 31 Labor electorates, including the four vulnerable bayside seats of Frankston (held on a margin of 0.5 per cent), Carrum (0.7), Bentleigh (0.8) and Mordialloc (2.1).
Premier Daniel Andrews' district of Mulgrave overlaps with the number two African crime hotspot of Greater Dandenong, while Bill Shorten's federal seat of Maribyrnong lines up with the council area of the same name that is ranked number one for African-born crime.
****
Muslims outraged as fearless TV host says Islam causes terrorism, not mental illness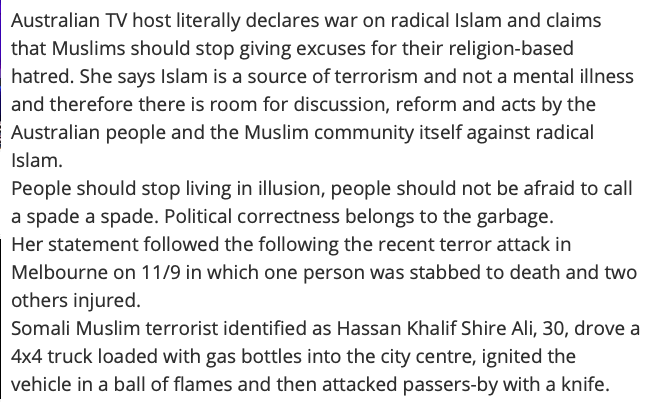 Liberals and leftists in the West use the made up term "Islamophobia" to portray anyone who criticizes Islam as a racist.
Terrorists all over the world carry out terror attacks "in the name of Allah".
They justify their violence by quoting verses from the Quran.
Islamophobia is a made up word created specifically to silence debate.
Liberals and leftists ignore the fact that it is an ideology that has nothing to do with race.
Islamophobia is a neologism created to silence any possible debate about the problems Islamic extremism has got with modernity, with the intention of using the collective post-colonial "guilt" to exempt a particular set of beliefs from scrutiny, analysis and criticism.
It's a buzzword used in an attempt to silence anyone, whenever had legit questions or criticisms about the religion.
It is not a race. It's a religion.
There is an attempt in the West to impose a sharia-blasphemy law to criminalize criticism of Islam.
It started when Saudi Arabia and Muslim countries tried to pass a UN resolution to force Western states to criminalize criticism of Islam.
The Parliament in Canada passed "Motion-103" to condemn the so-called "Islamophobia (Fear of Islam)" in a preparation for a blasphemy law in Canada.
If you think Sharia blasphemy law has no place in the West, share this post!
****
This graphic of crime by African-born criminals – crime that is often high-impact on the victims – show just how unfair our refugee program has been on Australians.
How reckless of our politicians to let in people from Third World war zones who'd clearly struggle to fit in, and have crime rates here so astonishingly high:
The analysis focuses on countries from the war-torn Horn of Africa: Sudan, South Sudan, Somalia, Ethiopia, Eritrea.
And the lived reality could be even worse:
The data does not include Australian-born offenders from Horn of Africa families.
Yet politicians still waffled about needing "non-discriminatory" immigration policies.
And the police chief still misleads:
Victoria Police Chief Commissioner Graham Ashton has said the African crime problem involves a small number "(who are) mostly people born here". Some African parents say their children born locally have to be viewed as products of the Australian experience, not the horrors of the home country.
If these crime rates were merely the result of "the Australian experience", why do we not see the same problems among the children of Chinese immigrants? Indian?
Ashton and his political masters wilfully refuse to acknowledge the influence of culture – not least the culture brought with the immigrants.
I say "wilfully" because the Left otherwise celebrate the cultures brought over by immigrants and maintained, often with multicultural grants.