They always say that. Mohammedans would never lie to you, right?
Hamas fires rockets into Israel, threatens more if bombing continues
In other news:
You bet they are.
Terror Rockets from Gaza Continue Despite 'Ceasefire' Reports
TEL AVIV – Despite reports of a ceasefire, projectiles continued being launched at Israel from the Hamas-run Gaza Strip on Tuesday afternoon. 
According to Palestinian media, Egypt requested Hamas and other Gaza-based terror groups stop the hostilities at 3:30 p.m. However, a fresh barrage of rockets was launched shortly thereafter, with a direct hit on a home in Hof Ashkelon that caused extensive damage to the house but no injuries.
Also on Tuesday afternoon, the security cabinet ended a seven-hour meeting with no announcement on a ceasefire pending. Defense officials instructed the military to continue its operations in Gaza "as necessary," according to a statement.
A senior Hamas official commented on rumors of a ceasefire between Israel and Hamas.
"Nothing new has been achieved in mediation efforts for a ceasefire," Ismail Radwan said.
"It is Israel that started the aggression and restoring calm depends on stopping the aggression on our people," Radwan added. "If Israel stops the aggression on Gaza, the resistance will stop its activity. All mediators must restrain Israel."
Seven Palestinians have been killed by Israeli operations in Gaza, according to the Hamas-run Gaza Health Ministry. Israel has seen 39 injuries and one person killed by direct rocket fire.
Hamas fights Israel by using Pal "civilians" as human shields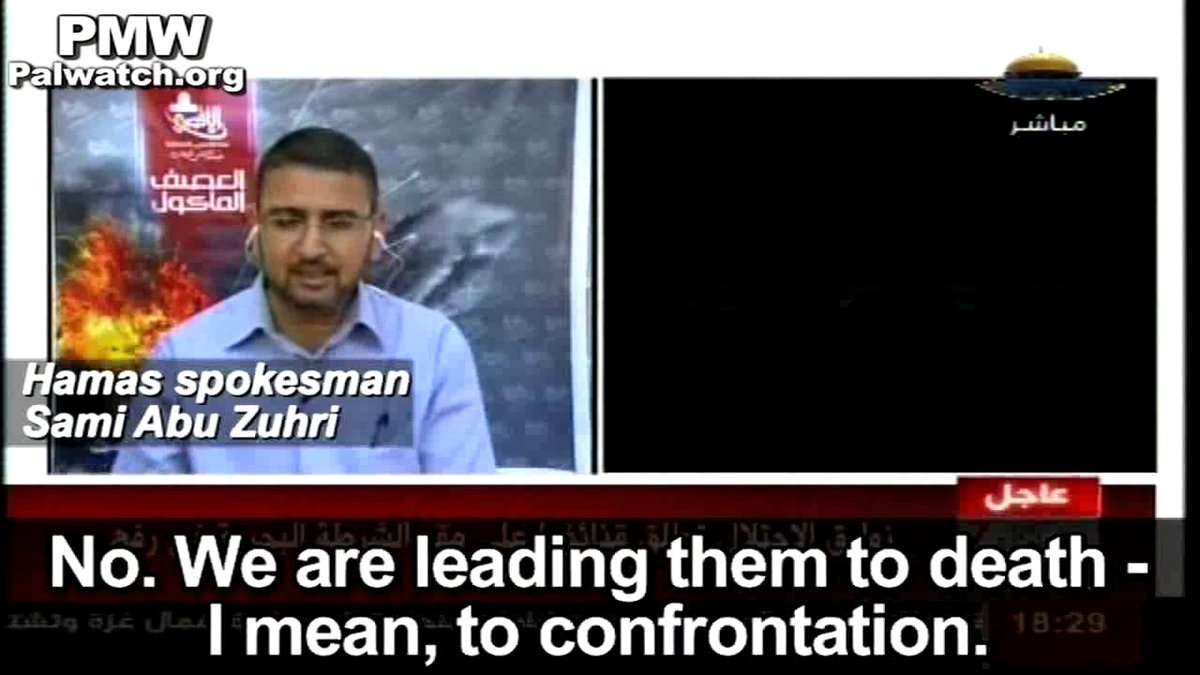 In the 2014 war, Hamas openly and intentionally demanded that civilians ignore Israel's warnings prior to bombings of terrorists hiding among civilians. Hamas insisted they welcome death, so that Hamas could use them as human shields for their fighters and rocket launchers.
Hamas' spokesman at the time, Sami Abu Zuhri, called on Palestinians to "oppose the Israeli fighter planes with their bodies alone" which he said had "proven an effective method" against "the occupation:" 
Hamas fires rockets into Israel
JERUSALEM — Gaza militants fired dozens of rockets at southern Israel early Tuesday, killing a man in a strike on a residential building, and warning they would escalate their attacks if Israel continues bombing targets in the Gaza Strip.
The cross-border attacks, which were triggered by a botched Israeli undercover raid into Hamas-ruled Gaza over the weekend, marked the most serious escalation since an Israel-Hamas war in 2014.
International mediators appealed for restraint, hoping to avert another war.
The Israeli military said some 400 rockets and mortars have been launched from Gaza since the current round began Monday afternoon, with about 100 of them intercepted by Israel's Iron Dome defense system.
Israel has hit more than 100 targets it says are linked to militants in Gaza, including a strike that destroyed the TV station of Hamas, the Islamic militant group that rules Gaza. Palestinian officials say at least three people, including two militants, have been killed. In Israel, at least 20 people have been wounded, several seriously.
The armed wing of Hamas threatened to step up its attacks and fire rockets farther north toward the Israeli cities of Ashdod and Beersheba if Israel continued its airstrikes.
The spokesman for the Hamas military wing, identified only as Abu Obeida, said the deadly attack on the coastal city of Ashkelon showed the city "has entered the range of fire as a response to the bombing of buildings in Gaza." He said Ashdod and Beersheba "are the next targets if the enemy continues bombing civilian buildings."
School has been canceled in large parts of southern Israel and local elections postponed because of the threat of further attacks.
Over the past few months, the sides have come close to a major escalation several times, only to step back in favor of giving a chance to a long-term Egyptian-mediated truce.
However, the current level of escalation and angry rhetoric, including Hamas' warnings about striking deeper inside Israel, might make it more difficult to restore calm.
In Jerusalem, the Israeli security cabinet began meeting to discuss the next steps, as the United Nations appealed for calm.
The deadly rocket strike came before dawn in Ashkelon. The Magen David Adom medical service said a man in his 40s was found dead under the rubble of a building there.
He was the first casualty in Israel from the current wave. The man was later identified as a resident of Hebron, the West Bank's largest Palestinian city.
The eruption of fighting cast doubt over recent understandings brokered by Egypt and UN officials to reduce tensions. Earlier this week, Israeli Prime Minister Benjamin Netanyahu had defended those understandings, saying he was doing everything possible to avoid another war. But he will now be under intense pressure to retaliate given Hamas' unrelenting rocket barrages.
The rocket fire was triggered by a botched Israeli military raid in Gaza on Sunday. Undercover troops, apparently on a reconnaissance mission, were discovered inside Gaza, setting off a battle that left seven militants, including a Hamas commander, and a senior Israeli military officer dead. Hamas then fired a guided missile that struck a bus from which soldiers had just disembarked, marking an upgrade over its typical inaccurate projectiles.
The strike set the bus on fire, sending a large plume of black smoke over the area. A 19-year-old soldier was critically wounded and rocket attacks and Israeli retaliation fire quickly ensued.