Links to GoV
Today:
'Australia, Don't Think You Are Away From Our Attacks': ISIS Releases New Propaganda With Images of the Bourke Street Terrorist Trying to Stab a Police Officer
Angela Merkel warned the UK that Brussels' proposed deal was final, and there would be no further bargaining on Brexit.
UK: 'The Worst Deal in History': Brexiteers Respond to Theresa May's 'Slave State' Agreement With Europe
'We Fought for This for Many Years': Brussels Eurocrats 'Delighted' at Merkel Support for EU Army 
EU Council Prez: 'Brownshirt' Populists a 'Fundamental Threat' to Europe 
Needless to mention that "populists" are  THE PEOPLE. They are not "Brownshirts", but patriots who's birthright has been sold by EUrocrats  like  the despicable Donald Tusk.
Estonia is the Fifth EU Nation Leaving the UN Migration Pact — Prime Minister
After Hungary, Austria, the Czech Republic and Bulgaria, Estonia has also left the UN migration pact.
Sweden: Reduced Migration is Illegal — Court Opens for Even More Generous Family Migration
Collective suicide per express:
Restrictions on family reunification in the temporary asylum law violate the European Convention on Human Rights.
Reports of Örebro-based al-Salam School receiving money from the Saudi royal family have triggered concerns about state-sponsored Islamic indoctrination in Sweden. Meanwhile, the foundation running the school brushed the concerns aside as "excessive", stressing that it distances itself from "all forms of extremism and terrorism."
Australia 'unlikely' to move Israel embassy after talks with Indonesia
Indonesian ministers have been informed by the Australian government that the likelihood of a divisive new policy on Israel going ahead is "less than 5 per cent."
In a bid to seal a $16.5 billion free trade agreement, Indonesian Trade Minister Enggartiasto Lukita has been told there is little chance that Australia will move its Israeli embassy from Tel Aviv to Jerusalem, following Prime Minister Scott Morrison's consideration to mirror Donald Trump's decision to move the US embassy earlier this year.
The idea prompted outrage from Muslim countries.
Medics failed us and had to go, says Nauru
 Leftarded Medecins Sans Frontieres not interested in treating locals, only Mohammedan 'refugees'
Paige Taylor The Australian November 17, 2018
Nauru has offered an explanation for why it sensationally kicked out international humanitarian organisation Medecins Sans Frontieres, accusing the respected charity of not doing enough to help Nauruan citizens while focusing on getting refugees on planes to Australia.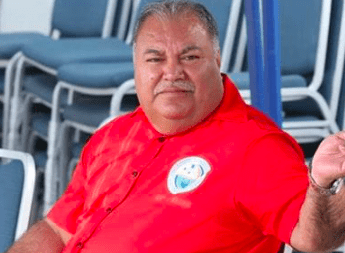 MSF strongly rejects Nauru President Baron Waqa's claims about what happened during the 11 months the organisation was contracted to provide psychological and psychiatric services on Nauru.
"They were going to take care of our local people," Mr Waqa said. "We have some mental cases. You will see them on the side of the road. They haven't helped them at all. They are still with us. None of them have been (flown) to Australia."
Mr Waqa, who said he received regular updates on the island's refugees from Australian Border Force, told The Weekend Australian there were "some genuine cases" among the refugees flown by plane from Nauru to Australia for psychiatric treatment.
"Some of the refugees felt that they had missed out because (if) they are not crazy they will not go to Australia," he said.
"But there are genuine cases, right. I know that … there are some really sick people there too."
MSF called for the immediate evacuation of all refugees and asylum-seekers from Nauru on October 11 after the island government abruptly ended its contract.
In a press conference that followed, the group highlighted the hopelessness and despair among refugees and asylum-seekers living with uncertainty on Nauru, as well as the plight of Nauruan citizens living with "severe chronic conditions".
"Medecins Sans Frontieres treated a significant number of Nauruan patients, many of whom showed significant improvement under MSF care," it told The Weekend Australian in response to Mr Waqa's claims.
"This data was presented in person by MSF management to the President and his cabinet as recently as June this year. MSF did request a transfer for at least one Nauruan patient, which Nauruan authorities failed to act on."
Mr Waqa this week declined to reveal the dollar value of his nation's deal with Australia, but he acknowledged the arrival of 1000 asylum-seekers on Nauru in 2012 and 2013 had brought significant economic benefits.
There are now about 500 people on Nauru who arrived by boat in Australian waters and were sent to the Pacific island for processing. About 450 have been recognised as refugees and 50 remain asylum-seekers.
The small republic is open for regional processing business from other countries, Mr Waqa said.
During four days on Nauru this week, The Weekend Australian heard varied accounts of life on the island from government officials, service providers, refugees, asylum-seekers and Nauruan families among the permanent population of 10,000.
In an interview in his presidential office, Mr Waqa said the depiction of Nauru as a prison island and a hell hole was wrong and hurtful. He sought to contradict what he believed were misunderstandings about conditions for refugees, stressing they moved freely throughout the island, ran businesses and worked in government departments and the local hospital. One Pakistani refugee, who has since settled in the US, went to Fiji on a holiday to celebrate his 21st birthday using a special passport issued by Nauru.
Mr Waqa said life on Nauru was relaxed, cheap and easy with free housing and healthcare and that is why he was not surprised that 40 of the 300 refugees who resettled in the US had since contacted the Nauru Department of Justice and Border Protection wanting to come back.
The Nauru government's hardline approach to refugees it suspects of taking action that would lead to an airlift to Australia was on display in October when a young refugee woman was thought to have been stopped by her husband as she tried to give her baby a bottle containing her own crushed-up antidepressants.
The Weekend Australian understands the woman's husband told authorities he slapped the bottle from her hands. As her mental health was assessed, and a transfer to Australia deemed necessary, the Nauruan government moved to issue her with a child protection order. The family was gone before the order could be enforced.
1/ Nauru President Baron Waqa. Picture: Lyndon Mechielsen
Continued: Australian Embassy
The private discourse suggests that Mr Morrison might reinstate the government's former stance on Israel after the policy received backlash, described by some as a "captain's call" that has damaged the Coalition.
Others within the government have insisted that the statements hold little gravitas and that Mr Morrison will ignore protests from Jakarta and move the embassy if it's in Australia's national interest.
The dispute over Mr Morrison's decision has exporters worried as talks delay a new trade deal with Indonesia, whose business with Australia is worth $16.5 billion a year.
Indonesian president Joko Widodo reiterated the argument against the embassy move during talks with Mr Morrison in Singapore on Wednesday.
Mr Morrison left the meeting insisting that the embassy move was not included in his conversation with Mr Joko, despite the Indonesian government later issuing a statement that emphasising a two-state solution between Israel and Palestine.
Mr Lukita said that the timing of finalising the agreement was now linked to the decision on Israel.
"It can be signed anytime, but when you will sign it … depends on Australia's position" he told reporters at the East Asia Summit in Singapore.
Indonesian Foreign Minister Retno Marsudi enforced that "if Australia insists on moving its embassy to Jerusalem, the signing will be delayed," Mr Lukita reportedly added.
Mr Morrison hopes to have the review on the policy finished by Christmas.
Eritrean Refugees Barely Work and Around 90% Live on Benefits in the Netherlands
The around 20,000 Eritrean refugees in the Netherlands are mostly not well integrated, a newly published report of the Social Research Institute SCP shows.