The head of the country's peak Islamic body has warned that Muslims could stop cooperating with security services if Prime Minister Scott Morrison continues to "tarnish the community".
Australian Federation of Islamic Councils president Rateb Jneid complained that Mr Morrison lacked "any genuine desire" to listen to the concerns of Australian Muslims after demanding the community do more to combat terrorism.
Dr Jneid, who is based in Perth, was among a handful of Islamic leaders to boycott a meeting the Prime Minister called after the Melbourne stabbing attack.
The solution is  to kick all Muslims out and don't bring any more  in.
F*kc tolerance!
Tolerance  means to endure, it doesn't mean we must endure the intolerant. It doesn't mean we have to submit to Mohammedan mores.
[Tolerance] is an agreement to live in peace, not an agreement to be peaceful no matter the conduct of others. A peace treaty is not a suicide pact.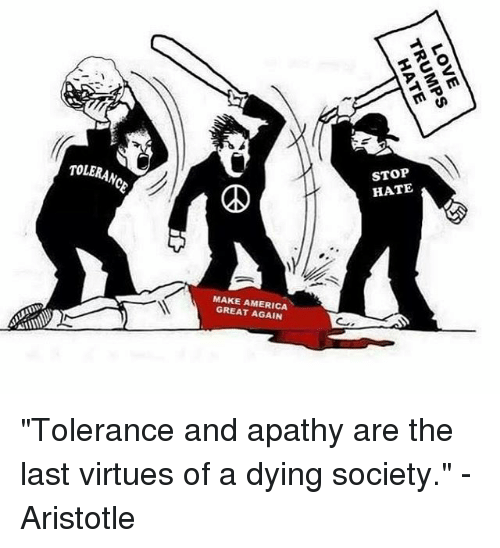 F*kc negotiatios with headchopping savages!
No one voted for the import of Mohammedans.
Time to round them up and ship them out!
Nationalists Versus Globalists: UN's National Suicide Pact
Highly esteemed countermoonbat Faith Goldy addresses the political issue of our time — nationalism versus globalism — and the deathblow United Nations globalists are planning:
As mentioned earlier, the United Nations Global Compact for Safe, Orderly, and Regular Migration (a.k.a. the UN Pact to Dump Millions of Third World, Culturally Incompatible State-Dependent Leeches into Your Neighborhood on Your Dime, a.k.a. the National Suicide Pact) is basically a blueprint for erasing Western Civilization by washing it away in an endless tsunami of needy Third Worlders. The agenda it represents is more malevolent than anything fascists or even communists would have inflicted or even imagined.
If we deserve to exist, we will fight this agenda to the death. If we don't, we won't exist for long.
Continued:
In a statement to The West Australian, Dr Jneid said boycotting the meeting would not affect any police operations to disrupt radical groups in Australia.
"Those programs will continue as they have been doing," he said.
"What will put that at risk is not whether we attend this meeting but whether or not the PM continues on the current path he is on of tarnishing our community.
"This will only lead to a further division being that in the long term may very well impact the willingness of individuals to speak up."
Opposition Leader Bill Shorten joined those urging Muslim leaders to meet Mr Morrison rather than staging a "stand-off".
"I don't think you solve anything by sitting in different rooms," Mr Shorten said.
Dr Jneid, who is also a board member of Langford Islamic College, said Muslims were angry with the language the Prime Minister and other members of the Government had used over the past week and "false conclusions" that had been drawn about the community.
"No other community is forced to accept the language and imputations against it like ours on the one hand and then to simply put that aside as if nothing has happened," he said.
"To suggest that whether we attend this meeting or not would put anyone at risk is nothing more than scare tactics."
Mr Morrison yesterday announced plans to strip Australian-born extremists convicted of terror offences of their citizenship if it could be shown the person was entitled to foreign citizenship in another country.
He wants to introduce "temporary exclusion orders" of up to two years for foreign fighters returning from conflict zones in the Middle East.
In 2015, the Abbott government abandoned a plan to strip an Australian of their citizenship after an extraordinary cabinet revolt.