Merkel & Macron are behind the drive to turn Europe into EUrabia. Now they appointed themselves as the jiziyya collectors for the ummah.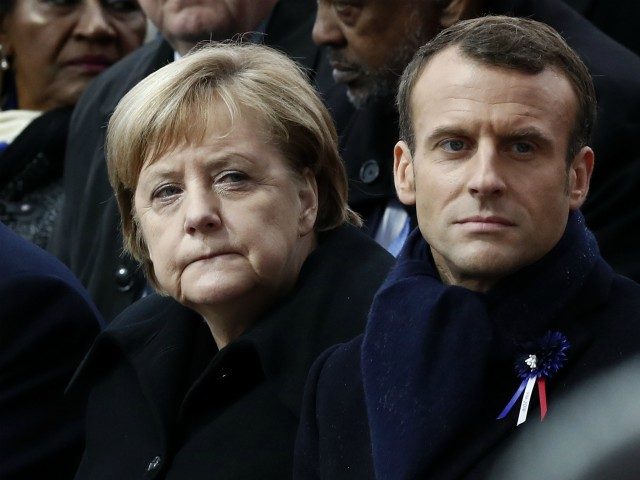 France and Germany have said that countries which reject migrants should be forced to pay to be excused from the European Union's redistribution programme.
The proposal was reportedly made in a document, seen by Reuters, circulated to member states' interior ministers in Brussels on Thursday.
The suggested migration rules would still insist countries take migrants from other member-states unless there is a strong objection. In which case, such nations would be able to make "alternative measures of solidarity."
More below the fold
The hope of globalists was that the UN Migration Pact would be accepted by every Western nation virtually unnoticed. It is not quite working as intended. Astute Western citizens and "populist" leaders who guard the gates of democracy are opposing the Pact, which would undermine the sovereignty and freedoms of every Western country. 
As signing of UN Migration Pact nears, EU proposal asks "migrant-averse" countries to show "solidarity" by paying up
France and Germany have made a proposal to countries that have no interest in a migrant invasion of their borders. The proposed plan goes like this: if you are not interested in open borders and in supporting the UN Migration Pact, then you can buy your way out of it — i.e., pay up and show […]
The UN Migration Pact represents a catastrophic dismantling of key components of democratic institutions by the United Nations, a body that has increasingly allied with the Organization of Islamic Cooperation (OIC). The Pact — officially named the "Global Compact for Safe, Orderly and Regular Migration" — indicates that it "offers a 360-degree vision of international […]
Diplomats told Reuters this is Eurocrat-speak for making additional contributions to the European Commission's budget or paying for development projects in Africa, where the bulk of Mediterranean Sea arrivals are coming from.
However, the document also seeks to prevent all European countries from opting out, with hosting measures set in stone for any eight-year agreed period. Given that EU leaders did not anticipate the migrant crisis of 2015 coming from the Middle East, the proposed new rules would prevent countries from changing their migrant pledge mid-period should another unexpected mass flow of migrants occur.
The bloc has struggled to force other nations to accept asylum seekers in a dispute that has been ongoing since 2015 when German Chancellor Angela Merkel unilaterally opened the borders of Europe and suspended asylum rules, inviting entry to more than one million migrants from the Global South.
The suggestions also reflect Western European politicians' frustrations at attempts to reform the EU's asylum policy ahead of European Parliament elections on May 2019, where populist, right-wing, and anti-mass migration parties are set to make gains.
After accepting the bulk of migrants into Germany in the autumn of 2015, Chancellor Merkel has been pushing the EU to force other nations to accept the redistribution of migrants still in Mediterranean countries. Recent statistics revealed that Germany has made the most attempts to shift their migrants onto other countries.
Central European nations like Poland and Hungary have rejected the measures, citing security and social cohesion concerns, often in the face of the threat of sanction from the bloc.
While the EU's Commissioner for Migration Dimitris Avramopoulos has said that "We cannot and will never be able to stop migration," European countries run by right-wing, pro-borders parties have proven otherwise.
Notably, Hungary, governed by the conservative Fidesz party under Prime Minister Viktor Orbán, was during the 2015 crisis the main thoroughfare of Syrian migrants travelling along the Balkan route but managed to cut illegal border incursions by more than 99 per cent after building a wall and increasing border security.
Meanwhile, Italy, the hotspot of Mediterranean Sea landings in 2017, has reduced illegal arrivals by water by 80 per cent under right-wing League interior Minister Matteo Salvini, after denying port to civil society migrant transport vessels.
As a result, the NGOs funding the Aquarius, the last migrant transport vessel patrolling the Mediterranean, announced Thursday that it was halting operations.
Next week, EU member states are expected to sign the United Nations Global Compact for Safe, Orderly and Regular Migration. But a number of European countries, mostly in the east but including Austria which currently holds the rotating presidency of the Council of the EU, have rejected the pact over concerns that whilst the document claims to be non-legally binding, it may be used as a framework for making decisions and operates within a legal "grey area."
Breitbart London reported that internal documents from Germany's federal foreign office reveal that Merkel's government has been the main architect of the controversial UN migration pact, working on it as early as 2016.