Protesters wearing bright yellow vests — dubbed the Yellow Vests — are gathering along the famous Champs-Elysees, where stores, restaurants, and banks were shut down as a precaution against possible violence.
Security measures have been tightened in Paris ahead of the demonstrations. Dozens of armored vehicles and 89,000 troops — including 8,000 in Paris — will be on duty.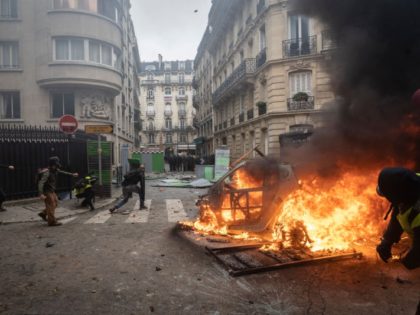 …Police Union Chief Tells Staff to Join Protests…
…Macron to Deploy Military…
…Tax Offices Firebombed…
…Mass Destruction of Traffic Cameras
(AFP) — Images of dozens of high-school pupils kneeling with their hands behind their heads during mass round-ups sparked an outcry Friday as France braces for more violence at "yellow vest" protests this weekend.
Left-wing politicians in France have expressed outrage at the videos, which have gone viral on social media, showing the teenagers kneeling as riot police barked orders at them.
"Whatever wrong was done, nothing justifies this filmed humiliation of minors," Socialist leader Olivier Faure tweeted.
Yellow Vest protests started in mid-November against President Macron's controversial fuel tax hikes
The real reason behind the riots in Paris:
Globalist imposed Mass Muslim Migration…that they now want middle class taxpayers to fund via soaring fuel taxes. It has NOTHING to do with so-called "Climate Change/Global Warming" as they want the public to believe.
.
Tomorrow, Saturday, Paris is bracing for mass protests against globalism and Muslim migration with tens of thousands or more angry citizens on the streets. According to the latest surveys by Harris Interactive, 71% of the French population supports the protest movements. In other words, 71% are with the Yellow Vests. Macron's rating, meanwhile, is at 18%.>

In other news:
Visit exiting France! The Paris intifada
An update from last weeks riots:
Masked Antifa protestors Vs. Unmasked Patriot protestors in France
Worst riots in Paris for 50 years.
412 arrested.
If they were protesting against "global warming," there would be wall to wall media coverage. They're protesting against globalism and fuel taxes, so the media plays it down.
The barbarians never take the city until someone holds the gates open for them…
Paris is in flames, streets shut down & regular non-political French people are  helping Far- Left destroy property.
Yellow Vest protests are spreading across Western Europe just like Globalists hoped.
The Paris intifada is just a symptom. We all know how this ends if we are to solve this issue. Two states for two people with Paris as the shared capital.
Liberals on Macron, 2017: Osborne: "The leadership that France needs."
D. Miliband: "[The] tribune for modernisation in…Europe."
Freeman: "A French JFK."
Cable: "I can offer the same formula."
Lineker: "Boy we could do with a Macron."
The French people on Macron, 2018: