200 years ago it was about the price of bread and now it's about the price of fuel. Hopefully this will be a second revolution. Good luck France !
A BNI Reader From France:
"No, it was not the Yellow Vests who torched cars, buildings. It definitely was the Usual Suspects aka "second, third generation" scums from across the Mediterranean sea, plus "antifa" leftists, plus black bloks and the likes. Not only torching cars, but destroying everything, shouting "F…ck France" as loud as they can, breaking in shops and stealing, trying to attack the police.
And yes, you are right about the taxes that are created every day just to pay for the illegal invaders demands as well as for the muslim freeloaders with french citizenship and the african migrants. As for Global Migration Pact, I have read that even when the President signs it, it has to be accepted by our senate and the French MPs before it can be implemented."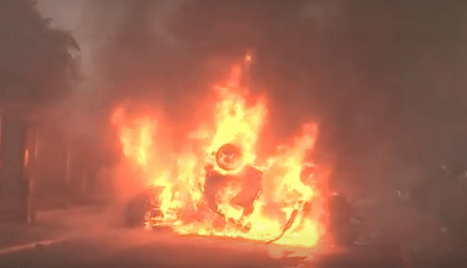 France applies a double standard. When the PLO incited violent Palestinian riots, France "deplored" Israel for "provocations," "disproportionality" & "excessive use of force." But now when Paris police are attacked, France pulls out the rubber bullets, tear gas & stun grenades.–Hillel Neuer
APPARENTLY THESE PROTESTS ARE ABOUT 'FUEL PRICES'…
the country has been invaded, their leader has sold them out, the streets are full of absolute filth, there's grotty disease and rat infested shanty towns in the city streets, there's police every few spaces in case of a terrorist attack and there's growing no go zones… IMAGINE IF THESE PEOPLE WOKE UP!
Seems a new French revolution has begun.
Which has spread to Brussels.
Hopefully a Europe wide revolution.
Germany: Dozens stage UN migration pact protest at Brandenburg Gate