"Terrible. Looks like minced meat all over."
Update:
Australian caught up in Nairobi terror attack praises security personnel
NAIROBI TERROR ATTACK
A BRITISH national has been confirmed dead after at least 14 others were brutally murdered in a savage "co-ordinated" terror attack on a luxury hotel and office complex in Nairobi, Kenya.
Huge EXPLOSION at Nairobi hotel – police swoop as gunmen open fire
EXPLOSIONS and gunfire rocked a luxury hotel and office complex in the Kenyan capital Nairobi with witnesses claiming the building was "under attack" and police and anti-terrorist forces are fighting to regain control of the area.
The attack comes on the third anniversary of the El Adde attack, which claimed the lives of around 140 Kenyan soldiers in Somalia.
It is also reminiscent of the Westgate Mall attack in Nairobi in 2013, when al-Shabab extremists attacked the luxury shopping centre, throwing grenades and starting a days-long siege that left 67 people dead.
– Ongoing for 12 hours
– Complex home to hotel, restaurants, businesses
– Gunmen arrived, opened fire
– At least 15 dead, dozens injured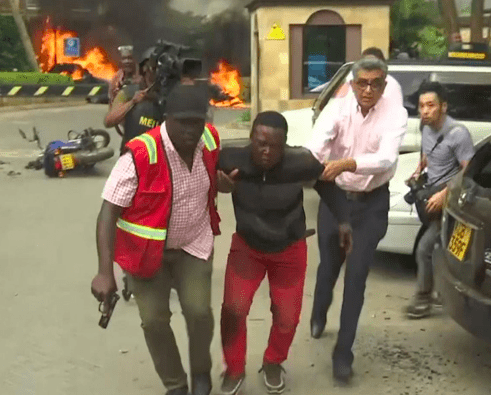 Police exchange gunfire with attackers as witnesses say they saw several dead bodies as they fled the complex.
Police surround a Nairobi hotel amid reports of explosions and gunfire
Eight hours after the attack began, the gunmen remained in control of the hotel. Fresh gunfire was reported this evening.
Local television showed smoke rising from the area. A woman inside the building said: "We are under attack."
Somali Islamist militant group al Shabaab have claimed responsibility for the attack, with a witness reporting seeing gunmen wrapped in ammunition and wearing green.
Abdiasis Abu Musab, al Shabaab's military operations spokesman, said: "We are behind the attack in Nairobi. The operation is going on. We shall give details later."
Witnesses have reported explosions and heavy gunfire at a hotel complex in the Kenyan capital Nairobi.
The suspected terror attack is unfolding at the complex, which houses a large hotel known as DusitD2, along with several banks and offices.
Police are said to be exchanging gunfire with the attackers in the operation.
At least one officer in bomb disposal gear has been seen at the complex as well as an unexploded grenade in a hallway of a shopping area.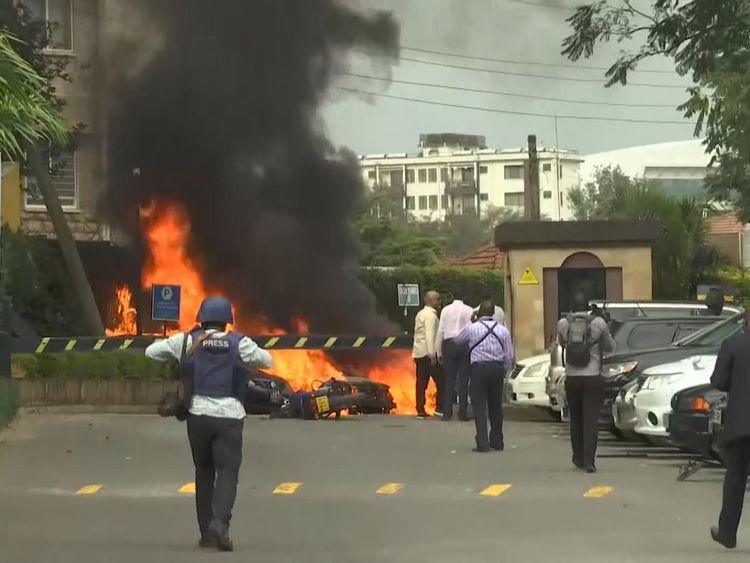 Several cars have been seen on fire and people are being carried away from the scene in the Westlands neighbourhood of Nairobi.
Large plumes of smoke have also been seen rising from the area as scores of people have been reported injured.
One survivor of the attack said he sought refuge in a fridge and that he saw at least one dead body in the grounds of the DusitD2 hotel.
Another said he saw at least two bodies. He also said the attackers were wearing green and were wrapped in ammunition.
Somali Islamist militant group al Shabaab has since said it is behind the attack and that its fighters were still inside the complex.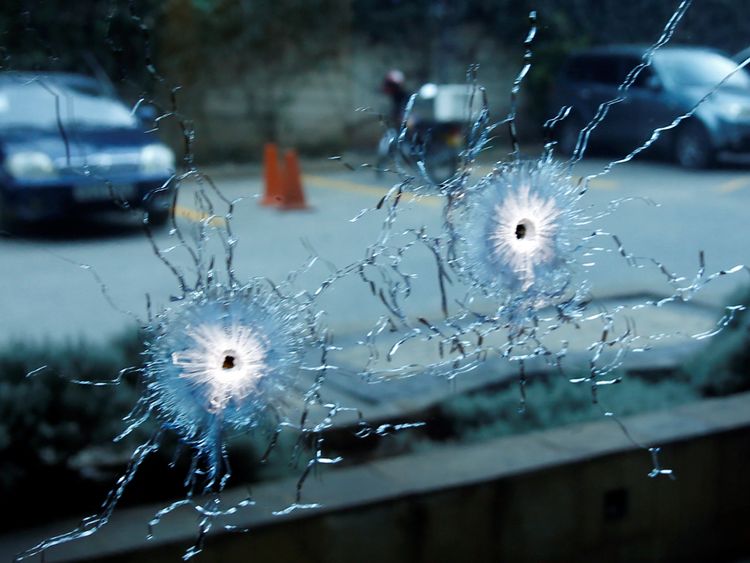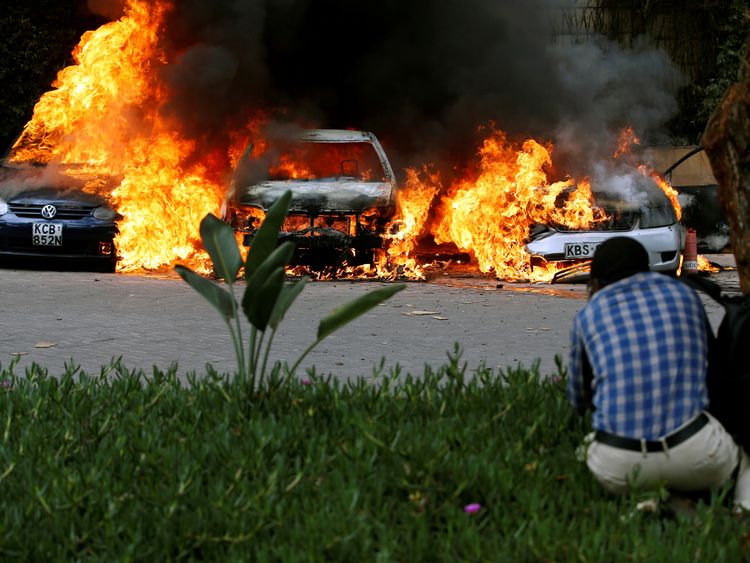 The incident comes on the third anniversary of the El Adde attack, which claimed the lives of several Kenyan soldiers in Somalia.
Police spokesman Charles Owino said officers had been deployed to the complex, including those from the country's anti-terrorism unit.
Plainclothes officers have been seen working their way towards the scene with guns.
Charles Njenga is among those who have fled the scene of the attack.
He said: "It is terrible. What I have seen is terrible. I have seen a human as I ran out and there is what looks like minced meat all over."
Terrorists are considered "very likely" to carry out attacks in Kenya, with Al Shabaab named as the main threat.
The militant group has carried out attacks in Kenya in response to Kenya's military intervention in Somalia.
The FCO cautioned: "Attacks could be indiscriminate in places frequented by foreigners including hotels, bars, restaurants, sports bars and nightclubs, sporting events, supermarkets, shopping centres, coastal areas including beaches, airports, buses, trains and other transport hubs.
"Places of worship including churches and mosques have also been targeted. Be particularly vigilant in these areas."
A woman working in a bank near the Nairobi hotel said: "I just started hearing gunshots, and then started seeing people running away raising their hands up and some were entering the bank to hide for their lives."
Witnesses said there had been at least one fatality and several casualties.