Update:
Thousands of people in two groups called the "Red Scarves" and "Blue Vests" staged demonstrations in Paris in opposition to the "Yellow Vest" movement. Some reports say the demonstrators were bussed to the capital by the French government.
Wally rubs it
Waleed Aly has called Australia Day "meaningless" and said that all Australians could do with a "fact check" regarding the controversial public holiday.
Me thinks his employers would be well advised to give this repugnant Islamo=agitprop the shoe.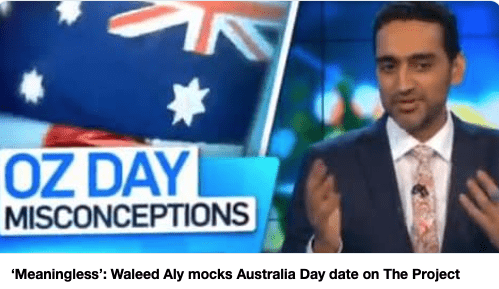 France and Facebook announce partnership
against "online hate" speech
Emmanuel Macron has teamed up with Mark Zuckerberg to review the country's regulatory response to the issue.

The French president announced on Monday a six-month partnership with Facebook aimed at figuring out how the European country should police hate speech on the social network.
This is very dangerous for free speech. Note that Zuckerbugger is treated like a statesman by France's globalist marionette Macron.
https://youtu.be/4MZQm9OwEKI
The Real Story Behind the Illegal Migration Industry in Italy?
Gates of Vienna
In the following video Giorgia Meloni, the leader of the anti-immigration party Fratelli d'Italia (Brothers of Italy), discusses the unsavory aspects of the process of people-smuggling into Italy.
Ms. Meloni may sound paranoid, but a recent Breitbart article reports:
The Italian secret service has warned that people-smugglers in the Mediterranean may seek to engineer a mass drowning in order to garner Western sympathy and resume the flow of migration.
And we've previously reported (most recently here) on the "Nigerian cannibal mafia" in Italy, which now seems more likely to be the Nigerian organ-trafficking mafia, if Ms. Meloni's sources are credible.
Many thanks to FouseSquawk for the translation, and to Vlad Tepes for the subtitling:
Video transcript: