BBC News seems to be under-reporting the chaos in France again. If there were similar protests against say Trump or Putin every weekend the coverage would be endless.
MACRON ON BRINK: Latest photos show police firing tear gas at 'yellow vest' protestors
Update:
It's worse than that.
#Macron is using HELICOPTERS to fire tear gas cannisters against the #GiletsJaunes protesters?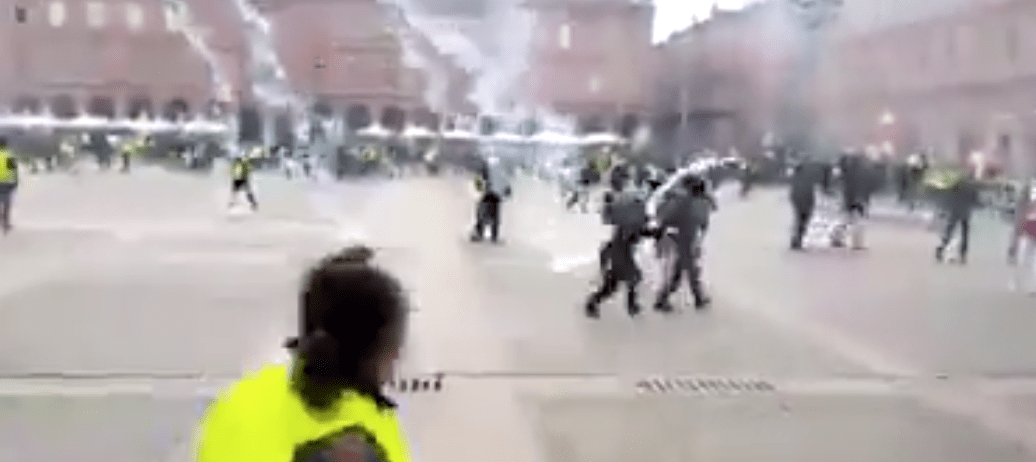 Will the #EuropeanCommission finally protest or are they to busy with trying to put sanctions on #Poland & #Hungary?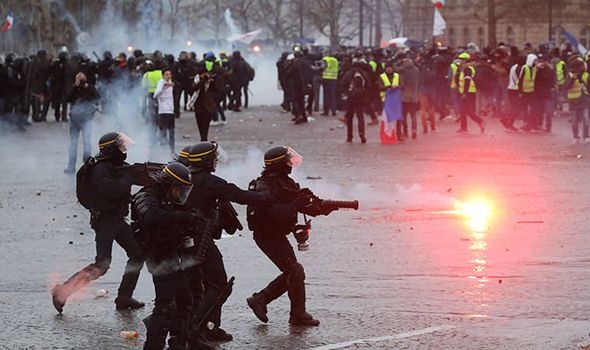 PARIS police fired water cannon and tear gas to repel "yellow vest" demonstrators around the Arc de Triomphe monument on Saturday in the ninth straight weekend of protests against French President Emmanuel Macron's economic reforms – on the same day similar protests erupted in London.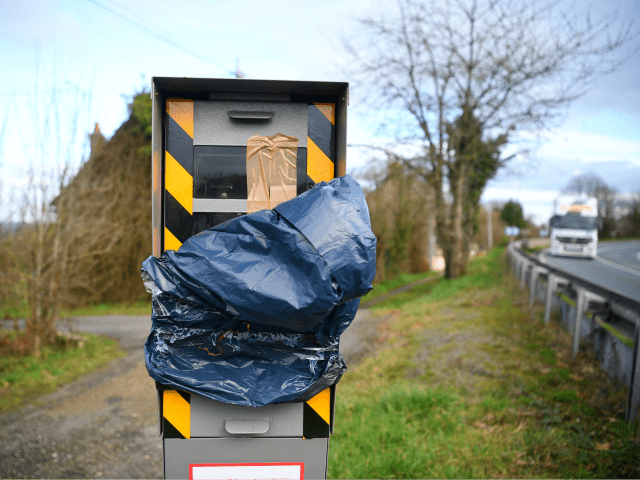 A French speed camera gets the burqa treatment
Thousands of speed cameras all over France have been burned, covered or otherwise rendered useless by yellow vest protesters:
A spokesman for the French Ministry of the Interior told CNN that 60 percent of France's speed cameras, about 3,200 in total, have been vandalized since November …
France has nearly twice as many speed cameras as it does annual road deaths.
The vandalism targeting cameras is seen as a response to the country's government lowering speed limits in July. According to CNN, speed limits were decreased from 56 mph to 50 mph on two-lane highways – a decision officials made in an effort to reduce vehicle accidents and deaths.
Oh, please. A 10kmh speed reduction will do nothing to reduce crashes, but is guaranteed to boost revenue.
But the protesters feel the speed cameras are only a way for the country to take money from poor, the BBC reported.
Statistics support the protesters.
"I saw on social networks a few fools who appear next to burnt speed cameras. I do not wish for them to one day face the reality of a death on the road. It's not about figures, it's about life," Interior Minister Christophe Castaner said.
French drivers are excellent. Their freeway lane discipline is truly something to behold. They don't need stupid cameras to keep them safe.
Castaner described the speed cameras as "neutralized, attacked or destroyed" by the yellow vest protesters.
Speed cameras in France secured fines worth more than $795,000,000 in 2017.
In other news:
Macron Party Demands Yellow Vest Facebook Page Be Shut Down over 'Hate' Messages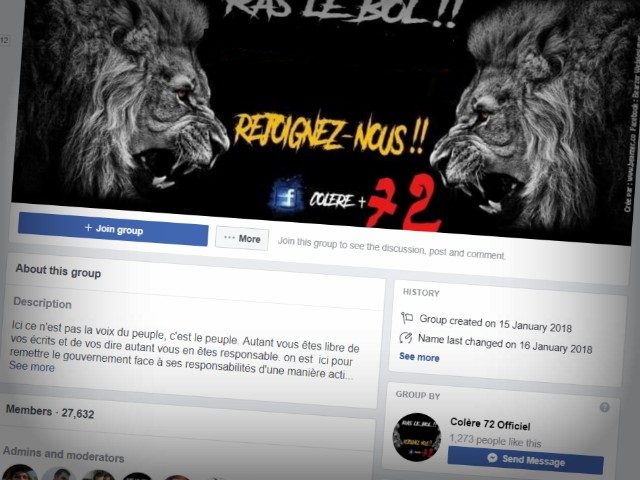 A local branch of French President Emmanuel Macron's La République En Marche! (LREM) has demanded that a Facebook page belonging to the Gilets Jaunes (Yellow Vests) be removed due to "hate messages."
The LREM branch in the department of Sarthe, the 72nd department in France, has demanded that Facebook remove the group "Colère 72" (Anger 72) over "hateful" messages directed toward LREM MP Marlène Schiappa, France Bleu reports.
The group, which has been active since the start of the Yellow Vest Movement in November, is currently under investigation according to an LREM press release which stated that the Le Mans public prosecutor was looking into the group over allegations of disturbing the public order.
French riot police are now using semi-automatic weapons with live ammunition against Yellow Vest protestors as Macron's law and order crisis spirals
Officers were filmed brandishing weapons by Arc de Triomphe in Paris today
Riot police were on crowd control duty today facing off a mob of Gilet Jaunes
Rifles at demonstration by unarmed citizens show how Macron crisis intensifies
Last week former conservative minster said live fire should be used on 'thugs'
Officers were filmed brandishing Heckler & Koch G36 weapons by the Arc de Triomphe in Paris on Saturday afternoon
French riot police are now using semi-automatic weapons with live ammunition against Yellow Vest protestors as Macron's law and order crisis spirals
It comes after former conservative minister Luc Ferry called for live fire to be used against the 'thugs' from the Yellow Vest movement who he says 'beat up police'