Muslim Rep. Rashida Tlaib registered to vote from false address, represented state House district she didn't live in
Congresswoman Tlaib Lied about Residency…
Jew-Hating Muslim Rep. Rashida Tlaib LIED About Residency To Run For Office, Registered To Vote At False Address: No rules, no laws, no accountability. 
This is akin to the questions about Ilhan Omar marrying her brother: if you're a Leftist with high value for the Left's relentless identity politics ("Look how 'diverse' we are! A Muslim woman Representative!"), then it doesn't matter what you've done or how many laws you've broken; the establishment media will always look the other way. But if you're a dissenter from the Leftist agenda and once stood next to someone on a bus whose third cousin voted for Strom Thurmond in 1948, your career will be ruined.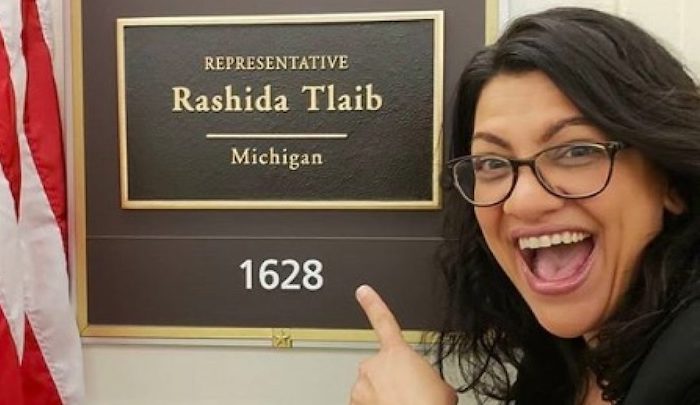 "EVIDENCE: Rashida Tlaib 'Lied' About Residency To Run For Office, Registered To Vote At False Address," by Patrick Howley, Big League Politics, January 30, 2019 (thanks to JW):
Michigan Democrat congresswoman Rashida Tlaib registered to vote from a false address, and represented a state House district that she did not actually live in, according to credit score and property records obtained by Big League Politics.
Tlaib's own father even said that Tlaib "lied" about her address in order to run for office.
Related:
Ilhan Omar once blamed 'our involvement in other people's affairs' after al-Shabab attack on Kenyan mall
Minnesota Democratic Rep. Ilhan Omar once described acts of terrorism as a reaction to "our involvement in other people's affairs," in the wake of the brutal al-Shabab attack on a Kenyan shopping mall in 2013.
Omar made the comments during an obscure local television appearance just weeks after four armed al-Shabab jihadists stormed the Westgate mall in Nairobi in 2013, killing nearly 70 people and wounding 200.
Here is what the evidence, presented below, proves:
Rashida Tlaib registered to vote at a false address as she embarked on her first political campaign. "Registering to vote using a false address" is one of a number of crimes that fall into the voter fraud category.
Tlaib ran for and represented the 12th district in the Michigan House of Representatives even though she was not a resident of that district.
Records show that Tlaib was an "Absentee Owner" at the Detroit house she claimed to live in.
Tlaib moved to her official Detroit apartment address, which she reported to the FEC after the election, at the start of her 2018 campaign. Her new address was recorded for the first time one day before she announced her campaign for Congress.
Congressman Jon Bumstead of Michigan told Big League Politics through an intermediary that Michigan state representatives are required by law to live in the district they represent.
Michigan Election Law requires candidates to submit an Affidavit of Identity, where they must provide truthful residence information.
The Tlaib scandal is only getting worse for the Michigan Democrat.
A Change.org petition entitled "IMPEACH RASHIDA TLAIB" is now closing in on 300,000 signatures amid national controversy for Tlaib's profane comments about President Trump.
The petition states: "She lied about living in Detroit using her fathers house address .. she never lived there .. she lived in Dearborn ., her father has verified this .. you must live in the district you are running in to represent .. We demand a full investigation and recount of every vote that she supposedly received.."
It turns out, the petition, started by a Change.org user named Mrs. American Citizen, is correct.
Tlaib's father made a series of comments to Charlie LeDuff of The Detroit Newson March 13, 2010, in an article that no longer has an active ink but exists in the The Detroit News archives:
"Now Tlaib's father is piping in. He said his daughter misrepresented her residency when she signed an election affidavit in 2008 with the Wayne County Clerk claiming she was a citizen of Detroit.
According to that affidavit, Tlaib claimed she lived at (redacted) in Detroit. That house is owned in part by her father, Harbi Elabed, and he now says she did not live there and he was only recently made aware that she had claimed so. "She lied," said Elabed, 61, an immigrant from Jerusalem and father of 14 who prides himself on Old World values of parental fealty. "She lied big-time to get elected. I never teach her that way. I teach her the right way. It's my house. She didn't live there. She lived in Dearborn in her house with her husband and boy."
Dearborn is not a part of the 12th House District that Tlaib was elected to represent…
Asked why he was tattling on his daughter, Harbi Elabed said it was a growing litany of transgressions that his daughter committed upon him — culminating in a dispute about care of his aged mother, who suffers from dementia. According to Harbi, his daughter sided against him and in favor of his nephew in a battle of custody, a complete breach of family values, he said."…