"The Islamic State remains. We are weak now but we will come back again."
Thanks for nothing, Hussein Obama!
Hundreds of women and children have left the village of Baghuz, where Isil is making its last stand against Kurdish fighters
The woman's face was hidden behind a black veil but her voice was full of defiance and pride for the caliphate that she had left just hours before.
"You're the first infidel I've seen in four years," Umm Hamza said as The Telegraph approached.
She gestured back towards Baghuz, the village in eastern Syria that is now the last fragment of Islamic State territory. "The brothers are lions. They will fight on," she said. "The Islamic State remains. We are weak now but we will come back again.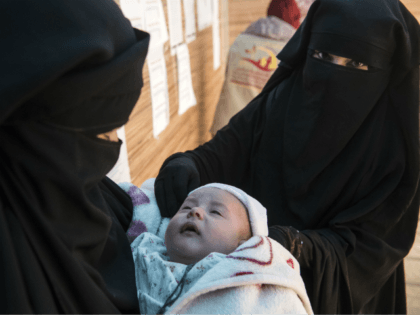 They're about as 'British' as a Paki turd on the sidewalk of Oxford Street.
Indian planes bomb Pakistan as Kashmir tensions escalate
Indian warplanes dropped bombs inside Pakistan early on Tuesday, both sides said, as military tensions between the nuclear arch rivals escalated dramatically following last week's Kashmir suicide attack.
India said aircraft had destroyed a terrorist training camp where militants were training to carry out an imminent attack. But the Pakistani military said the aircraft had caused no damage
Swedish Town Celebrates the "Diversity of its Community" With Hijabbery
A Swedish municipality is facing backlash after selecting a local Muslim woman wearing a headscarf to be the 'poster girl' for its roadside 'welcome' sign. Her past ties to a controversial local imam who was accused of preaching radical ideas and collecting money for terrorists in Iraq and Syria were also discovered.
 During an interview on the Turkey-based MB-affiliated Channel 9 TV, Libyan researcher Dr. Ali Al-Siba'i said that the Jihad that terrifies the world today was sanctioned by shari'a law in order to establish justice, and that humanity was relieved of oppression, exploitation,
…Read More…by Hugh Fitzgerald
From the Religion of Peace: