Fox is increasingly slipping into the Leftist echo chamber. It is terrified of discussing these issues.
So who is "disgusted by Judge Jeanine's comments?"
Don't you find it more disgusting that Omar will be speaking at a banquet for the Hamas-linked CAIR alongside a man who thinks women should be murdered for not wearing their hijabs…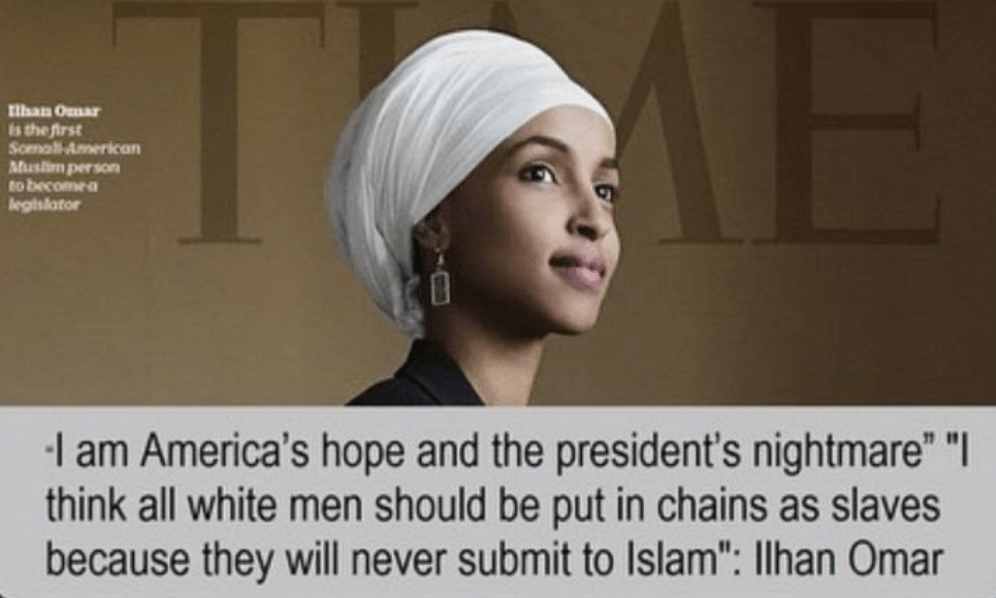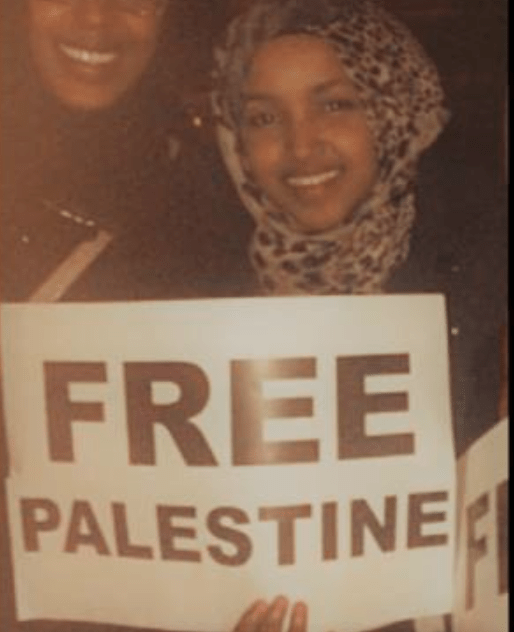 Fox News should have stood by Jeanine Pirro instead of throwing her under the bus for Ilhan Omar.
By Quanta Ahmed, who calls herself "a pluralist Muslim who observes Islam but is at war with Islamism."
She also claims a to be a "practicing Muslim who follows Sharia as Islam intended — not as Islamists have hijacked it".
We cannot take taqiyya propagandists like Quanta, Zuhdi Yasser or Maajid Nawaz seriously. They're selling us an Islam that doesn't exist.
*****
They are DEPLATFORMING our voices via Big Tech Censorship. The are DEPLATORMING our President with the ridiculous Russia Hoax. and they are DEPLATFORMING the American People via open borders and unchecked immigration.
******
Lauren Southern continues to address the major crises that establishment information gatekeepers refuse to acknowledge. Farmlands told us of the horror unfolding in South Africa. Next, Borderless will shine a light on the existential threat to Europe posed by the unrelenting influx of colonists from the Third World. Here's the trailer:
If enough people understood what is going on, they would stop it.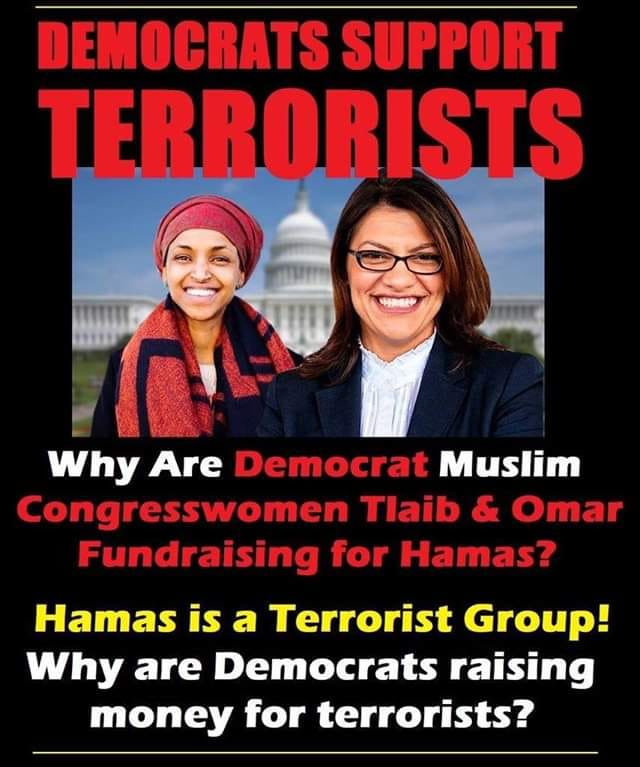 Fox is increasingly slipping into the Leftist echo chamber. It is terrified of discussing these issues. A few years ago, Jeanine Pirro contacted me and was going to have me as a featured guest on a special show about Sharia. She was very excited about it, and all the arrangements were made to fly me in and get me set up in the studio. Then at the last minute, everything was canceled — it was clear that Fox executives had told her she was venturing into forbidden territory. They willingly kowtow to the SPLC's defamation campaign targeting foes of jihad terror and Sharia oppression of women and others. But last night, Pirro ventured off the reservation again, daring to suggest that Ilhan Omar's hijab showed her to be Sharia-compliant.
There is so much confusion on this issue, even among people who should know better: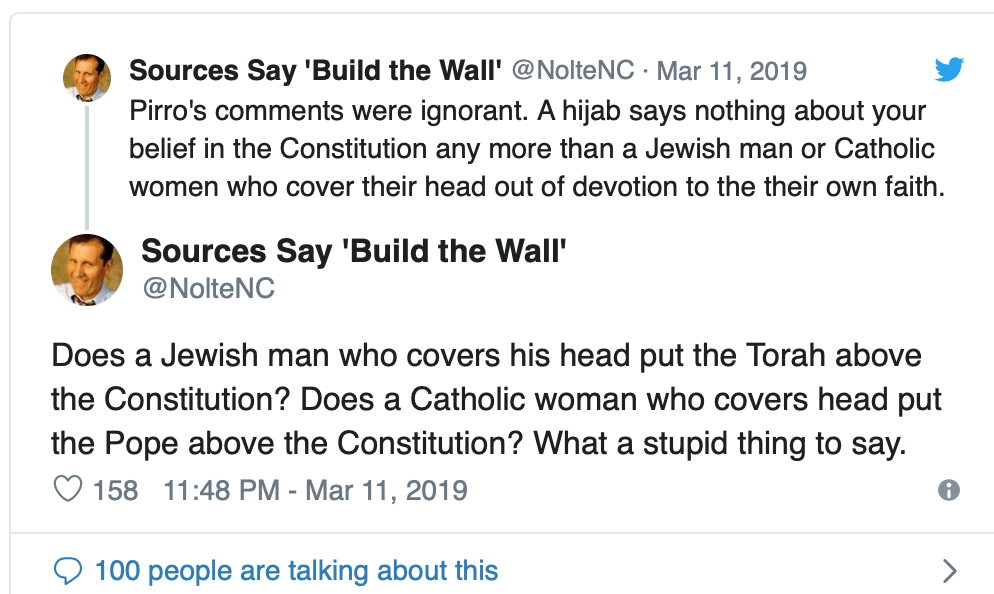 No in both cases, because in both cases the headwear in question is not part of a larger system that is incompatible with Constitutional rule. However, the hijab is part of such a system, and that's all Pirro was saying. She should not have apologized, and Fox should not have rebuked her, but this is the age of pandemic cowardice, so it was likely unrealistic to expect anything else.
"Fox News Strongly Condemns Jeanine Pirro's Remarks About Ilhan Omar's Hijab," by Joshua Caplan, Breitbart, March 11, 2019:
The Fox News Channel on Sunday condemned host Jeanine Pirro's remarks on Rep. Ilhan Omar's (D-MND) use of a hijab and said the issue has been dealt with directly.
Pirro is under fire after appearing to suggest on her Saturday program — Justice with Judge Jeanine — that Omar, whose repeated antisemitic remarks prompted the House to pass an anti-hate resolution last week, wears a hijab in defiance of the Constitution. "Think about this: She's not getting this anti-Israel sentiment doctrine from the Democrat Party. So if it's not rooted in the party, where is she getting it from?" Pirro said in her opening segment. "Think about it. Omar wears a hijab, which according to the Quran 33:59, tells women to cover so they won't get molested. Is her adherence to this Islamic doctrine indicative of her adherence to Sharia law, which in itself is antithetical to the United States Constitution?"
In a statement Sunday, Fox News denounced Pirro's remarks, saying: "We strongly condemn Jeanine Pirro's comments about Rep. Ilhan Omar. They do not reflect those of the network and we have addressed the matter with her directly.["]
The network also released a statement from Pirro, who said her intent was not to suggests Muslims could not be loyal to the United States. "I've seen a lot of comments about my opening statement from Saturday night's show and I did not call Rep. Omar un-American. My intention was to ask a question and start a debate, but of course because one is Muslim does not mean you don't support the Constitution," Pirro said. "I invite Rep. Omar to come on my show any time to discuss all of the important issues facing America today."
A Fox News online producer, Hufsa Kamal, criticized Pirro's remarks on social media, writing: "@JudgeJeanine can you stop spreading this false narrative that somehow Muslims hate America or women who wear a hijab aren't American enough? You have Muslims working at the same network you do, including myself. K thx."…