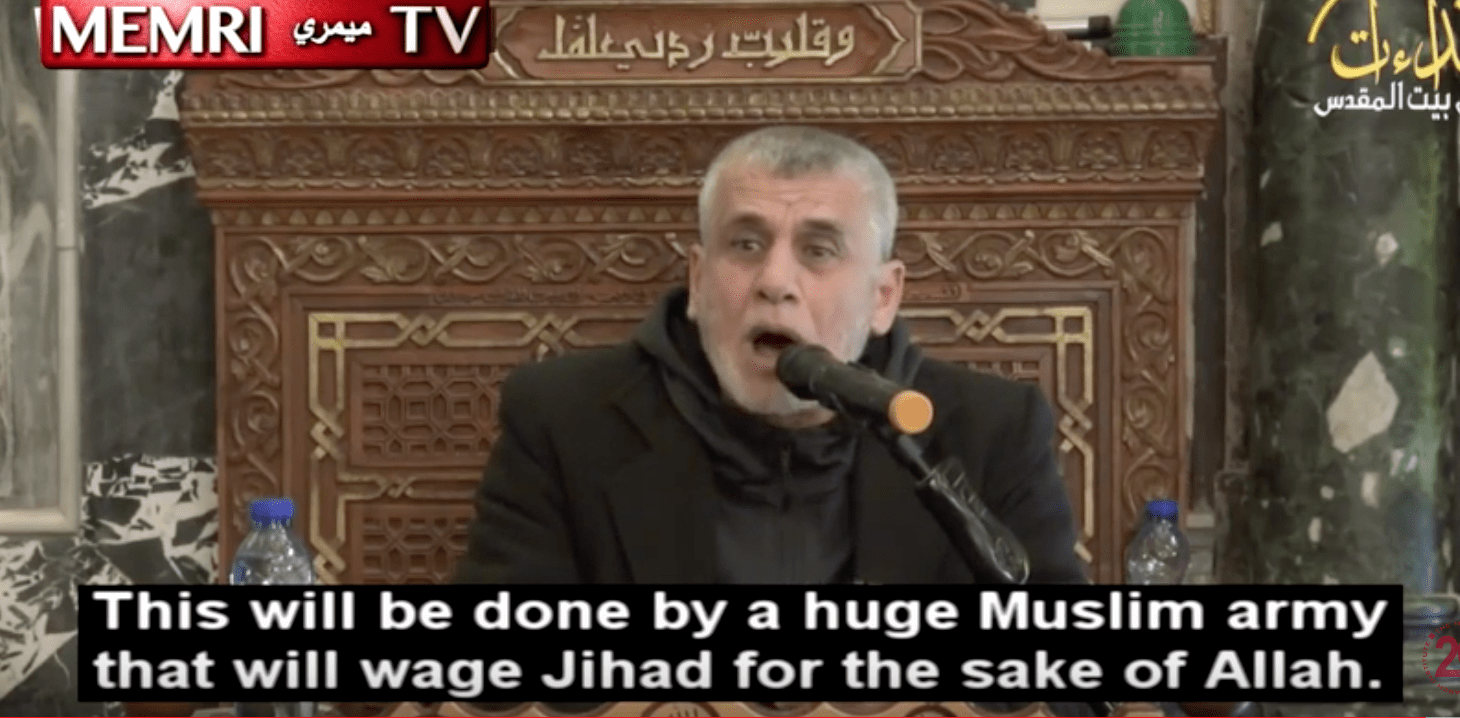 Palestinian political researcher Sheikh Ahmad Al-Khatwani said in an address he delivered at the Al Aqsa Mosque that Istanbul had been conquered just like the Prophet Muhammad had predicted, and that Rome will also be conquered according to Muhammad's predictions. Al-Khatwani said that Muslims do not hate non-Muslims; rather, he said that all Muslims do "break down the physical obstacles" that prevent the "hateful infidels" from being brought into the light of Islam. He said that Islam is a religion for all of mankind and that the "physical obstacles" will be broken down by "a huge Muslim army that will wage Jihad for the sake of Allah." The video of the address was uploaded to the Internet on March 31, 2019. MEMRI TV Videos
France: Attacks Against Jews & Christians Continue to Rise
According to a group that studies hate crime attacks against Christians, February was the worst month for attacks on Christian churches since they began collecting data.
There has been a wave of vandalism of churches all over France recently. The identity of the perpetrator of this particular incident suggests that more than just this case could be a manifestation of Islam's violent contempt for Christianity, the religion of the "most vile of created beings" (Qur'an 98:6). A large number of people holding that contempt have recently been admitted into France. Merci, Macron!
Newly released France 2018 stats:
Anti-Christian attacks: 1063.
Anti-Jewish attacks: 541 (an increase of 74 per cent).
Anti-Muslim attacks: 100 (Lowest in 9 years).
TURKEY bashes France and Italy for their decision to recognize the Armenian genocide of more than one million Christians by the Ottoman (Turkish) Empire
The number of anti-religious attacks against Jews and Christians in France continues to rise, while attacks against Muslims are at their lowest for 9 years.
More of this below the fold.
Cher: Los Angeles 'Can't Take Care of Its Own, How Can It Take Care of' More Immigrants
"Not in my back yard…"
Hypocrisy at its finest.
Nobody is stopping Chair from taking immigrants into her home.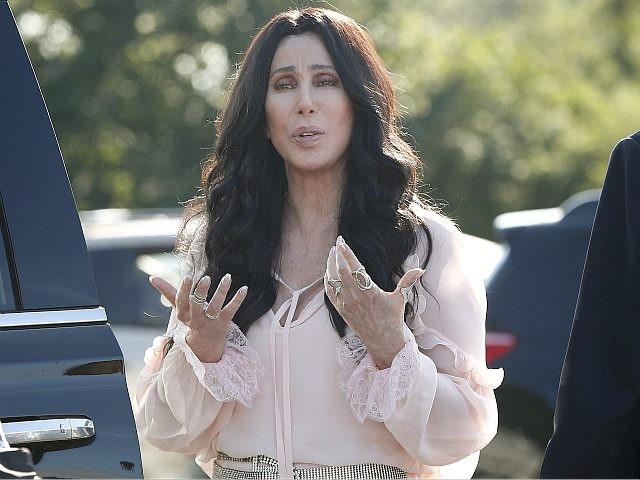 ISIS bride who says she misunderstood Islam and wants to return to UK was part of rifle-toting morality police
Attacks against Muslims at a 9 year low
According to a group that studies hate crime attacks against Christians, February was the worst month for attacks on Christian churches since they began collecting data.
Other public Christian symbols have also been targeted, including summit crosses on mountaintops and public statues of Jesus and the Virgin Mary, which have been decapitated or destroyed.
A deliberate attack on the Saint-Sulpice church in Paris which caused nearly a million euros in damage was reported by the mainstream media as a 'brief fire' in which no one was hurt.
The number of anti-Semitic attacks (541) rose 74 per cent from 2017-2018 while anti-Muslim attacks numbered just 100, the lowest since 2010.
Meanwhile in the same period, there were 1063 anti-Christian attacks, a slight increase on the previous year.
According to Ellen Fantini, anti-Christian attacks are being minimized despite representing the largest share of hate crimes.
According to reports, the number of Jews fleeing France for their safety has dramatically increased since 2000.
In one Paris suburb alone – Seine-Saint-Denis – 40 per cent of the population is Muslim while 400,000 illegal immigrants also live there.
The French gov't denies this.
Shamima Begum hires Gareth Peirce, the human rights lawyer who represented Abu Qatada
From the Telegraph
Shamima Begum's family has hired one of the UK's top human rights lawyers whose clients have included hate preacher Abu Qatada.
Gareth Peirce, once described as the lawyer of choice "for every accused jihadist and IRA suspect" took over the former Bethnal Green school girl's case last week, the Telegraph can reveal.
Peirce, 79, of legal firm Birnberg Peirce, replaces Tasnime Akunjee, who had been working pro bono on the family's behalf since Begum fled to Syria in 2015.
Mr Akunjee, whose attempt to meet Begum in Syria last month was blocked by the Syrian Democratic Forces (SDF), said the case was handed over because Peirce has the "legal aid contract to do the work" suggesting that the family has successfully applied for financial aid to appeal Sajid Javid's decision to strip Begum of her British citizenship.
Yes  – you read that right. If legal aid has been granted our taxes will line the pockets of one traitoress as she works to restore the privilege of another traitoress. Nice work if you can get it. I wonder what dirt Jean Jeanie has on the current Secretary of State for Justice or whichever of his minions granted legal aid. It's times like these that not only am I glad I didn't continue into the profession, I'm glad I was thrown on the scrap heap of early retirement from MoJ. 
Begum's family is understood to have lodged a request for a judicial review to challenge the decision.  An appeal to the Special Immigration Appeals Commission is said to require Begum's signature.
It comes at a critical moment for the 19-year-old, whom it has also been claimed had stitched suicide bombers into explosive vests, intelligence operatives told Theresa May and Sajid Javid, according to The Mail on Sunday.
However, there are concerns that such evidence may not meet the legal threshold for trial in Britain due to complications over whether it would be permissible in court.
Peirce, who was educated at Cheltenham Ladies College and Oxford University, made her name representing the
Birmingham Six during the Northern Ireland Troubles and one of the Guildford Four from 1987. She has also represented Islamist cleric Abu Qatada (and) Moazzam Begg, the British terror suspect held at Guantanamo Bay.
In Qatada's case, she was said to have pulled off a breathtaking coup against the Home Office in 2012 by filing an eleventh-hour appeal to Europe on behalf of her widely demonised client. The move wrong-footed the Theresa May, then Home Secretary, and delayed the extremist Muslim cleric's deportation to Jordan, which eventually took place the following year.
The Daily Mail has information that seems to confirm that Legal Aid has been granted. 
Jihadi bride Shamima Begum has been granted legal aid to fight the decision to remove her citizenship, the Mail can reveal today.
In a decision blasted as 'disgusting' and 'ridiculous' by MPs, lawyers have successfully asked for taxpayers' cash on her behalf, arguing that Home Secretary Sajid Javid's decision was unfair on the 19-year-old Islamic State acolyte.
Last night there was fury at the decision by the Legal Aid Agency (LAA), which emerged on the day it was alleged that Begum had stitched suicide bombers into explosive vests.
Although lawyers have not been able to speak to her in the refugee camp, the LAA has apparently accepted that her family can initiate an appeal and apply for funding on her behalf. In an extraordinary twist, two law firms applied for the cash on her behalf, with one claiming it had instructions through a third party, but the LAA agreed to grant the funding only to lawyers instructed by her family.
Begum will not be able to attend the case – which will be decided by the Special Immigration Appeals Commission (SIAC) – because she has been barred from returning to Britain. Last night, there was outrage over the decision, particularly from those who had been denied legal aid in other high-profile cases.
Tasnime Akunjee, a lawyer who has represented Begum's family since 2015, confirmed that legal aid had been granted after an application was made on March 19. Mr Akunjee launched the appeal against Mr Javid's decision but he was unable to take formal instruction from Begum after authorities at the al-Roj refugee camp would not let him see her. He passed the case to renowned human rights solicitor Gareth Peirce, who has represented British clients held outside of the UK such as former Guantanamo Bay detainee Moazzam Begg.