Churches attacked in Sri Lanka during Easter Sunday mass. 5-star hotels in Colombo also attacked. In Negombo where there is a high concentration of Catholics, the church was bombed.
Colombo: Sri Lankan police on Sunday reported there had been an eighth explosion following seven reported at hotels and churches earlier in the day that killed at least 207 people.
The lack of media interest in what's happening in Sri Lanka is both disgusting and disgraceful:
https://twitter.com/Imamofpeace/status/1119916689599225856
SPOT THE DIFFERENCE:
Christchurch: (50 Muslims killed)
– condemnation from the entire Muslim world
– worldwide rallies
– fundraisers
– PM of NZ wears a hijab and speaks Arabic
– minute of silence marked by Islamic call to prayer
Sri Lanka: (hundreds Christians killed)
– nothing
Three of the near-simultaneous explosions hit Catholic churches where Easter services were underway while three other explosions were reported in five-star hotels, according to police.
There have also been reports of two extra explosions, with one in Dehiwela, near Colombo.
Hospital and police officials said more than 450 have been wounded. Victims from China, Portugal and the Netherlands are among the dozens of foreign nationals confirmed dead in the attacks. Hospital sources told AFP that American and British citizens are also among the dead.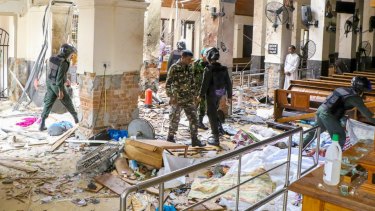 The latest explosion to be reported was at a hotel near the national zoo, which is in an area near the capital Colombo.
"There was an explosion in a hotel in Dehiwela near the zoo," a police official told Reuters adding that there were no further details available.
It's the worst bout of violence in Sri Lanka since the South Asian country's bloody civil war ended a decade ago.
Two of the blasts were suspected to have been carried out by suicide bombers, according to a security official in Colombo, who spoke on condition of anonymity.
Perpetrators sought
Junior defence minister Ruwan Wijewardena told reporters he believed police and military forces had identified the perpetrators of the blasts .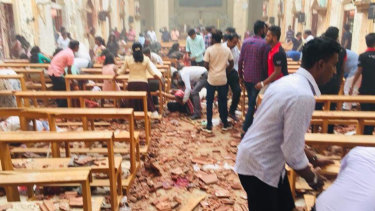 He said those "involved in this unfortunate terrorist incident will be taken into custody as soon as possible."
The Sri Lankan government declared a curfew with immediate effect, Wijewardene said on Sunday.
"A curfew will be imposed until things settle down," he told reporters in Colombo.
Government officials also said major social media networks and messaging apps, including Facebook and WhatsApp, have been blocked inside the country to prevent misinformation and rumours.
There were no immediate claims of responsibility for the attacks.
The Sri Lankan government was at war for decades with Tamil separatists until 2009, a time during which bomb blasts in the capital were common.
More than 50 people were killed in St Sebastian's gothic-style Catholic church in Katuwapitiya, north of the capital Colombo, a police official said, with pictures showing bodies on the ground, blood on the pews and a destroyed roof.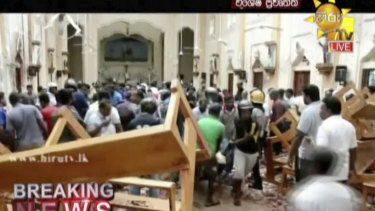 Local media reported 25 people were also killed in an attack on an evangelical church in Batticaloa in Eastern Province, 250 kilometres east of the capital.
The three hotels hit were the Shangri-La Colombo, Kingsbury Hotel in Colombo and the Cinnamon Grand Colombo.
The first blast yesterday was reported in a church located in the capital. The others followed within half an hour.
Police spokesman Ruwan Gunasekera said that the injured were being evacuated while security forces have cordoned off the areas and search operations are underway.
The injured included foreigners staying at the three five-star hotels
Security in the capital and the airport has been stepped up following the blasts.
A source in the police bomb squad said that one of the explosions was at St Anthony's Shrine in Kochcikade, Colombo, which is a tourist landmark.
Alex Agieleson, who was near the shrine, said buildings shook with the blast, and that a number of injured people were carried away in ambulances.
St Sebastian's posted pictures of destruction inside the church on its Facebook page, showing blood on pews and the floor, and requested help from the public.
"Our people are engaged in evacuating the casualties," the source said.
Local TV showed damage at the Cinnamon Grand, Shangri-La and Kingsbury hotels.
The Shangri-La's second-floor restaurant was gutted in the blast, with the ceiling and windows blown out. Loose wires hung and tables were overturned in the blackened space.
A police magistrate was at the hotel to inspect the bodies recovered from the restaurant. From outside the police cordon, several bodies could be seen covered in white sheets.
There were no immediate claims of responsibility for the attacks in a country which was at war for decades with Tamil separatists until 2009 during which bomb blasts in the capital were common.
Urgent inquiries
The Australian government's Department of Foreign Affairs and Trade said it was making urgent enquiries with local authorities to determine if any Australians were affected by the blasts.
"Australians concerned for the welfare of family and friends in the area should attempt to contact them directly. If you cannot contact them and have fears for their safety, DFAT's Consular Emergency Centre can be contacted on 1300 555 135 (within Australia) or +61 2 6261 3305 (from overseas)." '
Christian groups say they have faced increasing intimidation from some extremist Buddhist monks in recent years. And last year, there were clashes between the majority Sinhalese Buddhist community and minority Muslims, with some hardline Buddhist groups accusing Muslims of forcing people to convert to Islam.
Prime Minister Ranil Wickremesinghe called a national security council meeting at his home for later in the day.
"I strongly condemn the cowardly attacks on our people today. I call upon all Sri Lankans during this tragic time to remain united and strong," he said in a Tweet.
"Please avoid propagating unverified reports and speculation. The government is taking immediate steps to contain this situation."
President Maithripala Sirisena said he had ordered the police special task force and military to investigate who was behind the attacks and their agenda.
The military had been deployed, according to a military spokesman, and security stepped up at Colombo's international airport.
It was the worst violence in Sri Lanka since the end of the civil war a decade ago. The magnitude of the bloodshed recalled the random bombings perpetrated by the separatist Tamil Tigers that targeted a bank, a shopping mall, a Buddhist temple and hotels popular with tourists.
Prime Minister Scott Morrison described the bombings as "absolutely devastating".
"As Easter Sunday draws to a conclusion here in Australia, our heart goes out to those Christians and all of those other innocents who have been slaughtered today in this horrific terrorist attack," Mr Morrison said.
"We still don't know who was responsible for this or what their motivation was, but we do know that innocent lives have been stolen once again, and our heartfelt sympathies go out to all of those who are bereaved tonight, us included, as we just share their sorrow.
"And to the beautiful people of Sri Lanka, Australia sends its heartfelt sympathies and our prayers and our support and our offer to do whatever we can to support you in this terrible time of need."