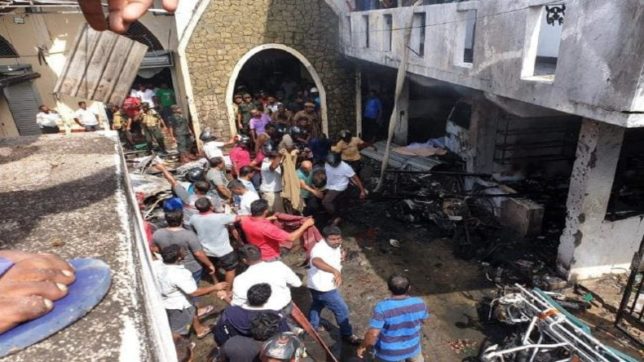 Documents seen by AFP show that Sri Lanka's police chief Pujuth Jayasundara issued an intelligence alert to top officers 10 days ago, warning that suicide bombers planned to hit "prominent churches".
"A foreign intelligence agency has reported that the NTJ (National Thowheeth Jama'ath) is planning to carry out suicide attacks targeting prominent churches as well as the Indian high commission in Colombo," the alert said.
The NTJ is a radical Muslim group in Sri Lanka that was linked last year to the vandalisation of Buddhist statues.
The first blast was reported at St Anthony's Shrine, a well-known Catholic church in the capital Colombo.
Two Muslim Suicide Bombers identified in #SriLankaAttacks.
Meet Zahran Hashim and Abu Mohammed as death toll rises to 207
Send in the clowns:
Sri Lankan comedian @nazeem_hussain is CURRENTLY running a Christchurch special to stand with "his Muslim community" on @channel10.
Literally, as bombs go off in Sri Lanka.
Talk about timing.
https://twitter.com/KTHopkins/status/1119912999089733632
At the Shangri-La hotel, an AFP photographer saw extensive damage on the second floor restaurant, with windows blown out and electrical wires hanging from the ceiling.
– 'Horrible scenes' –
"Emergency meeting called in a few minutes. Rescue operations underway," Sri Lanka's Minister of Economic Reforms and Public Distribution, Harsha de Silva, said in a tweet on his verified account.
Here's your CNN
Deaths toll increase to 207 including 30 foreigners and over 400 injured following Suicide Bombs Blasts in churches and hotels in Sri Lanka- Police