Wow! What are the chances that two totally random fires hit cultural and historically significant sites in France in such a short space of time?
French electricians should be guillotined for such shoddy wiring.
Every time someone is working on a building in France, a fire or explosion happens.
BREAKING: Huge fire raging the French city of Versailles, buildings are burning near the former residence of the kings of France.

More details to follow…. pic.twitter.com/jk5VgocpFU

— Amy Mek (@AmyMek) April 24, 2019
What's going on in Greece?
Greece: A "No-Go" Zone in Athens?
Maria Polizoidou
"[T]he neighborhood has… platoons, companies, battalions, Kalashnikovs. I don't know any more if we, as a police force, have the political mandate to clear the area. This region is a matter for the army now." — Stavros Balaskas, vice president of the Greek Federation of Police Officers, April 6, 2019.
"…[T]here are now too many illegal immigrants in Exarchia who are drug traffickers [and] gun traffickers… they have essentially taken over the whole place." — Michalis Chrysochoidis, a former Greek Minister of Citizen Protection, who was responsible for the 2002 dismantling of the "November 17" domestic terrorist organization, April 8, 2019
In Exarchia, these groups — which conduct criminal activities and terrorize local residents — have, in effect, created a "no-go zone," where even police are afraid to enter.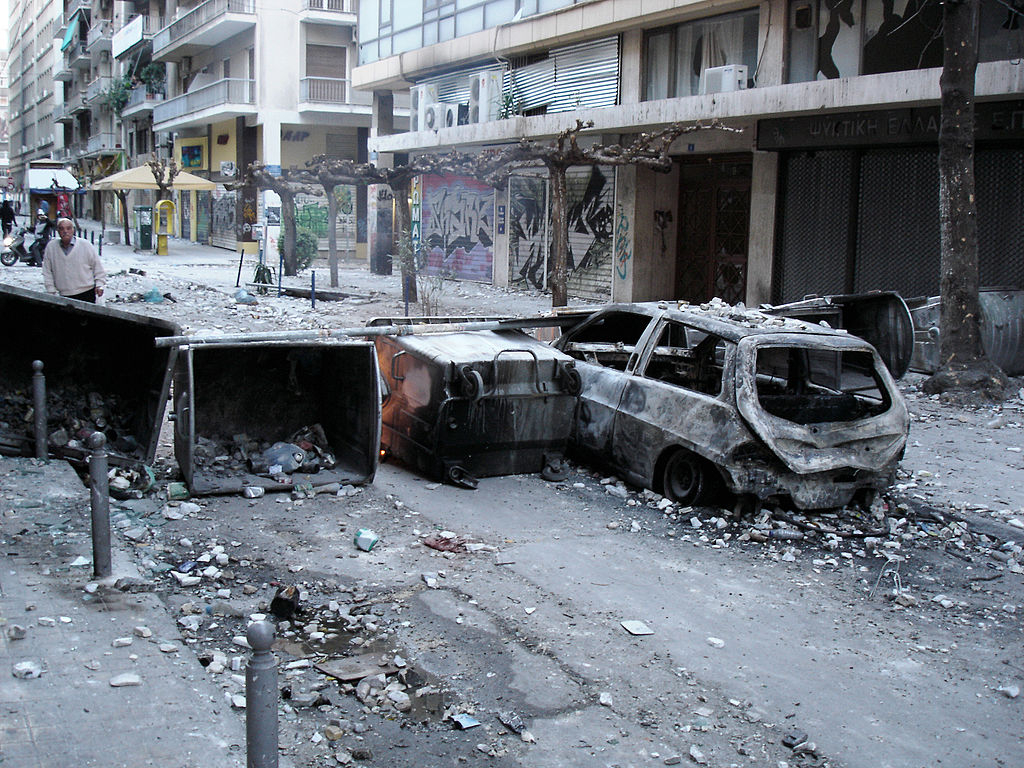 According to Stavros Balaskas, vice president of the Greek Federation of Police Officers, anarchist gangs in the Athens neighborhood of Exarchia have "platoons, companies, battalions, Kalashnikovs. I don't know any more if we, as a police force, have the political mandate to clear the area. This region is a matter for the army now." Pictured: A street in Exarchia following a riot, in December 2008. (Image source: Xenos2008/Wikimedia Commons)
An assault on members of the Hellenic Coast Guard during a drug raid in Athens on April 4 highlights a growing problem in Greece. Some opponents of the far-left Syriza-led government attribute the increasing drug traffic in the country to a dangerous alliance between political anarchists and illegal immigrants. The anarchists might be considered the Greek equivalent of the "far left". According to Reuters:
"Many self-proclaimed anarchists – the word stems from the Greek 'anarchia' or absence of authority – say they are pacifist, but certain groups have few qualms about using violence. Six years of recession have fuelled a new wave of left-wing militancy, according to officials, anarchists and court testimony."
Continue Reading Article