— Ezra Levant 🍁 (@ezralevant) May 14, 2019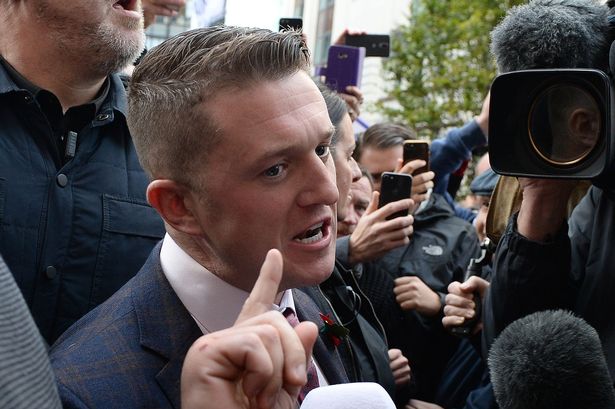 This is the horrific crime spree that Tommy was reporting on — by simply standing outside the court and talking to his camera phone: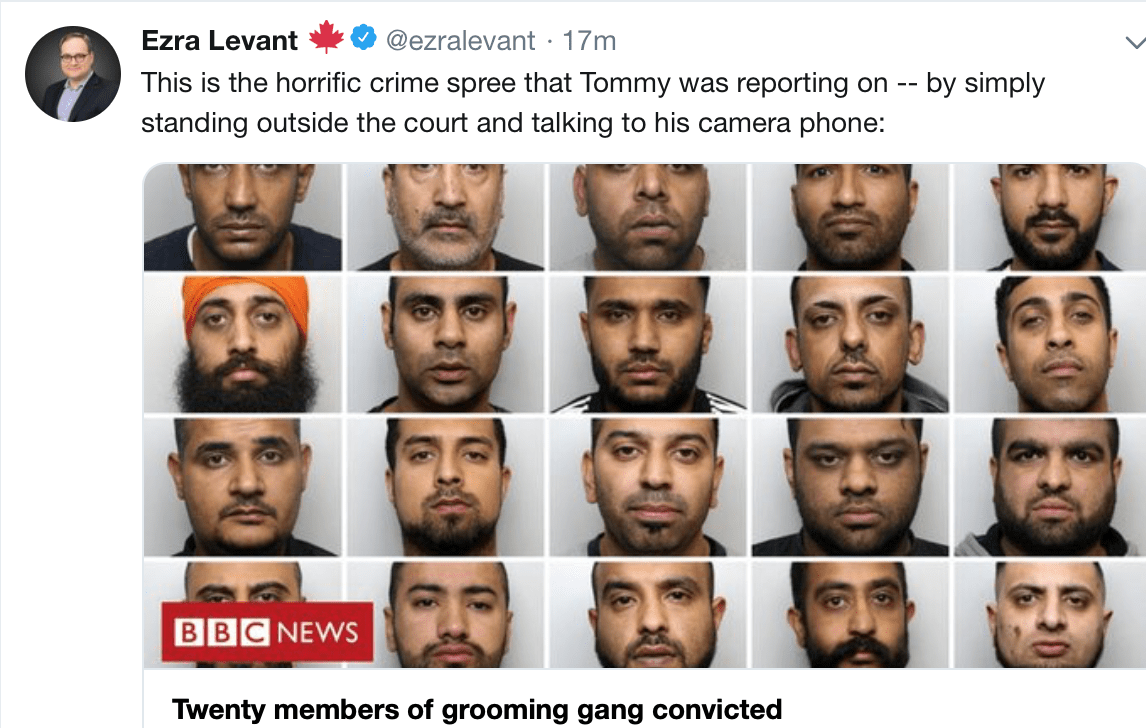 Twenty (Muslim) men have been found guilty of being part of a grooming gang that raped and abused girls as young as 11 in Huddersfield.
The men were convicted of more than 120 offences against 15 girls.
Victims were plied with drink and drugs and then "used and abused at will" in a seven-year "campaign of rape and abuse" between 2004 and 2011.
Update:
Ezra Levant:
the AG is claiming that Tommy was mean to one of the child rapists as he was coming in on judgment day. I'm serious. That's why the AG thinks Tommy should be prosecuted — because he was verbally mean to a man who raped girls hundreds of times. I'm serious.
The attorney general is claiming that there is a public interest in pursuing this second contempt of court proceedings against Tommy. I find that staggering, given that Tommy has already served 10 weeks in solitary, and the court of appeal has thrown out that out with gusto.
The lamestream media is out in force. They positively lust for Tommy to be convicted and sentenced – I didn't see a single one of them cover the substantive reasons for the Court of Appeal throwing out Tommy's first contempt finding, nor his brutal imprisonment.
https://twitter.com/TommyRommel92/status/1128285323241279490
Sajid Javid accused of 'shocking' lack of action over review into ethnicity of grooming gangs
Sajid Javid has no interest whatsoever to expose the Islamic theology that motivates these Paki exploiters of English females.
A top prosecutor has accused Sajid Javid of a "shocking" lack of action after he promised to investigate claims that grooming gangs are mainly men of Pakistani heritage.
The home secretary ordered the review of the "characteristics" of the gangs behind child sexual exploitation last July – saying the abuse had "disgraced our heritage".
Earlier:
How about this for a sense of proportion, @JohnnyMercerUK?

A THREAD.https://t.co/KBy71nZdvh

— Shy Society🇬🇧 (@Shy_Society) May 3, 2019
If you log on to this Twitter thread, you can see quite clearly what went down in … when Tommy Robinson was attacked by Danyaal Mahmud:
Place bacon on a mosque door – die in jail
Attack Tommy Robinson in the street – become the darling of the left wing media and 'victim' that we're all supposed to feel sorry for