Tough call, that. the absurdity of it is hair raising.
Almost half of Tory party members (40%) believe the Government should "lower the number of Muslims entering Britain," according to the survey. …
Boris Johnson and Jeremy Hunt have been challenged to tackle Tory Islamophobia after a shocking poll revealed the extent of anti-Muslim sentiment in the party.
Sajid Javid, the home secretary, who had previously called for an independent investigation into "Islamophobia" in the Conservative Party, did so again in his reply to Mr. Patel, and asked his rivals to back his demand; they all nodded in seeming agreement. "It's great that we all agree on that," Javid said, noting that there was a "concern [about] growing anti-Muslim hatred in our country, certainly over the last few years, in all parts of society. And, wherever that is, including in political parties, it must be absolutely rooted out."
Got that? All resistance "must be rooted out".
Former Equality Chief: Islamophobia Definition a 'Bullies' Charter' for Censorious Muslims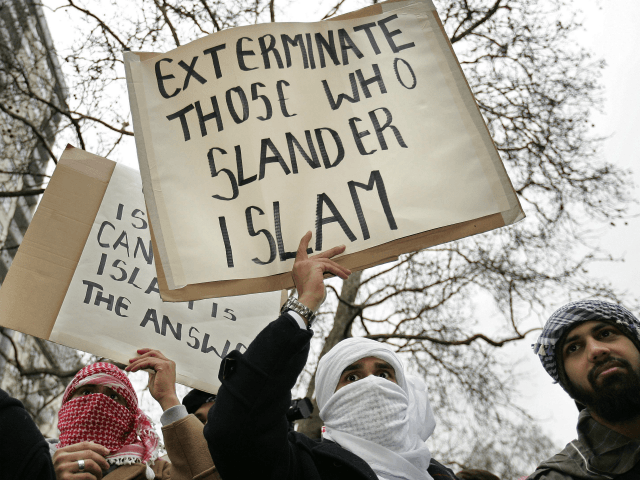 Muslim demonstrators hold banners at the Danish Embassy on February 3, 2006 in London
Britain's former equality tsar Trevor Phillips OBE has warned the sweeping new definition of "Islamophobia" is a "bullies' charter" for Muslims inclined to censor criticism of Islam and Islamic practices.
Matthew McGregor, Hope Not Hate's campaigns director said: "From the grassroots to the great offices of state, Conservative members buy into racist myths, with almost half unwilling to have a Muslim Prime Minister – and only 8% being proud to have one – and most denying that there's even an issue to confront."
In an open letter to both candidates, Hope Not Hate have demanded they publicly acknowledge the problem and set up an independent investigation to tackle it.
The letter reads: "There appears to be a serious problem with Islamophobia in the Conservative Party. Evidence compiled by the Muslim Council of Britain and others shows a systemic issue within the party that affects it at every level – from the Cabinet, to council chambers, to the grassroots."
Home Secretary Sajid Javid got all his leadership rivals to endorse an inquiry into the anti-Muslim racism in the Tory party should they win the contest.
England is gone.