Once upon a time, the CDU was a party of half-assed conservatives. The subversion (or transformation, if you prefer Obama lingo)  started long before Merkel, but it was Merkel who took that party to the extreme left. She didn't stop there: she even managed to operate with the full consent of the Socialists & the Watermelons, thus establishing a big coalition, a one-party state, a Socialist Unity Party just the way it was in her former East Germany. Now, when ardent lackeys like Tauber call anyone who doesn't toe the line "right wing" he doesn't only smear them with false accusations, he shows his totalitarian allures. These fascists would suspend voting given half a chance. Democracy needs opposition to remain healthy. But the Merkel cabal doesn't want democracy, it wants absolute power.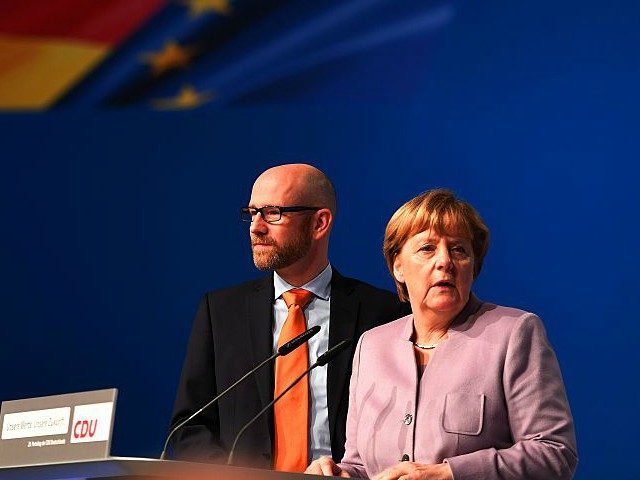 The former General-Secretary of German Chancellor Angela Merkel's Christian Democratic Union (CDU) has advocated stripping right-wing "extremists" of their fundamental rights to free speech and free assembly.
Mr Tauber, who serves as an MP for the CDU in the German Bundestag, made his statements following the murder of pro-open borders CDU member Walter Lübcke and the arrest of a suspect thought to be linked to far-right extremism.
Writing for German newspaper Die Welt, Tauber blamed members of the populist Alternative for Germany (AfD) for the murder of Lübcke, saying, "the political climate of this republic has changed as well. The AfD in the German Bundestag and in the state parliaments contributes to this. With the dissolution of the language, they have paved the way for the dissemination of violence."
Tauber also singled out several AfD members including co-chair Alice Weidel, saying they were " complicit in the death of Walter Lübcke due to a language that is uninhibited and leads to violence."
'Identify a Nazi Parent'  Booklet Citing 'Girls with Braids'
A booklet for daycare workers that claims to help identify "Nazi parents" suggests watching out for girls with braided hair and athletic boys.
In order to combat right-wing extremism, Tauber advocates using Article 18 of the German constitution which allows the government to strip free speech, free assembly, property rights, privacy of communication, and freedom of the press from those deemed to be fighting against the "free democratic basic order".
Tauber admitted that the rules were to prevent another rise of the Nazi party but said, "Article 18 is today an instrument not only against right-wing extremists but also against all others who are also committed to the fight against our freedom."
These are not 'lawmakers', these are criminal Soros apparatchiks trying to eiminate any opposition to the superstate & the population replacement.
Germany: Lawmakers Want Three-year Prison Terms for Burning EU Flag
Damaging "symbols of the European Union" could result in a fine or a custodial term of up to three years under new laws proposed in Germany.
While right-wing extremism has seen an increase over the past several years in Germany, so too has left-wing extremism, according to the German domestic intelligence agency the BfV, which released a report last year showing the number of violent left-wing extremists had increased by 27 per cent from 2012 to 2017.
The number of violent incidents committed by left-wing extremists rose by a staggering 88 per cent during the same period.
Tauber did not mention left-wing extremism at all in his writing, despite Antifa allegedly taking credit for nearly killing AfD politician Frank Magnitz earlier this year in Bremen.