660,000 more Muslim migrants ready to flood EU, Italian leader strengthens resolve to protect borders
Via Jihad Watch
Europe is bracing for another flood of Muslim migrants coming in from Libya.
660,000 migrants are trying to find ways to get into Europe but the won't have any luck with Italy. Italian leader Matteo Salvini has stepped up efforts to protect Italy's borders from illegal migrants.
As the migrant pressure builds in Libya, it has been met with resolve by Italian populist interior minister Matteo Salvini who has been robust in enforcing his policies against mass migration.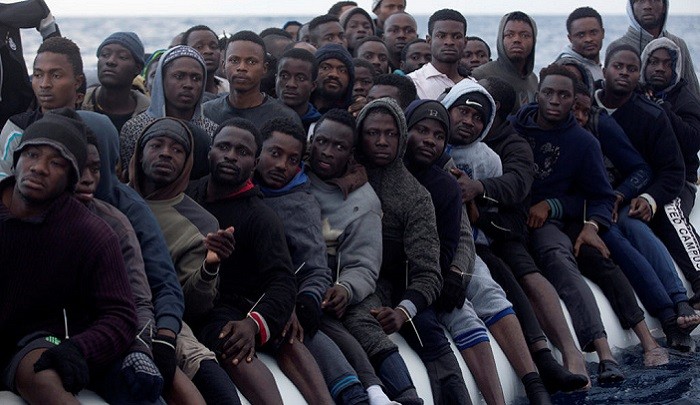 Continued below the fold.
Gerald Knaus, Soros Apparatchik, Merkel's 'Migration Epert'
Salvini considers the incident an 'act of war' while the German FM says that forbidden humanitarian act is not to be criminalized and the treatment was 'unacceptable'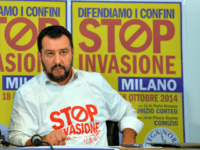 Tell me, please, what's 'hysterical' about trying to protect your country from invading third world savages?
Ein italienisches Gericht entscheidet heute, wie es mit der Sea-Watch-Kapitänin Carola Rackete weiter gehen soll. Dass es so weit kommen konnte, sei ein Versagen der Politik, erklärt Migrationsexperte Gerald Knaus.
.#CarolaRackete #FreeCarolaRackete #Seawatch3 pic.twitter.com/0g4Zl9xeCJ

— ZDF heuteplus (@heuteplus) July 2, 2019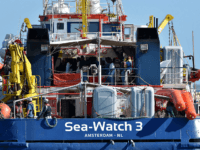 Shameless.
Interior minister Matteo Salvini, meanwhile, has called the actions of Ms Rackete an "act of war" and welcomed her arrest after previously accusing the NGO of people trafficking.
The German government has also weighed in on the arrest of the open borders activist with foreign minister Heiko Maas and Chancellor Angela Merkel demanding the release of Rackete, according to Il Giornale.
In a closed-door meeting, Italian Prime Minister Giuseppe Conte rebuffed Ms Merkel, telling her: "In Italy, the executive power is distinct from the judiciary."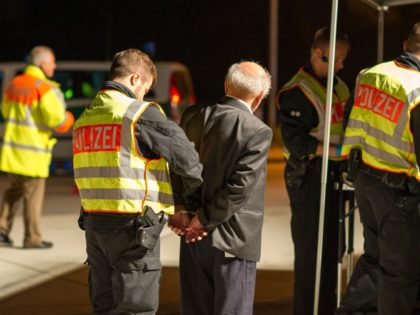 Continued: 660.000 more already on the way:
Salvini has sent out to two ships to block vessels carrying migrants and has called his move "a matter of principle".   Meanwhile a migrant transport NGO vessel,Sea Watch-3, is under investigation for people-trafficking and is facing heavy fines, while antifa groups have been raising money to help Sea Watch-3. Antifa and globalists continue to see only the crisis in Islamic countries, not the results of Muslim migration and not the fact that religious minorities who have suffered most–having to cope with both unrest and persecution–have been mostly abandoned by the global community.
EU countries will continue to decline, at the expense of their citizens and become more "Muslim" and "African" as warned by the Dalai Lama, if immigration remains uncontrolled.  Oil rich Islamic countries continue to turn their backs on their fellow coreligionists.
"660,000 Migrants Waiting to Get to Europe from Libya", by Chris Tomlinson, Breitbart, July 5, 2019:
While the number of migrants entering Europe has declined, reports claim that as many as 660,000 individuals still remain in Libya looking for a way into Europe.
Since the start of the year, fewer people have managed to cross the Mediterranean from Libya to Europe and the number of drownings has declined, but Libya still remains a major departure point for African migrants, broadcaster Franceinfo reports.
Earlier this week, the bombing of a detention centre in the suburbs of Tripoli, which killed 44 migrants, put even more strain on the situation in the North African nation. Condemned as a "war crime" by the United Nations envoy for Libya, Ghassan Salamé, the attack sparked international outrage.
The Libyan National Unity Government blamed the attack on the insurgent forces of General Khalifa Haftar, who admit to targetting the area but deny involvement in the attack on the migrant centre which housed 600 migrants.
Days after the attack, a ship containing 86 migrants sank in the Mediterranean with only three survivors, according to local authorities. Some migrants have even alleged that they have been forced to assemble weapons for groups fighting within Libya at the detention centres.
Several migrant transport NGOs have also resumed operations off the coast of Libya in the search and rescue (SAR) zone, with Italian organisation Mediterranea Saving Humans announcing earlier this week they would be launching their vessel, the Alex, in support of two other NGOs still operating in the area.
As the migrant pressure builds in Libya, it has been met with resolve by Italian populist interior minister Matteo Salvini who has been robust in enforcing his policies against mass migration.
Salvini, who has accused NGOs directly of human trafficking, launched patrol boats last week to prevent migrant vessels from entering Italian national waters. It is unclear what actions the boats will be able to take as Italian law does not apply in international waters, however…..