This is how they advertise themselves on Twitter:
"The moment you doubt whether you can fly, you cease for ever to be able to do it." M. Barrie, Peter Pan @RescueMed #Mediterranea
The Italian charity, Mediterranea Saving Humans, which was formed by left-wing activists, said it has rescued 54 people off the Libyan coast, including women and children.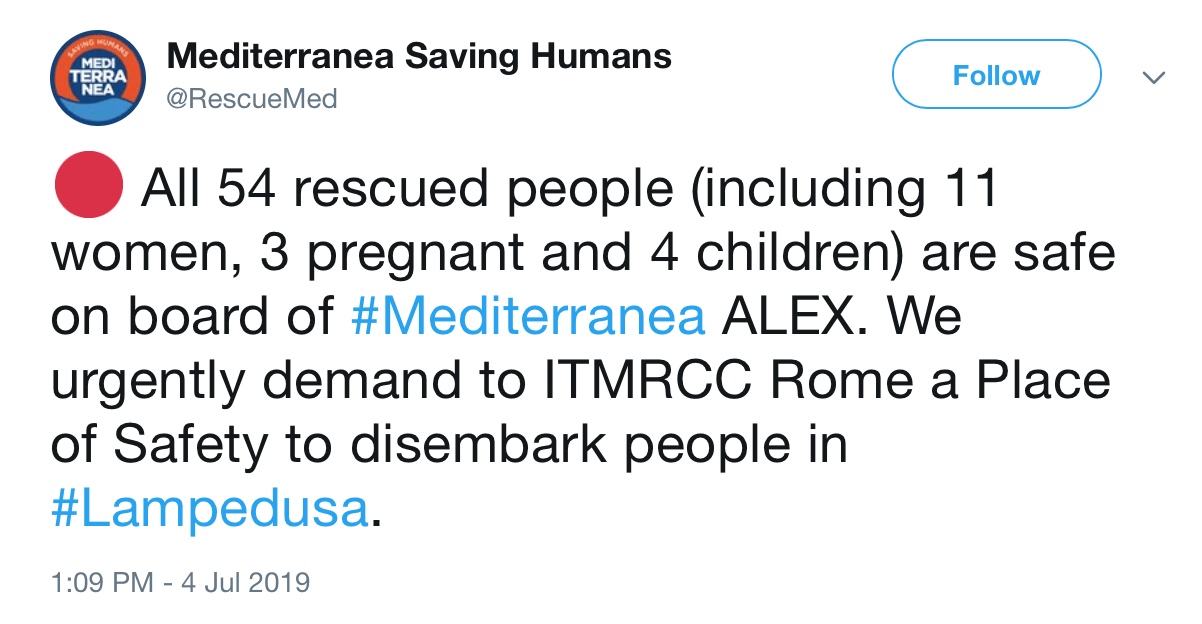 1. There are safer ports closer to Libya than Italy.
2. You are not rescuing anyone. You are complicit in the trafficking of human flesh
3. Because of your actions, more migrants will put to sea and drown.
STOP THE BOATS.
Stand with Salvini
"All 54 survivors have been rescued and are now aboard," Mediterranea tweeted. "Among them 11 women (three pregnant) and four children…. Happy to have rescued 54 lives from the hell of Libya. Now we need a safe port."
On his Twitter account, Italy's Interior Minister, Matteo Salvini, however, swiftly called on Mediterranea's sailboat the Alex, which managed to rescue the migrants, to take them to Tunisia.
"If this NGO really is concerned by the security of the migrants then let it head for the nearest port otherwise they should know that we shall activate all procedures to avoid having trafficking in human beings reaching Italy," said Salvini.
Earlier, the Italian authorities told Mediterranea that the area was the responsibility of the Libyan coast guard, according to Mediterranea, shortly after the charity group said that Alex was heading for a rubber boat in distress in Libya's search and rescue area.
"But people must be rescued, not captured and deported back to Libya," Mediterranea said. "The Libyan patrol boat arrived late, they first asked us to stop, then left the scene," the collective tweeted.
Last week, Italian authorities seized a German aid Sea-Watch vessel and arrested its captain after the boat had entered Sicily's Lampedusa port with dozens of rescued migrants on board.