Arch-Globalist Christine Lagarde Picked to Head European Central Bank
Lagarde is of course a devout warmist who uses the warming fraud as a vehicle to replace the capitalist system. Turning Europe into EUrabia through mass-migration is just part of the plan to achieve that.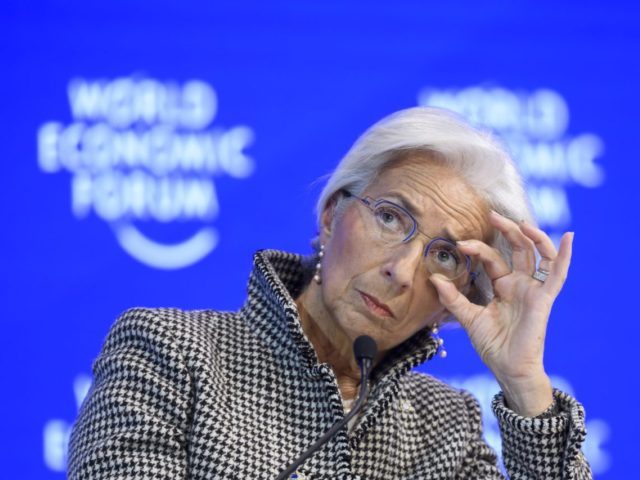 Christine Lagarde is both an arch-globalist and a very Trumpian pick to run the European Central Bank.
"Trumpian?" Nothing "Trumpian" about this  awful Soros disciple. She was convicted of financial fraud in a court of law, so clearly she is admirably suited to this latest task entrusted to her by the massively corrupt and inept EU. It's business as usual in Clown World.
The International Monetary Fund chief was picked by European leaders to run the Frankfurt-based central bank, taking over the top role from Mario Draghi. Like Jerome Powell, whom President Donald Trump tapped to run the Fed, Lagarde is a lawyer by training rather than an economist or a central banker.
Once she receives final approval and takes office, two of the world's most powerful central banks and the two biggest currency zones will be lead by non-economists for the first time in modern history.
Although she has been called an "arch-globalist," Lagarde is not blind to the costs of global trade on workers in the U.S. and the rest of the developed world. But instead of advocating a Trumpian policy of trade deals that create or protect good jobs, she's argued for a European-style welfare state, higher minimum wages, and direct financial support to compensate workers displaced by global trade. Instead of economic nationalism, she supports a program she calls "new multilateralism."
"Tackling inequality requires partnership," Lagarde said in a speech last year. "It requires governments, the private sector, and civil society working together: to eradicate discrimination against women; design the right labor market reforms; and strengthen education, training, and social protection systems—to include people, not exclude them, and prepare them for the coming technological transformation."
In other words, the solution to problems created by globalism is to give the people more globalism, good and hard.
Reminder:
Previously, IMF boss Lagarde was already threatening to move the IMF to China. Days after attending secretive Bilderberg meetings with top globalists and a member of the Chinese Communist Party Central Committee, Lagarde shocked the world by claiming the IMF's headquarters could eventually be moved out of the United States to Beijing. The statement came amid well-orchestrated establishment efforts to boost the role of Third World dictatorships and corrupt governments in "global governance," and within the IMF in particular.
"The way things are going, I wouldn't be surprised if one of these days the IMF was headquartered in Beijing," Lagarde said in June of that year in a speech at the London School of Economics, adding that she did not think it was "fate" that the outfit should be indefinitely run by a European. "It would be the articles of the IMF that would dictate it." The French bureaucrat also made a series of bizarre statements praising the Chinese dictatorship — responsible for murdering more human beings than any government in history — while blasting the United States for failing to agree to her demands to empower the IMF and Third World regimes.  
That's what it's all about. Power for the IMF and third world despots.
Instead of being intimidated by the threats of Lagarde and other globalists to let Beijing run the "New World Order," the U.S. government would be wise to withdraw from the IMF and evict its headquarters — along with the UN, the World Bank, and other such establishment-controlled outfits. Rather than "helping" America or the world, the globalist institutions have served primarily as tools to oppress people, loot humanity's wealth, overthrow governments, enslave nations with debt, and generally to advance the cause of globalism. So let Beijing have the IMF, and the UN too. Then Washington, D.C., can focus on putting America First instead.
Here's more on how Europeans are being screwed out of their wits and out of their birthright.