If Bill Clinton doesn't know anything about Jeffrey Epstein's child sex crimes, then why did he feel obligated to put out a press release immediately after the indictment and won't release records relating to it?
Update:
Google photos of Jeffrey Epstein and Bill Clinton, previously available on Google Images, appear to have been scrubbed.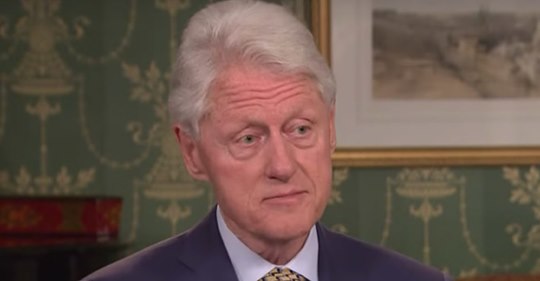 Bill Clinton 'knows nothing' about financier Jeffrey Epstein's 'terrible crimes,' former president's spokesman says
Sounds familiar, doesn't it?
Ann Coulter Thinks Epstein Had a "State Sponsor" & Was Running a "Blackmailing" Operation
"Something much bigger is behind this".
Ann Coulter says that sex trafficker Jeffrey Epstein had a "state sponsor" backing him and that his operation was a way to blackmail powerful men.
"It just seems to me something much bigger is behind this — perhaps a state sponsor — powerful enough people … it just seems to me there's something a very powerful force behind what's going on here and I am still nervous about this not coming to a conclusion, somehow this getting compromised," she added.
Coulter said that it remained a mystery as to how Epstein became a billionaire and that the source of his money should be investigated.
Former President Bill Clinton attempted to distance himself from Epstein last night, claiming he only flew on the infamous 'Lolita Express' private jet four times despite flight logs showing at least 26 trips.
Labor Sec. Acosta Hails Epstein Charges, Calls Crimes 'Horrific'…
Bill Clinton jumped aboard disgraced sex offender Jeffrey Epstein's 'Lolita Express' plane for junkets 26 TIMES in just three years
Financier Jeffrey Epstein drew a light 18-month prison term for soliciting prostitutes and procuring underage girls for prostitution
The famously Lothario-like Bill Clinton is one of several big names who hung with Epstein before the depth of his legal problems were made public
Epstein's jet was reportedly set up with a bed where guests had trysts with young girls
Flight logs show the former president jetting to Brunei, Norway, Russia, Singapore, Hong Kong, Japan, the Azores, Africa, Belgium, China, New York, and Belgium – all on Epstein's plane
Bill Clinton spent enough time aboard disgraced Wall Street mogul Jeffrey Epstein's 'Lolita Express' airplane that he should be eligible for frequent flyer miles, according to a shocking new report that reveals how often the former U.S. president road along with with the convicted sex offender.
Flight logs reviewed by Fox News show Clinton took 26 trips aboard Epstein's Boeing 727 jet, more than double the 11 flights previously known.
Epstein's jet was reportedly set up with a bed where guests had group sex with young girls.
One of them, Virginia Giuffre, has claimed she was lured into joining Epstein's harem when she was just 15 years old and was then known as Virginia Roberts.
The former teen prostitute has said she was used as a 'sex slave.'
https://twitter.com/angelurena/status/1148357927625023490/photo/1?