Germany:
"Fuck you, Greta" is now blasphemy  against the warming cult & will be punished by the Merkel regime
Merkel regime threatens critics of Greta — Up to 3 years imprisonment for satires about Greta
Two long and beautifully designed Greta pigtails hang from the trunk. Above them is written "Problem solved", and a little further up "Fuck you Greta". The public prosecutor's office has initiated an investigation against a man from Plauen who has stuck the pigtails on his car. "The accusation to be examined is a public request to commit crimes," says Ines Leonhardt, spokeswoman for the Zwickau public prosecutor's office. One could see in this kind of tailgate decoration the glorification of violence against children and the invitation to do harm to a certain person. The penal code provides for up to three years imprisonment.A citizen filed a denunciatory complaint. Just the sticker "Fuck you Greta", which for example a citizen stuck on his old Citroen, was considered an insult, according to the prosecutor.
UN Climate Chief Says Communism is Best Way to Fight Global Warming
This is what it's all about since the very beginning. That's all there's to it. They know exactly what they are doing and know exactly how to use children for their propaganda & scare campaigns.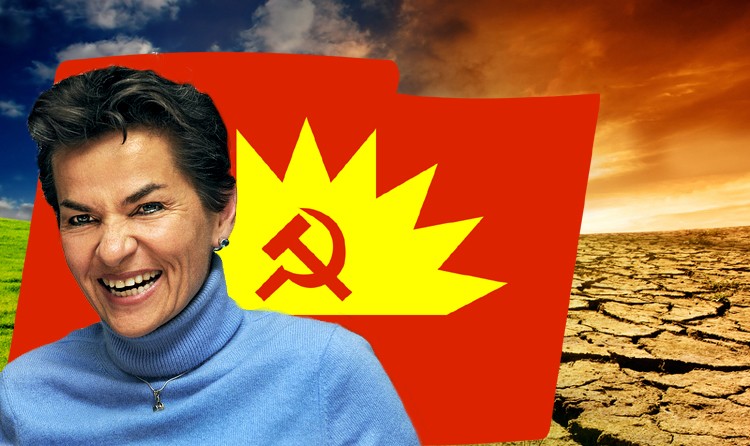 The fake news media are now leading the radical Left and using their platform to push the socialist agenda.
The UN climate chief, Christiana Figueres stated earlier this week that democracy is a poor political system for fighting global warming. She also said that communist China is instead the best model.
"Isn't the only hope for the planet that the
industrialized civilizations collapse?
Isn't it our responsibility to bring that about?"
– Maurice Strong, founder of the UN Environment Programme (UNEP)
"We've got to ride this global warming issue.
Even if the theory of global warming is wrong,
we will be doing the right thing in terms of
economic and environmental policy."