French police arrest five, including an imam, in connection with knife attack on Paris police station
French Interior Minister Christophe Castaner at the scene shortly after the attack on Oct 3 
French police arrested overnight five people, including a Salafist imam, in connection with Mickael Harpon, the IT expert at Paris police headquarters who killed four colleagues in a knife attack this month.
Police swooped on the individuals in three locations in the northern suburbs of Paris around near the home of Harpon, 45, who was killed at the end of his stabbing spree on October 3.
The murders sparked soul-searching over how a man who converted to Islam 10 years ago and had adopted increasingly radical beliefs escaped detection despite working at a police intelligence unit whose job is to identify terror threats.
One of the people detained on Monday was an imam who preached at a mosque Harpon attended in Gonesse and who is on France's "Fiche S" list of potential security threats.
Last week, the mayor of Gonesse announced that the Muslim association which employed the imam, who followed the hard-line Salafist branch of Islam, had dismissed him.
As if 'Salafist' Islam was different from regular Sunni Islam!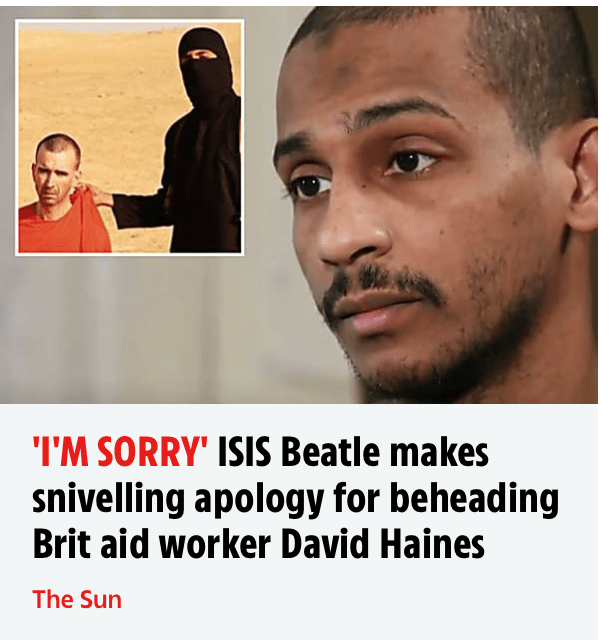 In the feeble bid for leniency as he faces the death penalty, the moaning fanatic still tried to wriggle out of taking full responsibility for Mr Haines' beheading by Jihadi John.
So stupid. What exactly is an apology meant to do? 
In other news:
Just letting you know…
Germany's Conquerors Begin Taking Control
"Clans are increasingly infiltrating government agencies and job centers," with powers to distribute payments and benefits
President @realDonaldTrump slapping back at Turkey today. @johnrobertsFox

If we hit Turkey from the backside would Greece help? 😂 pic.twitter.com/qvMXUMmNx6

— The Dirty Truth (Josh) (@AKA_RealDirty) October 14, 2019
From the Religion of Peace: