Thousands of foreign Islamic State supporters are held in Kurdish camps in Syria, and while most EU countries refuse to repatriate them, Kosovo is bringing them back. A picture speaks a thousand words: the Pristina airport in Kosovo "was shut down to the public when the 32 women, 74 children and four men were brought back" to the country; then they were transported on "dimmed buses shortly thereafter." That way the public couldn't see them. "Men were sent to the high-security prison Podujeve; women and children for medical and psychological examination in the Vranidol arrival center."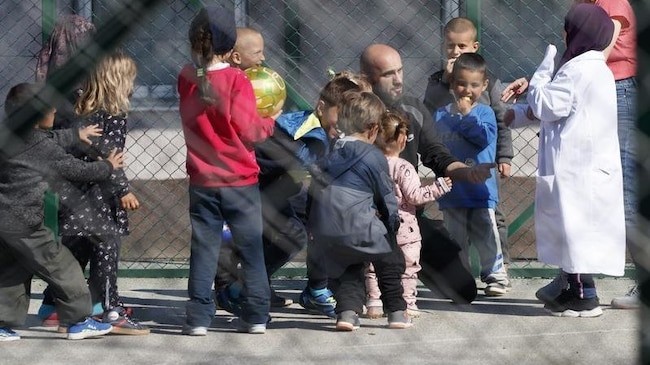 The males were detained, but their jihadist wives were relatively free; their children will be among other Western children.  As reported previously by Jihad Watch about a group of Islamic State children:
These children are likely to be…conditioned Islamic State little war machines. Authorities have no idea about whether it is even possible to deprogram them or to integrate them, and they can offer no assurances to the public that these children will not seek out jihadists within their own community. Known as "Cubs of the Caliphate," Islamic State children are trained to "use weapons and sent out in combat. Counter-terror experts are concerned about the risks posed by such vulnerable children."
Muthana had "good intentions"…
He only went on jihad to "help the poor…"
British ice-cream seller who joined ISIS in 2014 begs to come home because he 'misses Cardiff and his mother' after he is found in Syrian prison
Aseel Muthana left Wales to join ISIS in Syria in February 2014, when he was 17
He has resurfaced in a Syrian prison and his mother has backed his plea to return
Muthan said he joined ISIS to 'help the poor' before wave of beheading videos
One way or another, they will all return…
he Netherlands passed a law earlier this year that would revoke Dutch citizenship from anyone who travels abroad to wage jihad in the way of Allah. However, the law cannot be applied retroactively, so anyone who went to Syria before it was passed — which means most of the "Dutch" mujahideen — is exempt from its provisions. As a result, a gaggle of mischievous youngsters will be "grandfathered in" and allowed to return to the Netherlands.  (GoV's got video)
Continued:
Kosovo is of concern to free nations.
Three years ago, an Islamic State general from Kosovo who blew up a hostage and decapitated another returned to Europe in disguise as a refugee and brought with him 400 jihadists. Ex-NATO soldier Lavdrim Muhaxheri and his men were among thousands who fled after the Islamic State lost its caliphate in Syria.
This is what open-door immigration brings: unvetted jihadist infiltrators who have committed deeds unimaginable to Westerners, deeds against which the actions of the most dangerous criminals in maximum security prisons pale by comparison. Yet these jihadists are roaming among the unsuspecting citizenry, welcomed by globalists who push for open-door policies.
"According to analysts, Kosovo became one of the largest per-capita contributors of European fighters to ISIS, and the government considers potential attacks to be a key national security threat." Yet the government still puts its citizens at risk.
"'Islamic State' returnees in Kosovo guided back into society," Deutsche Welle, October 2. 2019:
Thousands of foreign 'IS' supporters are held in Kurdish camps in Syria. Most European countries refuse to repatriate them, but Kosovo is bringing its citizens home. DW met with one female returnee under house arrest.
Mensur Hoti chain smokes. In a cafe in the Kosovar capital, Pristina, the country's director of public security reveals the secret operation that took place in the early morning hours of April 20. Hoti was responsible then when a chartered plane landed in Pristina under cover of darkness. On board: 110 Kosovar citizens — returnees from the so-called Islamic State (IS), who had last lived as prisoners in Kurdish camps in northern Syria. Not even the relatives of the returnees knew anything.
Return from Syria at night
Coordinating the complex logistics of the repatriation left him sleepless for days, Hoti recalls, taking a sip from his coffee cup. His country has no official relations with the Kurdish contingent of the Syrian Democratic Forces (SDF), which controls a large area in northern Syria. US forces, which are allied with the Kurdish-led military coalition and have stationed troops in the area, made Kosovo's repatriation of the former IS adherents possible.
The Pristina airport was shut down to the public when the 32 women, 74 children and four men were brought back to Kosovo in April and transported on dimmed buses shortly thereafter. Men were sent to the high-security prison Podujeve; women and children for medical and psychological examination in the Vranidol arrival center.
"We should have in mind that in the last months they suffered a lot. They were in the camps with a lot of problems: No food, no hygiene, and other issues," Hoti reports. But the hardest part of working with the IS returnees, he says, is still ahead for Europe's youngest state: "The ideology part — it will be a challenging process to deal with all of them."
The caliphate of the mind
This becomes clear at the meeting with Vlora. Like the other Kosovo returnees, she has been back home for almost half a year. Vlora is an assumed name — she cannot reveal her real one. Like all other returnees, she is under surveillance and remains under house arrest on her parents' farm in a small Kosovar farming village. She sits in the shade of an oak tree as roosters crow, a cat roams around, and sunflowers sway in the wind. The scene looks idyllic. But the broken windows of her parents' house bear witness to poverty.
The other women in the family wear airy, colourful skirts. But not Vlora. All you can see of her is what is visible under a narrow slit for her eyes. The rest of the slight 22-year-old disappears under a black veil that covers her from head to toe. During the conversation, she constantly rubs her hands….