German State Radio celebrates halal fair as "Ethical Life Concept"
Halal racketeering is anything but ethical. So what business does  German State Radio have to promote it & present it as something that it most certainly is not?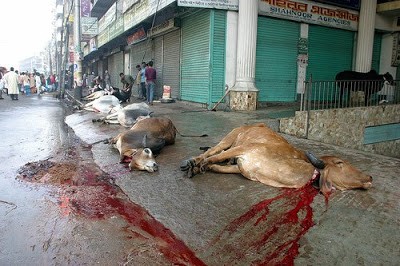 A series of presentations will cover topics such as certification, production and marketing of halal foods, halal tourism and logistics. Also planned is a gastronomic special area "Die Dönertheke" where visitors have the opportunity to taste halal-compliant food and drinks.
Germany: Concrete Christmas trees shields market from Muslim attacks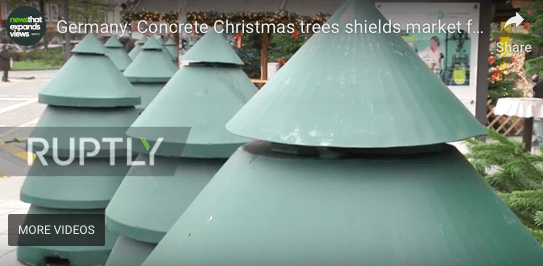 With the holiday season just six weeks away, special security barriers made of concrete appeared at Essen's Christmas market. A visit to the bustling square on Friday showed the green Christmas tree-shaped blocks deployed to protect the stalls from terrorist attacks. The blocks, 1.8m high and weighing around three tonnes, were installed at the markets' entrance which faces the city main station. Security around Christmas markets has been tightened ever since the attack on Berlin's Breitscheidplatz event in 2016, which claimed the lives of 12 people.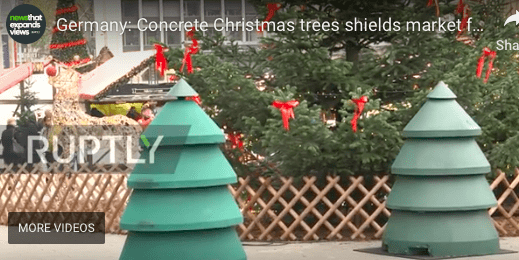 Muslims and leftists jump the fence in Norway after protestor lights up a koran
Video is dated November 17th and took place in Oslo, November 16th.
Protestors held demonstration against Islamic values in ascendance in Norway and of course were met with massive far-left wing violent extremists as well as muslim counter-protestors.
According to Tundra Tabloids, this protest was done by "Stop the islamization of Norway".
According to our Norwegian translator, the first speaker says: "we wanted to burn the Quran but police don't allow it.. So we toss it..". This is repeated a lot.
Then they toss a koran into a red bucket. Someone else lights up another copy and then the muslims and leftists jump the fence to attack the protestors.
Thanks to Tundra Tabloids & Tania Groth for the footage