Islamic terrorist #Rizvi who put a fatwa on me before, now wants to behead me and the crowds love it. He should be jailed for live. He is as crazy, violent and dangerous as his so called prophet Muhammed. #Rizvi #Wilders https://t.co/j3FqgeoL2Y

— Geert Wilders (@geertwilderspvv) November 20, 2019
Khadim Rizvi is not 'crazy', he is devout. He is devout, violent & dangerous like a billion of his coreligionists.
Norway: Anti-islamization rally turns violent over Qur'an burning
"The contest turned deadly when two men opened fire."
"Journalist" Claire Goforth obscures who was shooting at whom in jihad attack on Muhammad cartoon contest
Sri Lankan Priest on Picking Up the Pieces After Surviving Easter Bombing
Islamic State radicalization came knocking on the doors of Sri Lanka's Muslim community.
I don't think it came knocking. It was always there in their mosques, in their quran & in the teachings of their prophet.
But remember: "Islamophobia" is the real problem here: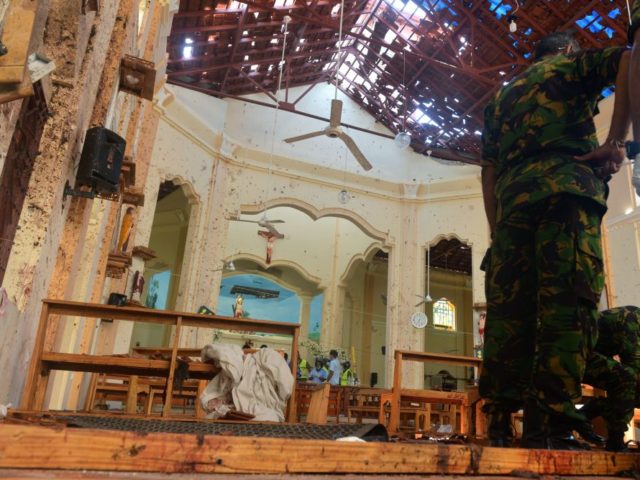 Father Neville Fernando, TOR, froze. He was standing in the middle of St. Sebastian's Church in Negombo, Sri Lanka, on Easter Sunday in the immediate aftermath of a jihadist attack that would kill over 250 people and injure 500 others in three churches and three hotels in the Colombo area.
"I heard the explosions, I saw the bodies, you know — the parts of the bodies, legs and hands and all. I was just trapped in the middle of the church, I could not do anything," Fernando told Breitbart News in an interview on Tuesday.
Human Excrement Smeared at Vandalised French Church
Two (Musel-)men are accused of breaking into a church in the French commune of Tarbes and vandalising the place of worship and soiling books with faeces.
That's typical Mohammedan behaviour.
The church attack occurred on Wednesday afternoon and saw the pair, who are still at large, take out prayer books which they proceeded to tear up, set on fire, and soil with human waste, French broadcaster Franceinfo reports.