Not surprising at all. Omar's life is a crime-spree. From immigration fraud to embezzling public funds, Omar got away with it.  Being a black Moslem hijabee from Africa she ticks all the boxes, she is the poster child for BLM & other subversives. Will she be prosecuted this time? I wouldn't bet on it.
But, as we all know, the laws of the kuffar don't apply to Mohammedans.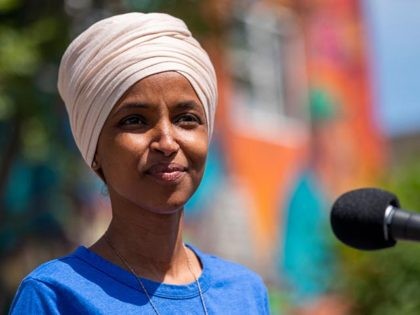 Project Veritas has released the results of an investigation into alleged ballot harvesting by supporters of Democrat Rep. Ilhan Omar in Minnesota, a key swing state in the 2020 presidential election.
10 MINUTE WARNING

We are about to drop the voter fraud MOAB. We have obtained a video of a ballot harvester exchanging cash for General Election ballots.

This is the smoking gun… #CashForBallots pic.twitter.com/So2YVxSfJv

— James O'Keefe (@JamesOKeefeIII) September 29, 2020
Here's @Project_Veritas explosive video @realDonaldTrump is referencing #BallotHarvesting pic.twitter.com/cB2Bz31mSY

— James O'Keefe (@JamesOKeefeIII) September 28, 2020
https://twitter.com/JaneADoe001/status/1310440023246995456
"The Left wants to try to use the courts to steal and rig the #election beforehand. Judge Barrett can't get on the court soon enough," @JudicialWatch President @TomFitton. pic.twitter.com/ibgwW1yLCU

— Judicial Watch ⚖️ (@JudicialWatch) September 28, 2020
Given Ilhan Omar's reputation for crime, the voter fraud suspected to have put Al Franken in a position to cast the deciding vote to inflict ObamaCare, and the 2020 shenanigans facilitated by a strategic ruling on late ballots, it is unsurprising that Project Veritas would unmask a major voter fraud operation in Minnesota — specifically, in Ilhan Omar's Minneapolis district. Omar herself is implicated through her campaign manager.
Via Project Veritas:
One Minneapolis-based source, who is a former political worker, told Project Veritas journalists on the night of the Aug. 11 special election and primary that Omar's campaign manager Ali Isse Gainey is a key player in the ballot harvesting scheme.
Whistleblower Omar Jamal warns,
"If American people don't pay attention to what's happening, the country will collapse."
Certainly it is will collapse as a democratic republic if there is insufficient pushback against increasingly arrogant Democrat voter fraud.
Presenting Part 1 of the exposé:
Thanks to Moonbattery