The scum of the earth occupies institutions of higher learning.
Jessica Krug, an activist who teaches African American history, writes Medium post apologizing for false identity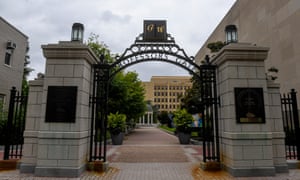 Jessica Krug teaches African American history at George Washington University in Washington DC.
A seasoned activist and professor of African American history at George Washington University has been pretending to be Black for years, despite actually being a white woman from Kansas City.
In a case eerily reminiscent to Rachel Dolezal, Jessica A Krug took financial support from cultural institutions such as the Schomburg Center for Research in Black Culture for a book she wrote about fugitive resistance to the transatlantic slave trade. But according to a Medium post allegedly written by Krug herself, her career was rooted in a "toxic soil of lies".
"To an escalating degree over my adult life, I have eschewed my lived experience as a white Jewish child in suburban Kansas City under various assumed identities within a Blackness that I had no right to claim: first North African Blackness, then US rooted Blackness, then Caribbean rooted Bronx Blackness," she wrote.
In Krug's book Fugitive Modernities, published before her confession, she writes in her acknowledgments: "My ancestors, unknown, unnamed, who bled life into a future they had no reason to believe could or should exist. My brother, the fastest, the smartest, the most charming of us all. Those whose names I cannot say for their own safety, whether in my barrio, in Angola, or in Brazil."
Update:

Self-Selection Committee
A white woman who pretended (and still pretends) to be black. A black guy who claimed to be Cuban. And now we've got a white Kansas chick who masqueraded for years as a black African American history academic.