OH wait… he was a "teenager"- not just any Mosqueteer. But hey, turns out he was an "enraged parent", not a "teenager at all:
Paris: Gunman shouting "Allahu Akbar" beheads tacher and is then shot dead by police. Reportedly was wearing an explosive vest.
French teacher decapitated in Paris by enraged parent after he shows pupils cartoons of Mohammed in free speech class. Police shoot parent who refused to surrender. Prosecutors open terrorist cases– Andrew Neil

Gunman 'shouting Allahu Akbar' BEHEADS Paris teacher who had shown cartoons of Prophet Mohammed to his pupils, before police shoot him dead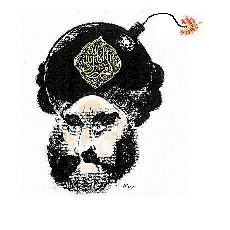 A teenager has beheaded a teacher in northern Paris for showing pictures of Prophet Mohammed in class
The attack occurred in Conflans-Saint-Honorine, 25 miles from the city centre, before a police chase ensued
Police chased the man to a nearby town – Eragny-sur-Oise – where he was shot dead after refusing surrender
French anti-terror prosecutors confirmed they were investigating an assault involving decapitation on Friday 
A teenager shouting Allahu Akbar has been shot dead by French police near Paris after allegedly beheading a school teacher with a knife.
The victim was said to have been a history teacher who had enraged parents by displaying cartoons of the Prophet Mohammed to pupils.
The attacker, whose identity has not been officially established, was shot by officers as they tried to arrest him and later died of his injuries, police said. 
Update, by Robert Spencer:
When is France, and when is the West in general, going to recognize the danger that mass Muslim migration without any attempt at assimilation poses for the freedom of speech and other aspects of a free society? At a certain point, France is going to have to choose between the freedom of expression and Sharia blasphemy laws. Which it will choose is anyone's guess, but in Sweden police are already hunting down people who burned the Qur'an, and the social media giants are increasingly open about their silencing of all dissidents from their hard-Left agenda, so the overall prognosis for free societies is not good.
An update on this story. "Gunman 'shouting Allahu Akbar' BEHEADS a teacher in Paris attack 'motivated by cartoons of the Prophet' before being shot dead by police," by Peter Allen and Chris Jewers, Mailonline, October 16, 2020: