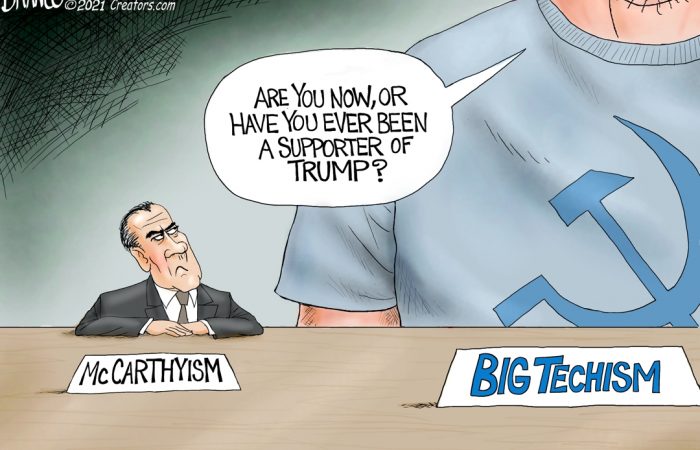 The Biden-Harris regime plans full-on purges against #Trump supporters.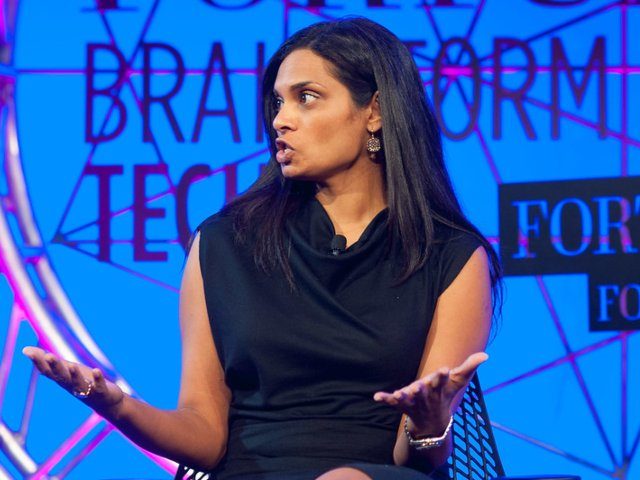 Tim Blair The Daily Telegraph January 17, 2021
.
They welcome the return of free speech. Underground media, previously criminalised, becomes mainstream. Dissidents are unchained and their voices again heard. But that isn't happening following the defeat of US President Donald Trump, characterised by the left throughout his term as a fascist, a dictator and a tyrant. Instead, the opposite is occurring. Free speech is now threatened. Voices are silenced. Political opposition is being crushed.
.
Using the Capitol Building riot as justification, big tech, big media, big business and Joe Biden's incoming big government are taking steps to close down ­Donald Trump, members and ­supporters of his government, and the broader populist conservative ­movement. Twitter, Facebook and Instagram have banned Trump and cancelled accounts mentioning election irregularities. Conservatives report losing thousands of followers.
"Let it be known to the business world," financial journal Forbes last week announced. "Hire any of Trump's fellow fabulists … and Forbes will assume that everything your company or firm talks about is a lie."
.
Google, Amazon, and Apple now block operational avenues for Twitter rival Parler, a free-speech site popular with conservatives.
Chemical company Dow, the Marriott hotel chain, investment firm Morgan Stanley and American Express have all halted donations to ­Republicans who stood against last year's presidential result.
CNN's Don Lemon last week dismissed 73 million Trump voters as white-robed killer Nazis.
.
"If you voted for Trump, you voted for the person who the Klan supported. You voted for the person who Nazis support," Lemon raved.
.
Fun fact: Robert Byrd, a former Ku Klux Klan member from West Virginia who served as a Democrat senator, was praised by Joe Biden at his 2010 memorial as "the most fierce defender that probably this state has known … West Virginia was not only written in his heart, but he wore it on his sleeve."
.
And, presumably, on his hood.
.
Simon & Schuster cancelled publication of a book by Josh Hawley and a Loews hotel called off a fundraiser for the Republican Senator, claiming to be concerned about the "safety of our guests and team members".
.
"If these corporations don't want conservatives to speak, they should just be honest about it," Hawley, who continued to oppose Biden's win after the Capitol riot, responded.
.
"To equate leading a debate on the floor of the Senate with inciting violence is a lie, and it's dangerous."
.
Harvard University students and graduates are now campaigning to revoke Harvard degrees held by members of the Trump administration.
.
So much silencing. So much cancellation. So much de-platforming.
This isn't what happens when tyranny ends. It's usually what happens when tyranny begins.
.
Fidel Castro closed newspapers and radio stations after his communist rebels seized power in Cuba.
.
Venezuelan tyrants Hugo Chavez and Nicolas Maduro closed down TV stations, radio stations and newspapers, and in 2019 pulled CNN off the air for showing protesters being mown down by military ­vehicles.
.
One of General Augusto Pinochet's first moves after overthrowing Chile's government in 1973 was to close almost all media, aside from two newspapers that backed his coup.
.
Eleven years later, Pinochet declared a state of siege during which police stripped copies of unauthorised magazines from newsstand shelves.
.
"Any news that could in any way be deemed as political must now be submitted for government review before publication," the Christian Science Monitor reported in 1984.
.
"Reporters here say the tough measures will make it difficult for Chileans to receive anything but news approved by the government."
.
Impressive. Pinochet was ahead of the social media curve even before there was such a thing as social media.
.
Speaking of fascists, how did the left fare under Trump's brutal rule? How many media businesses were shut or curtailed? How many leftists were rounded up and imprisoned for exposing the regime's wickedness?
.
None at all. Oddly for a tyrant, Trump didn't silence media. In fact, he increased viewership, traffic and circulation for leftist outlets that thrived on must-see Trump coverage.
.
Those companies will miss their valuable Trump coupons. Joe Biden and Kamala Harris just don't have the same box office appeal.
In fact, leftists overall had a fine old time of it during the past four years.
.
As US commentator Roger L. Simon notes: "Until COVID came along they got to enjoy the lowest unemployment virtually ever, including minorities, with actual wages going up for the lower classes for the first time in years, a booming stock market, lower gas prices through energy independence, peace in the Middle East and peace in general.
.
"They weren't censored in any way and maintained control of most of the media, entertainment and the schools throughout."
Some dictator Trump turned out to be.
.
Those leading the current anti-conservative purge will no doubt set a much better example.
"Purging is customary at the beginning of a cultural revolution," ­Alexandra Marshall wrote recently in Spectator Australia.
.
"When emotionally insecure political movements take power, their first course of action is to expunge criticism.
.
"Historically, this was achieved through murder and expulsion of populations from a region. In 2020, civilisation's ideological landscape is digital and the eviction is via an ­account suspension."
That's as matters stand. For now.
.
1/ With Twitter leading the charge to censure the outgoing President, Big Tech is the real dictatorship. Picture: Terry Pontikos
Freshman Republican Rep. Lauren Boebert sued after blocking a critic on Twitter | Just The News https://t.co/YiNsM9VqDW

— John Solomon (@jsolomonReports) January 18, 2021