Green activism mandate in schools
Lessons in climate change, the environment & how to protest will be compulsory  at all schools worldwide as part of the Paris Agreement
PARIS AGREEMENT TO MANDATE GREEN ACTIVISM IN SCHOOLS
Lessons in climate change, the environment and how to protest will be compulsory subjects at all schools worldwide as part of the Paris Agreement, under plans being developed for this year's UN climate summit in Glasgow.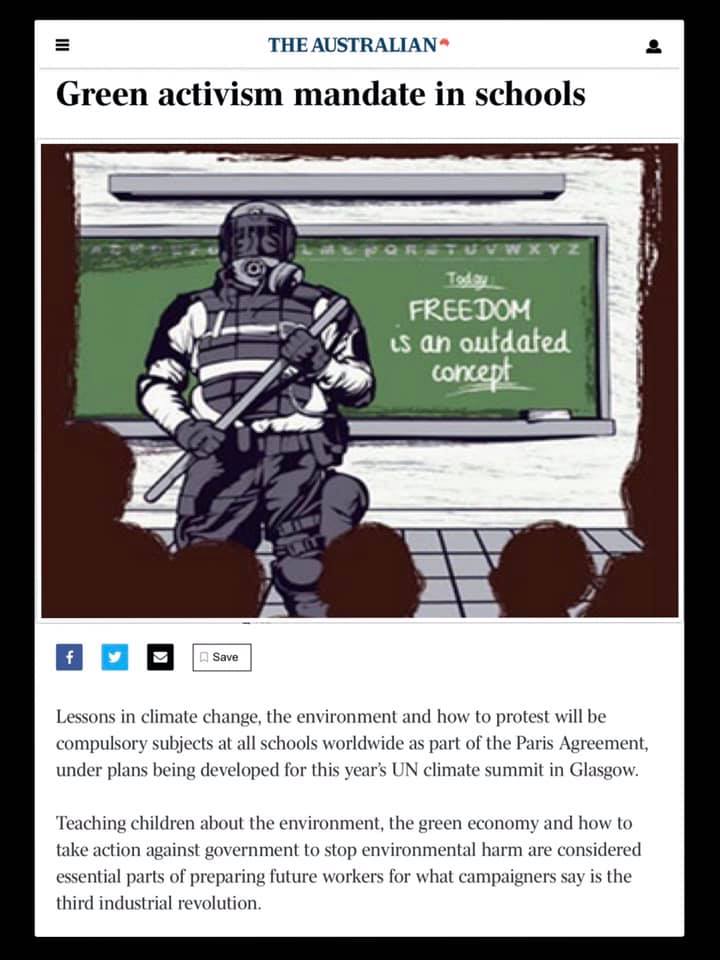 BRAINWASHING CHILDREN COMPULSORY
.
Teaching children about the environment, the green economy and how to take action against government to stop environmental harm are considered essential parts of preparing future workers for what campaigners say is the third industrial revolution.
Negotiators are hopeful details will be agreed at UN negoti­ations in Italy later this year so they can be adopted by leaders at the UN summit being hosted by the Boris Johnson-led government in December.
The Paris Agreement includes a commitment that education be part of each country's nationally determined contributions that must be continually updated.
The initiative, led by US-based EarthDay, claims to have the support of trade unions, teachers and environment groups in more than 100 countries.
EarthDay president Kathleen Rogers said: "No country requires students to graduate from high school having deep knowledge of the problems and issues related to the environment and climate and also the opportunities."
A World Bank finance study on climate and environmental education had shown "even the most wealthy countries that paid lip service to climate and environmental education were doing a really bad job, including Australia", she said.
"Education on climate change and the environment needs to be integrated into all subjects," Ms Rogers said. She said each country would be free to determine a curriculum that would be assessed by the international group.
EarthDay says a climate-­educated and environmentally literate global public is likely to be "better placed to take part in the green jobs revolution, make better sustainable consumer choices, become the next generation of sustainable entrepreneurs and hold leaders to account". Ms Rogers said if current trends continued, energy and technology needs of the future would all be owned and controlled by big technology companies and China.
Former ACTU president Sharan Burrow has joined the initiative as general secretary of the International Trade Union Confederation. "We need to equip future generations with the know­ledge, skills and enthusiasm to survive and thrive," she said. "That begins in school.''
The move coincides with a joint push by the UN and the Vatican to encourage schools around the world to teach sustainable development, human rights, gender equality and global citizenship.
The plan was agreed at a recent online conference between the Pope's Global Compact on Education and by Mission 4.7, an advisory group that promotes the education target of the UN's Sustainable Development Goals. In his welcoming address, Francis said the point of the plan was to "overcome the current globalisation of indifference and the culture of waste".