No. We're not 'all in this together'.
US cold snap: Why is Texas seeing Arctic temperatures?
Because…. globull worming, of course!
.
Texas power outages: How the largest energy-producing state in the US failed in freezing temperatures
DALLAS — Many Texans are rightfully asking why the largest energy producing state in the country cannot produce enough energy to get through a week of below-freezing temperatures.
.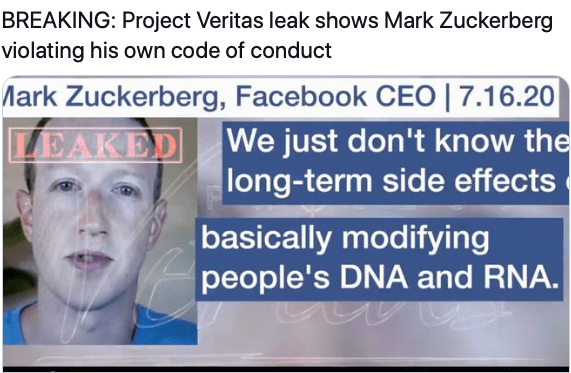 A Project Veritas-leaked Facebook conference call shows CEO Mark Zuckerberg seemingly violating his own platform's current rules, saying he didn't understand the long-term effects of "modifying people's DNA and RNA,"
in reference to the COVID-19 vaccine.
There's no problem so bad that the government can't complicate it further.
~ Ronald Reagan
.
Fraudci to receive $1 million prize for 'speaking truth to power' during coronavirus pandemic
In a statement, the institute said that Fauci deserves praise for "courageously defending science in the face of uninformed opposition during the challenging COVID crisis." 
REBELNEWS.COM
.
"I strongly object to the ban, there are absolutely no grounds whatsoever," Kelly said of the ban to the Guardian Australia. "The points are a legitimate point of view. I'm not posting my opinions, I'm posting the opinions of medical experts."
Dr. Fauci faces renewed criticism over past remarks about New York serving as a model for fighting pandemic –
oann.com/dr-fauci-faces
3AW.COM.AU
Three councils pool ratepayer funds to teach climate change activism
Three inner-city councils have pooled ratepayer funds to teach 75 people how to become climate change activists.
The City of Yarra has teamed up with Darebin and Moreland to offer the 'Community Skills for Climate Action' program.
Up to 25 people from each council can attend the nine session course, costing each ratepayers $6000 per council ($18,000 in total).
City of Yarra mayor Gabrielle de Vietri told Neil Mitchell said it would be money well spent.
"This climate crisis affects us all," she said.
These people are insane.