So what are we canceling today?
BABYLONBEE.COM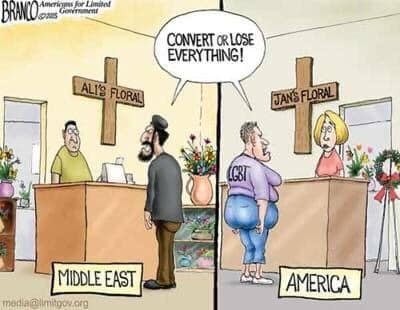 The secular equivalent to Islamist.
"There is a full-scale purge underway by the radical secular left. They are on a search and destroy mission. Any and all recalcitrant Christians who dare to believe the Bible, who dare to stand up for God's plans for human sexuality, and who dare to offer help and prayer to others WILL be rounded up and dealt with by the Christophobic State." HT  Bill Muehlenberg
BREITBART.COM
A 54-year-old woman on a bus in the Paris no-go suburbs of Seine-Saint-Denis was seriously injured after a man sprayed her with a flammable liquid and set her on fire.
Someone tell that burning woman that diversity is our strength!
.
Xinjiang Communists Sue Top Researcher for "Exposing Uyghur Genocide"
China's Foreign Ministry announced support Tuesday for a series of lawsuits filed in Xinjiang, home to the nation's Uyghur concentration camps, against German academic Adrian Zenz, one of the most prominent researchers exposing human rights abuses in the region.
There is no "Uyghur Genocide".
There are efforts to reeducate & liberate people from an abhorrent belief-system in order to make them productive members of society. This  genocide propaganda is false & misleading. 
Supporting jihad & the spread of the Islamic expansion programme to endear ourselves to Moslems is weak, unworkable and idiotic policy.
A Uighur Muslim genocide constitutes fake news.
Uhm…de-Islamizing Uighur Muslims to protect and defend China's non-Muslim citizens from the horrible evil scourge of Islam and all of those that follow that very horrible evil scourge of Islam, hardly constitutes a genocide. Give me a freaking break.
Meanwhile, just curious, can anyone point to a single place in the world where Muslims exists and where at the same time, they are not a total unmitigated disaster for the surrounding non-Muslims? Good luck.
German academic Adrian Zenz, one of the most prominent researchers exposing human rights abuses in the region.
He's a stooge of Angela Merkel who is largely responsible for flooding Europe with millions and millions of enemy Muslim invaders and conquerors that are really stealth demographic jihadists masquerading as being so-called moderate migrants that are invading and infiltrating Europe in mass to wage a stealth demographic jihad from within preemptively against the resident European non-Muslim citizens without provocation in the cause of Allah, to ultimately establish the global kingdom of Allah via the eventual imposition of Sharia.