'WHAT A GREAT DAY'
"Kill them wherever you find them".
Mohammedans praise Boulder 'shooter' for killing 'crusaders' in sick posts after ten gunned down
ISIS and Al Qaeda fanatics have lavished sickening praise on the Boulder suspect for "killing crusaders" after he allegedly gunned down 10 people in a horror shooting spree.
Ahmad Al Aliwi Alissa has been charged with multiple counts of murder by cops in Colorado for allegedly rampaging through a grocery store with an AR-15-style rifle earlier this week.
Ahmad Al Issa is white. Linda Sarsour and others insist that Arabs are "brown," but that doesn't make it so. In any case, Ilhan Omar means that only mass murderers who are not white non-Muslim Americans get attention, but reality is just the opposite: the political and media elites bend the truth about the motivations of white American killers (as in the Atlanta case) in order to buttress their false narrative about the threat of "right-wing extremism." Meanwhile, as we see in the Boulder case, actual instances of Islamic jihad are downplayed, denied, or ignored outright, because they don't fit the establishment narrative that Muslims are always and everywhere passive and innocent victims of "Islamophobia."
Sharia enforced in once great Britain:
Prophet Muhammad cartoon sparks Batley Grammar School protest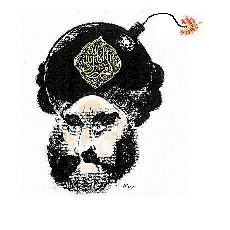 A teacher who showed pupils an "inappropriate" cartoon of the Prophet Muhammad – sparking protests outside a school – has been suspended.
Grammar School Teacher is under police protection that showed Muhammad cartoon
Imam Muhammad Adil Shazad outside Batley Grammar School defending honour of our beloved Prophet SAW
British teacher receiving death threats after showing depiction of Prophet Muhammad | 7NEWS
The attack by Muslims against our 'Freedom of Speech' has once again raised its head, and this time in West Yorkshire, England, at the Batley Grammar School.