Revolting. Woke clowns are indoctrinating our children with guilt complexes, deny them a sense of belonging & deprive them of their birthright. Mindboggling how  "authorities", left or right, can go along with this.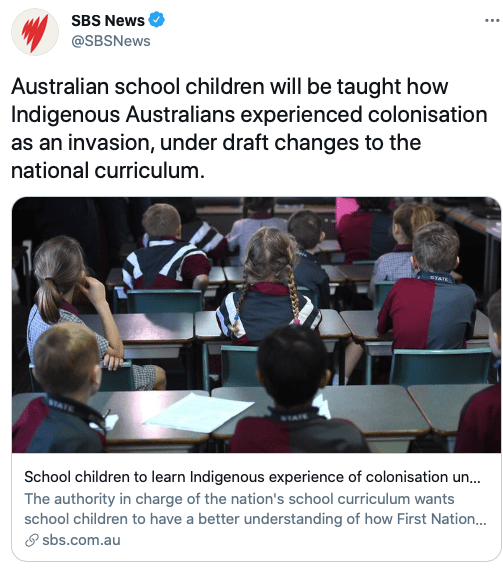 The authority in charge of the nation's school curriculum wants school children to have a better understanding of how First Nations Australians experienced colonisation.
Australian school children will be taught how Indigenous Australians experienced colonisation as an invasion, under draft changes to the national curriculum.
The Australian Curriculum, Assessment and Reporting Authority (ACARA) released the draft changes to the national curriculum on Thursday, outlining a series of revisions for public consultation.
A broad set of changes to various subjects have been proposed, including English, Science, Mathematics, the Arts, and others.
Under the proposed changes, school kids will learn how the occupation and colonisation of Australia by the British was experienced by "First Nations Australians as an invasion that denied their occupation of, and connection to, Country/Place", ACARA said.
The changes come after a review by an ACARA advisory group found "outdated" ideas that did not reflect Indigenous Australians' call for truth-telling since the arrival of Europeans, the authority added.
****
Lowlife wife killer, gangsters and domestic violence thugs are among dozens of foreign criminals allowed to remain in Australia – and the reason will INFURIATE Aussies
Criminals were given a second chance by the Administrative Appeals Tribunal
Immigration Minister Alex Hawke deported several thugs from Australia 
But they have been allowed to stay after the AAT overturned the decision 
Some of Australia's most violent foreign criminals and drug thugs are allowed to remain in in the country after getting a second chance because they've 'found god' or suffered childhood trauma.
Several non-citizens and asylum seekers, including a wife killer, carjacker, drug trafficker, a bikie and a domestic violence thug, were deported from Australia by Immigration Minister Alex Hawke.
But they have now been allowed to stay in the country after the Administrative Appeals Tribunal overturned the government's decision.