The Mohammedan expansion program just received a kick in the teeth by the Indian High Court, which could serve as an example for other countries that also face invasion by Moslems. No Moslem is a refugee. All Moslems are soldiers of allah.
The case of Rohingyas in India appears to be somewhat similar to the famous folk tale of the camel and the Arab. The status of the Rohingya Muslims in India, as asserted by the Supreme Court, is that they are "absolutely illegal immigrants," and not hapless refugees, as the media portrays them.
The Rohingya people never sought "refuge" from the Indian government; nor were they granted any. They just came in over India's porous borders. Now having gained numbers and the patronage of leftist political parties, two illegal immigrants, Mohammad Salimullah and Mohammad Shaqir, filed a petition in India's highest court against the elected government's decision of systematic deportation of the immigrants. They evoked the Constitution of India to seek equality before India's judiciary, overlooking the fact that the Indian constitution grants equality to Indian citizens, not to infiltrators.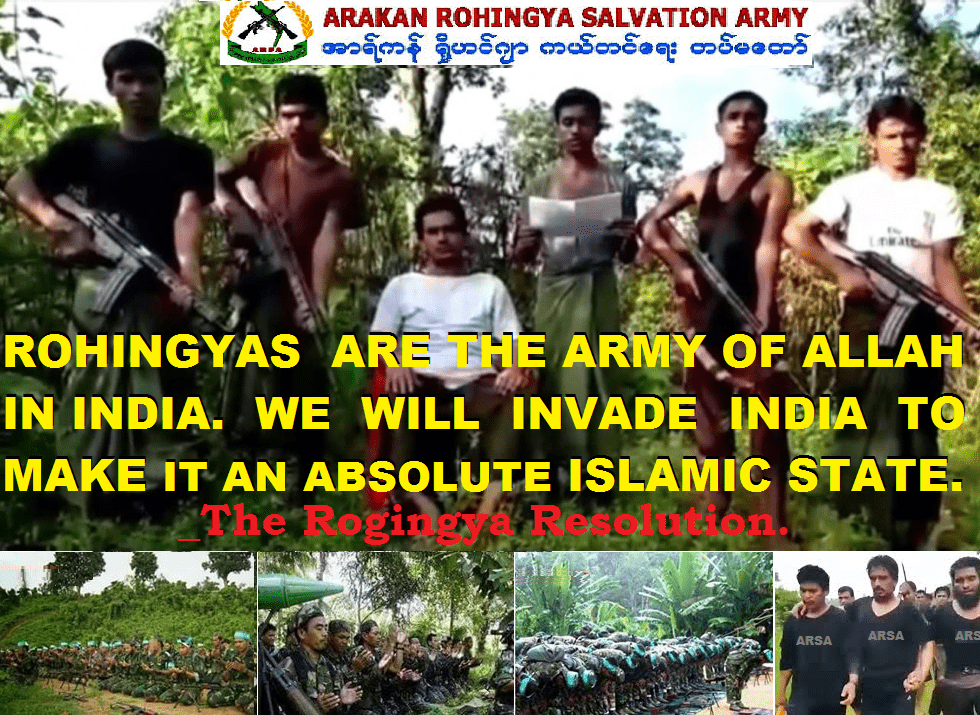 The central government held that India can't be a haven for illegal immigrants, and the Supreme Court, concurring with the government, allowed the deportation of Rohingya Muslims back to Myanmar, lawfully.
Now the narrative promulgated by international media is "if the Rohingya infiltrators are sent back to Myanmar, they will be slaughtered," suggesting that this slaughter will be carried out by the Buddhists there. Contrary to popular belief, the reality is that Islamic Rohingya jihadis slaughtered as many as 99 Hindus in the Kha Maung Seik area in Myanmar in August 2017. Armed jihadis dressed in black (the color of the black flag of jihad) and carrying knives, rods, spades were joined by Rohingya villagers and rounded up dozens of Hindus. They robbed, bound, and blindfolded them, separated the men from women and young children, and executed them.
Myanmar authorities discovered mass Hindu graves near the village of Yebawkya in Rakhine. At least 20 men, 10 women, and 23 children were massacred, as per a list shared with Amnesty International. Some Hindu women witnessed the slaughter of the men in their families; several of them forced to convert to Islam. The Rohingya jihadis followed up this act of terrorism by launching fatal attacks on police posts. As reports of the mass atrocities began to come to light, Rohingyas in large numbers started to flee Myanmar and gather in countries such as India.
This was not the first time these infiltrators trespassed into Indian territory. This infiltration dates back to the 1970s, but the secular government, liking the idea of a prospective voting bloc, allowed them to gather and grow. How fast did this population grow? Well, an estimated 108,037 babies were born in Bangladesh's Rohingya refugee camp in the past couple of years.
"A child is a gift from Allah, and we wanted it so that we can forget our sorrow," says Sulaiman, who "teaches" at one of these camps.
The rapidly growing Rohingya population is not the sole concern. Last month, a Rohingya man, Shahid, was arrested at a slaughterhouse in Unnao by the Anti-Terrorism Squad (ATS). The Squad found eight passports, several bank passbooks, and a lump sum of cash in his possession.
In January 2021, Azizul Haq was arrested by the Uttar Pradesh ATS. He had forged documents and had been living in India for 19 years, illegally. "We are also probing the terror funding angle, as a hefty amount has been transferred into Haq's bank accounts from different places," concluded Inspector General of Police, ATS, G.K. Goswami.
During the election year of 2019, three Rohingya men were held for illegally obtaining National ID cards and Voter ID cards. They proved to be habitual offenders when it came to sourcing Voter ID cards unlawfully. In June 2018, Telangana Police recovered over 180 such IDs from Rohingyas. Were they trying to influence the country's election process?
Back in 2018, a Rohingya gang led by Noor Gul Ameen was arrested for running a racket selling minor girls brought from Myanmar into India. FIRs were lodged with the police against several Rohingya people on suspicion of theft, black marketing and rape. No country is free of crime. India, being home to over 1.366 billion people, is already struggling with a staggering crime rate. It is not easy to be vigilant with that mammoth population. A developing third world country, is India even prepared to check for crimes by people coming into the country illegally with no government records?
Moreover, with Islamic Pakistan at one end and communist China at another, India isn't blessed with the best of neighbours. Add to that reports of Rohingya terrorists having links with pro-Pakistani militant groups that have been carrying out jihad activities in Jammu & Kashmir, India. The jihad terror outfit Harkat-ul-Jihad Islami-Arakan (HUJI-A) is commanded by a Pakistani national of Rohingya origin, Abdus Qadoos Burmi, who has now developed a network in Bangladesh through the hills that Bangladesh shares with the Myanmar border. Security forces of both countries confirm that all too many Rohingyas are thoroughly radicalized; camps of Rohingyas in Chittagong, Bangladesh have reportedly logged an upsurge in Islamic jihad activity.
While international "news" establishments thrive on slandering India, India is refusing to welcome those who entered in a deceitful and unlawful manner and is sending a strong message of being unwilling to entertain any kind of infiltration. This is an exemplary decision from which the West should draw inspiration.