What on earth is going on at Pimlico Academy? If BLM protestors continue to attack the Union Flag it will have huge consequences for division in this country.
In other news:
130 imams and scholars urge PM to condemn Batley school teacher
An imam is a prayer leader in a mosque. 130 of them, calling for sharia law. These people are hardcore headbangers who incite others to engage in terror. "Scholars" is a very dubious word, because there are no verifiable credentials of  Mohammedan religious studies. All of these people are undesirable They should be removed from civil society.
Over 130 imams and Islamic scholars have written to the Prime Minister urging him to condemn the showing of blasphemous cartoons to Muslim children at Batley Grammar School.
In an open letter to Boris Johnson, the imams and scholars say the incident was an attempt to incite hatred and Islamophobia whilst pushing forward extremist white supremacist ideology.
Related:
Even the Arch-dhimmi of Canterbury finally steps up & says what shoulda been said a long time ago:
Archbishop of Canterbury on Muhammad cartoon controversy: 'In this country, we have to hold on to freedom of speech'
UK: London mayoral candidate speaks out for free speech and the rule of law, is called 'racist'
Not BoJo. BoJo wouldn't say that. Because BoJo is a wuss:
UK: Advisor to Conservative Party says term 'Islamophobia' is 'attempt to create a modern-day blasphemy law'
Al-Azhar's 'Observatory for Combating Extremism' denounces Muhammad cartoons in UK as 'hate speech'
Another attempt to subjugate the West and intimidate it into accepting Islamic blasphemy laws.
So far three teachers have been suspended over the incident which has led to widespread outrage within the Muslim community. On the other hand, right-wing media, politicians and civil society commentators have supported the actions of the teacher.
The letter was organised by the Muslim Action Forum. Below is the letter and list of signatories in full:
Dear Prime Minister,
We the undersigned British Muslim citizens and scholars are writing to express our unequivocal condemnation of the depiction of the caricature of our Holy Prophet Muhammad peace be upon him, by the RE teacher at Batley Grammar School. It is inconceivable that such a depiction in an RE lesson can be based on the notion of discussing "freedom of speech" or even a critique of the personality of the Holy Prophet Muhammad peace be upon him. It was prima facie, based on the usual attempt of inciting hatred and Islamophobia whilst pushing forward extremist white supremacist ideology, which inevitably creates chaos and anarchy.
The hallmark of any civilised society cannot be the freedom to abuse and provoke certain members of society. Current legal proscription of xenophobic, anti-Semitic, homophobic, and other language of incitement of violence, ensures that we all remain in the realm of civil society. Why is it then that hatred against Muslims and Islamophobia is so widely defended and accepted? Surely, in sowing such seeds of hatred, we only advance the vested agenda of a tiny minority of extremists on all sides, that seek to gain from any form of chaos and anarchy. Depicting the caricatures of the Holy Prophet Muhammad peace be upon him, will inevitably offend and provoke the feelings of 1.6 billion Muslims on this planet, and this cannot be unintentional or an act of a civilised member of society.
Boris Johnson Credit: Michael Tubi / Shutterstock.com
There are some who stand in solidarity with the teacher, guided by their blind hatred of the Muslim community in our country. They fail to understand how the love of the Holy Prophet Muhammad peace be upon him means more to every Muslim than everything else that is dear to them. In a world where many are self-centred, egotistical, and selfish members of society, they fail to understand how a man who lived over 1400 years ago can be more meaningful to over 1.6 billion Muslims than their own dear lives.
The global coronavirus pandemic has taught us that there are issues within society in which we are one, we must care for each other otherwise we end up dying together. We need to cling onto those issues that help us to learn to live together and uphold common values to ensure a civilised society. The outcomes of the heinous acts of the teacher inevitably lead to shaking the fabrics of our society, greatly damaging social cohesion and harmony. We invite you as Prime Minister, the political head of our country, and as our fellow British citizen, to stand with British Muslims in the condemnation of such divisive actions. The reprehensible actions of the teacher are a call to action to all civilised members of our society to unequivocally condemn such intentional behaviour.
We welcome the actions of the governors of the Batley Grammar School to suspend not only the teacher in question, but also the other co-conspirators, who designed this attack on our civilised society. The whole of the British Muslim community shall critically observe the next steps that the school takes to ensure that justice is done.
Kind regards,
Shaykh Faiz Siddiqi, Muslim Action Forum
Imam Adil Shahzad, Bradford
Imam Khalid Hussain, Leicester
Shaikh Tauqir Ishaq, Nuneaton
Shaykh Zain Siddiqi, Birmingham
Shaykh Noor Siddiqi, Coventry
Shaykh Waseem Ahmed, Manchester
Mufti Wajid Iqbal, Bradford
Shaykh Mohsin Haveliwala, Bolton
Mufti Nizamuddin Misbahi, Blackburn
Mufti Muhammad Qasim Zia, Sheffield
Shaykh Shabaz Ahmed, Ashton-under-Lyne
Shaykh Zahid Sharif, Ashton-under-Lyne
Imam Muhammad Anis, Birmingham
Imam Husnain Yaqoob, Nottingham
Imam Muhammad Amir, Stoke-on-Trent
Imam Abdul Rasool Alwari, Preston
Maulana Muhammad Kaleem, Bolton
Mufti Muhammad Naseerullah Naqshabandi, Bolton
Shaykh Sayyid Muhammad Irfany, Bolton
Sayyid Muhammad Hamdani, Bolton
Shaykh Sayyid Muhammad Samdani, Bolton
Shaykh Sayyid Muhammad Zarkani, Bolton
Professor Muhammad Masood Hazarvi, Luton
Imam Mohammed Bilal, Peterborough
Imam Sudagar Hussain, Bradford
Imam Adeel Attari, Bradford
Imam Muhammad Adeeb, Stoke-on-Trent
Imam Qari Muhammad Ayub, Stoke-on-Trent
Maulana Atif Jabbar Haidary, Birmingham
Shaykh Muhammad Farooq Nazami, Birmingham
Imam Hafiz Muhammad Bashir, Birmingham
Imam Barkat Ahmed, Birmingham
Imam Hafiz Akhtar Ali, Southampton
Shaykh Sufi Arshad Mahmood, Leeds
Imam Hafiz Muhammad Ali, Southampton
Mufti Muhammad Saqib Qadri, Oldham
Mohammed Shafiq, Ramadhan Foundation, Rochdale
Imam Muhammad Qasim Qadri, Nottingham
Shaykh Naveed Jameel, Nottingham
Imam Muhammad Asrar, Nottingham
Shaykh Muhammad Naveed Ashrafi, Blackburn
Imam Hafiz Muhammad Ali, Warrington
Imam Hafiz Amjad Mahmood, Bury
Shaykh Qari Mohammad Tayyab, Manchester
Mufti Muhammad Qasim, Manchester
Imam Muhammad Ilyas, Manchester
Mufti Muhammad Rubel, Manchester
Imam Hafiz Muhammad Ozair, Manchester
Imam Hafiz Muhammad Omair, Manchester
Imam Hafiz Muhammad Yasin, Manchester
Imam Hafiz Muhammad Fahim, Manchester
Allama Hafiz Muhammad Zia, Birmingham
Maulana Muhammad Umar, Birmingham
Maulana Muhammad Zahoor, Birmingham
Syed Muhammad Riaz Barkati, Accrington
Imam Mobashir Iqbal, Manchester
Shaykh Muhammad Din Sialvi, Nelson
Hafiz Niaz Ahmad Siddiqee, Birmingham
Mufti Wali Raza Rizvi, Worcester
Imam Hassnain Raza Siddiqee, Birmingham
Imam Hafiz Faisal Javed, Birmingham
Imam Abbas Ashra, Newcastle
Shaykh Muhammad Yaseen, Birmingham
Imam Hafiz Zulkarnain, Leicester
Imam Muhammad Maruf, Eccles
Imam Hafiz Muhammad Iftikhar, Manchester
Shaykh Syed Munawar Hussain Shah Bukhari, Blackburn
Shaykh Syed Sajjad Hussain Shah Bukhari, Blackburn
Syed Talha Bukhari, Blackburn
Syed Usama Bukhari, Blackburn
Allama Nawaz Hazarvi, Peterborough
Shaykh Mufti Ansar ul Qadri, Bradford
Syed Muhammad Zafarullah Shah, Birmingham
Mufti Fazl Ahmed Qadri, Derby
Shaykh Pir Mohammad Dilshad Hussain al-Qadri, Leeds
Shaykh Pir Tayyab-Ur-Rehman, Birmingham
Allama Qari Mahmood Ul Hassan Farashwi, Walthamstow
Allama Nabeel Afzal Qadri, Coventry
Allama Mohammed Zahoor, Oldham
Imam Hafiz Ghulam Rasool, Black Country
Shaykha Rukia Bi Mahmood, Stoke-on-Trent
Ustadha Nz Shahid, Sandwell
Ustadha Tahira, Oldbury
Ustadha Shazia, Smethwick
Ustadha Zaib, Oldbury
Ustadha Naila, West Bromwich
Ustadha Ghazala, Tipton
Ustadha Nasrin, Tipton
Imam Muhammad Hafeez, Tyseley
Imam Sajid Mahmood, Walsall
Imam Hashmi, Dudley
Imam Hafiz Akram, Dudley
Imam Hafiz Shafiq, Tividale
Imam Hafiz Yaqub, West Bromwich
Imam Syed Nazir Shah, West Bromwich
Qari Muhammad Yunus, Tipton
Imam Hafiz Siddique, Oldbury
Imam Hafiz Muzammil, Tipton
Imam Hafiz Rayharn, Sandwell
Imam Hafiz Abdul Qadir, Blackheath
Imam Hafiz Abdulla Sultani, Erdington
Imam Hafiz Dilpazir, Erdington
Imam Hafiz Abdul Ghafoor Chisti, Birmingham
Imam Hafiz Allah Baksh, Birmingham
Imam Hafiz Muhammad Miyan, Manchester
Imam Hafiz Shabraz, Wolverhampton
Imam Yusuf Qamar, Lye, West Midlands
Imam Maulana Munawwar, Smethwick
Imam Qadhi Sajid Zaffar, Birmingham
Shaykh Mohammad Arshad Misbahi, Manchester
Imam Abdul Hafeez Aziz, Bradford
Molana Muhammad Islam, Birmingham
Imam Asim Hussain, Bradford
Mufti Qari Saeed, Newcastle
Allama Ayub Chishti, Blackburn
Allama Masood Qadri, Bolton
Allama Muhammad Husein Qadri, Bolton
Imam Subhanoor Chowdhury, Leicester
Allama Zafar Mahmood Farashwi, Manchester
Imam Qari Muhammad Aurangzeb, Manchester
Shaykh Sabir Ali, Bolton
Mufti Tahir Ali, Bolton
Imam Tayyub Ali, Bolton
Imam Azhar Ali, Bolton
Shaykh Syed Ghulam Dastgir Shah, Halifax
Sahibzada Junaid Akhtar, Birmingham
Allama Sajjad Razwi, Halifax
Syed Usman Ali al-Qadri, Bradford
Imam Hafiz Mohammed Razvi al-Qadri, Leicester
Nadir Muhammad, Centre for Muslim Policy Research, London
Imam Hafiz Uthman, Birmingham
Shoaib Malik, Muslim Action Forum – National Co-ordinator, Warrington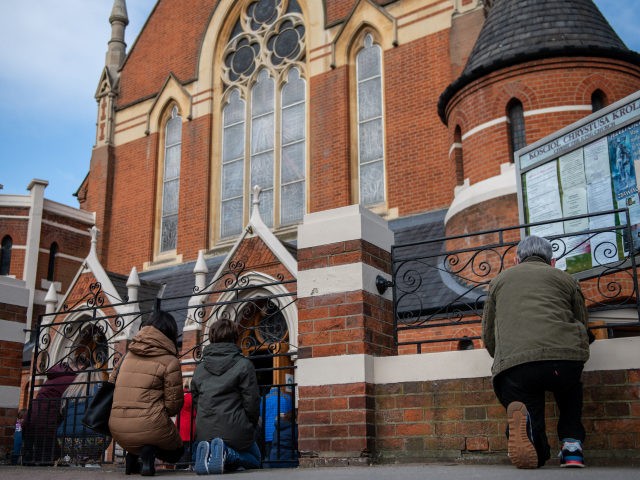 'Gestapo Is Not Welcome Here' – Canadian Police Thrown Out of Easter Service by Polish Pastor
Police were volubly expelled from a Polish church in Alberta, Canada after disrupting an Easter service, with the pastor denouncing them as "Gestapo Nazi communist fascists" and "psychopaths".
Pastor Artur Pawlowski ordered the six officers who descended on the Cave of Adullam Church out of the property in a video which he uploaded to Facebook, accusing them of "intimidating people in a church during the Passover" and saying "don't you dare coming back here [sic]".