Update:
including 'Radical Left CRAZIES' 'Sadly, there was massive fraud in the 2020 Presidential Election… and unfortunately for the Radical Left CRAZIES, more and more facts are coming out.' 
GA SoS Raffensperger Files Legal Brief To Prevent Real Audit Of Ballots From 2020 Election. Old Proverb – Those With Nothing To Hide Don't Try To Hide Things – CD Media 🔥🔥
Jim Acosta Complains About 'Post Trump Stress Disorder' to Brian Stelter, Then Really Goes Over the Slide
It's been clear that CNN and other liberal networks are out at sea without President Donald Trump in office to attack any more.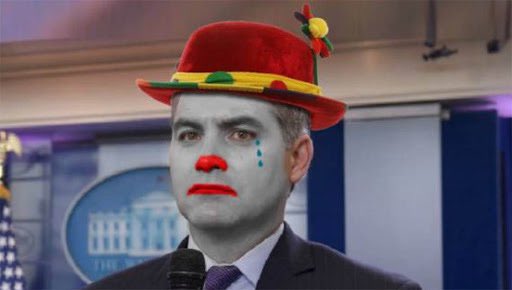 Their ratings have gone right into the dumpster, as well, without him to bash; their "Two Minutes of Hate" isn't quite the same.
Brian Stelter even tried to push hating on Tucker Carlson as a declared, substitute hate object for Trump, but that didn't seem to gain much steam, and Stelter's effort fell flat.
So, what did Jim Acosta do when asked by Brian Stelter on 'Reliable Sources' what their lives and their coverage were like, now that it wasn't all about Trump? What did they talk about? Trump.
Assuming the dollar has not yet been inflated to Weimar Republic levels of worthlessness after the next installment of reparations to blacks (I refer to the impending "infrastructure" looting spree), why not pay reparations to illegal aliens too?
Alexandria Ocasio-Cortez loves the idea. Tucker Carlson, not so much:
Oh my … Watch Tucker absolutely demolish AOC after she demands reparations for migrants https://t.co/fe0cpasr5N pic.twitter.com/slKxcKpMcA

— Not the Bee (@Not_the_Bee) April 3, 2021
We do have to care what AOC thinks, no matter how conspicuously stupid, crazy, and evil she may be. She is no longer the Future of the Democrat Party. Now, she is the Present of the Democrat Party, personifying its guiding force. Hers is the ruling party, and if HR1 passes, it may soon be the only party. (Moonbattery)