The Vatican has invited Chelsea Clinton, Dr. Fauci, New Age figure Deepak Chopra, and the CEOs of Moderna and Pfizer to speak at a May conference focusing on "health" and the "soul"
Seriously.
The Communist Pope has invited an abortion advocate with no soul to talk about health and the soul.
Enrichment in Paris:
Enrichment in Paris….

The media in America will never show you what is taking place in open borders France – women are no longer safe!

Shame on every open border leftist – start taking these enrichers into your homes! pic.twitter.com/7lT0NA9QWq

— Amy Mek (@AmyMek) April 17, 2021
— Lauren Southern (@Lauren_Southern) April 17, 2021
BLM and Antifa terrorists rioted in Portland last night, breaking windows of churches and small businesses and setting an Apple store on fire.https://t.co/yg93PZW6c0

— Ryan Fournier (@RyanAFournier) April 17, 2021
REMEMBER: You weren't allowed to say "Wuhan virus" but you *are* allowed to say British, South African, and Indian variant.

This was never about "xenophobia" it's always been about who the media is in the tank for… the Chinese Communist Party. pic.twitter.com/03QX2o1qL0

— Raheem Kassam (@RaheemKassam) April 16, 2021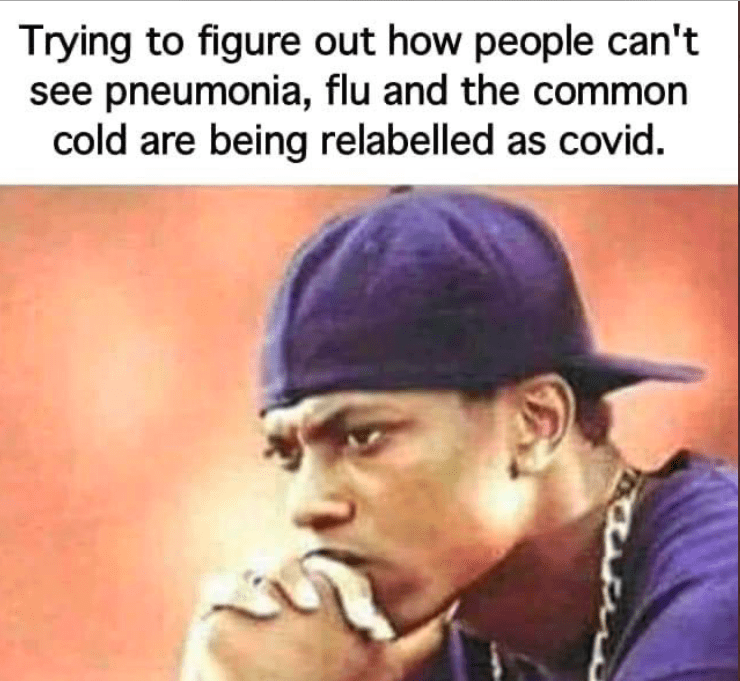 Australian government must reinstate pre-COVID freedoms
Alan Jones The Daily Telegraph April 14, 2021
After almost 15 months, we are still talking about ­coronavirus, vaccination, masks and lockdowns, the corollary of which are continuing alarmism and fear and further erosion of freedoms. Government are uncomfortable with statistics, but it might be best to start with a few. As at today, and this hasn't changed for months, 99.6 per cent of all coronavirus cases around the world are mild. No cases in Australia are critical. Put it another way. For an ­illness that is so bad that you have to be tested to know you have it, in a world of 7.7 billion people, not quite three million have died — 0.389 per cent of the population. And remember: we are never told, in this alarmist world, whether people have died from coronavirus or with it.
.
Here we have had 910 deaths — 0.003 per cent of the population.
.
In Australia, 450 people die every day; 510 people a week die from heart disease. Our road toll last year was 1190. The influenza toll of 4363 was five times the COVID deaths.
.
Where is there any perspective?
.
Winter is upon us. Is that now going to be used as an excuse to deny further freedoms?
.
And remember, in all of this, epidemiologists, politicians and bureaucrats making the decisions have no skin in the game.
.
They keep their jobs, salaries and pensions while devastating large swaths of the population.
.
No public policy should ever be ­allowed where the decision makers aren't paying the same costs as the costs they impose.
,
But the wider issue here is, there are no fail safes built in to end much of this nonsense.
.
Yet now, new threats emerge.
.
I am all for vaccination, but are we going to be bullied into vaccine passports? Does this mean if you are not vaccinated, shops could prevent you from entering?
.
Does it mean that airlines could stop you from flying? Does it mean you would have to provide proof of vaccination before you can interact with anyone?
Let's hear government tell us that, no matter what, there will be no vaccine passports demanded in Australia.
.
My correspondence on this issue, since I first raised it, is lethal. Governments won't get away with this.
.
Adrock wrote: "If we do not wake up soon, it is going to be too late. Communism Australia, here we come."
.
Lisa: "They have no right to try to control our lives or movements. They are employed by the people to govern, not to control."
.
Scott: "This is the COVID normal we are being conditioned to accept. Just obey the government and don't ask questions."
.
Deb sums it up: "Some are prepared to accept the vaccine passport as the price of freedom. That's what lockdowns and fear-based psychological conditioning can do. It normalises tyranny."
.
Nonetheless, there are suggestions, here and in the US, that some businesses will require customers or workers to have proof of vaccination.
So, would your job be in jeopardy if you are not vaccinated?
Then there is the concern that this romance with wearing masks is anything but over. The mask has become the ultimate symbol of fear.
.
In many ways, it would be laughable if it weren't so serious.
.
Many of these masks are put in the glove box or the back seat of the car.
.
There is no check as to whether they are manufactured to quality ­controls to ensure they effectively ­filter air.
.
Most of the masks worn are "non-medical," manufactured without universal standards of production; and any medical authority will tell you, they offer zero protection against airborne transmission.
.
Surgical masks, despite offering better fit and filtration abilities, are also regarded as ineffective.
.
This is primarily due to the fact that they still allow multiple streams of air to pass behind, above, below and to the sides of the mask.
.
Dr Russell Blaylock, clinical assistant Professor of Neurosurgery at the University of Mississippi Medical Centre, makes a very valid point.
.
"When a person is infected with a respiratory virus, they will expel some of the virus with each breath. If they are wearing a mask, especially an N-95 mask, or other tightly fitting masks, they will be constantly ­rebreathing the viruses, raising the concentration of the virus in the lungs and the nasal passage."
.
Our own Australian Government Infection Control Expert Group ­advises:
.
"Touching the front of the mask, pulling it down intermittently to smoke, drink or eat and the reuse of disposable masks can contaminate the hands, then the wearer's face or nearby surfaces."
.
Denmark has one of the lowest coronavirus death rates. Health officials there argued: "There is little conclusive evidence that face masks are an effective way to limit the spread of respiratory viruses."
.
Henning Bundgaard, the Chief Physician at Denmark's Rigshos­pitale argued last year: "All these countries recommending face masks haven't made their decisions based on new studies."
.
But the poor people of Queensland are supposed to have been wearing masks since before Easter.
.
And even though we are told this will change from this morning, masks in Queensland will still be mandatory at airports and we still have arbitrary restrictions in place.
.
You now have permission to stand in a pub while you're drinking!
But you can only have 200 guests at a wedding or a funeral.
Where does this stuff come from?
.
Why aren't these politicians made to provide the epidemiological evidence which justifies these limitations on our freedoms?
.
Victorians will remember last year, in the middle of summer, Daniel ­Andrews ordering Victorians to wear a face mask 24 hours a day.
And now, having endured this manifestation of alarmism, the face mask, the world is now talking about vaccine passports.
.
When do we get our freedoms back? When are we going to be placed in charge of our own health?
.
Or are we saying that the latest manifestation of this alarmism will be a vaccine passport?
Your job, your travel, your very ability to associate with one another would be not just constrained, but ­forbidden if you weren't vaccinated.
.
We have succumbed to an extraordinary erosion of freedoms.
Big Brother may be coming after us again. Mandatory masks and vaccine passports!
.
Are we going to roll over or fight?
.
Just for laughs:
COVID-19 vaccines go through many tests for safety and effectiveness and are then monitored closely.
Source: World Health Organization