Doctors can lose their licences to practice medicine if they prescribe a medication which is safe, and proven effective for Covid19, including Prozac now, as well as Ivermectin and Hydroxychloroquine.
Why are fully vaxxed people so worried about the unvaxxed people if the vax works?
Sky News host @rowandean says "yesterday's conspiracy theory" about the Wuhan lab leak theory is now "perfectly feasible and highly likely" despite being previously dismissed as "heresy".https://t.co/OoxPjGzmbq

— Sky News Australia (@SkyNewsAust) May 30, 2021
COVID-19 'has NO credible natural ancestor' and WAS created by Chinese scientists who then tried to cover their tracks with 'retro-engineering' to make it seem like it naturally arose from bats, explosive new study claims
But, wait, wasn't it a crime to say this on your own social media accounts? And wasn't Trump facing constant attacks because he said as much?
The system is rotten to the core….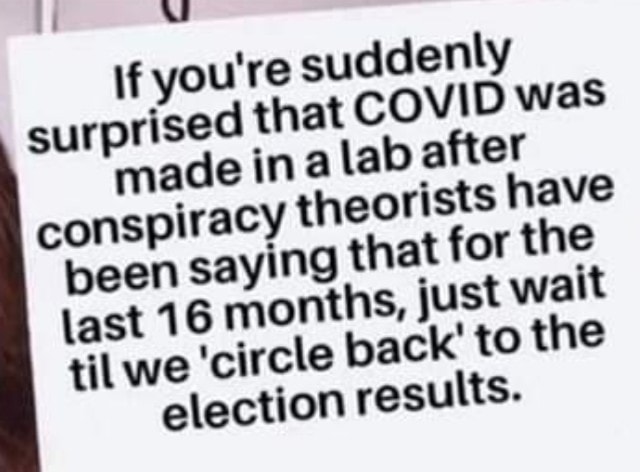 WATCH: Dr. Anthony Fauci PREDICTED a "surprise" pandemic would hit the United States during the Trump presidency. This is a can't miss "Justice" #OpeningStatement that will leave you stunned. pic.twitter.com/LeWpD2h9WY

— Jeanine Pirro (@JudgeJeanine) May 30, 2021
Another amazing co-incidence for the world's luckiest drug.https://t.co/myJLN8yc12 pic.twitter.com/VBYoF8yLFa

— Craig Kelly MP (@CraigKellyMP) May 30, 2021
Rand Paul: Fauci Vaccine Push 'More About Uniformity of Submission,' 'Less About Science'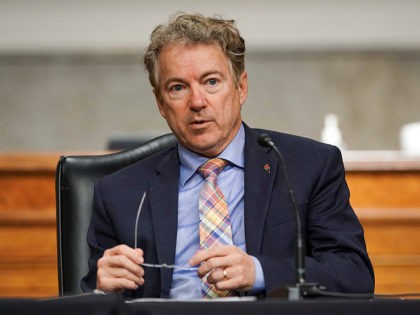 Friday, during an appearance on FNC's "Tucker Carlson Tonight," Sen. Rand Paul (R-KY) explained why he would not get the COVID-19 vaccine.
The Kentucky Republican senator maintained he already had the virus and therefore had immunity. He also criticized National Institute of Allergy and Infectious Diseases director Anthony Fauci for his approach to vaccinations, which does not account for those that already had the virus.
UK: Hopeless Intelligence
Intelligence agencies in the United Kingdom are reportedly working with the United States to investigate the theory that the Chinese coronavirus pandemic leaked from a laboratory.
Ivermectin, The Drug That Cracked COVID and Treated President Trump
From the Conservative Treehouse
Before going into a fascinating story about a drug called "Ivermectin" and a volume of research studies, successful trials and treatment for COVID-19, there is something to consider that should be forefront.
There is so much hype over the vaccines by all elements of big pharma, government and media; and there has been such widespread acceptance of the hype by millions of Americans who have taken the vaccine; it is important to consider how those invested people would react to any conversation about an inexpensive, safe and effective treatment now.
So many people have bought into the vaccine narrative, and so many people have exposed themselves to the risks of an untested, non-FDA approved experimental treatment, they simply will not be able to admit (or accept) any form of truth that runs counter to that narrative.  To admit alternative safe treatments were the better option, is to admit you have been duped and exposed yourself to risk unnecessarily.
That said there is a  remarkable, albeit long, article and story about a group of physicians who developed a COVID treatment protocol around the drug Ivermectin.  The story is long, but well worth the read.  Excerpt below:
Mountain Home Magazine – […] In addition, Kory, Marik, et. al published the first comprehensive COVID-19 prevention and early treatment protocol (which they would eventually call I-MASK). It is centered around the drug Ivermectin, which President Trump used at Walter Reed hospital, unreported by the press, though it may well have saved the president's life while he was instead touting new big pharma drugs.
The doctors published their breakthroughs in real time on the website of their nonprofit research group, the Front Line COVID-19 Critical Care Alliance (www.flccc.net), so doctors anywhere in the world could find them and use them immediately. Marik, Kory, Varon, Meduri, and Iglesias became heroes of the pandemic to intensivists around the globe who used their protocols to save thousands of lives, and to practitioners at many hospitals in the U.S., including the St. Francis Medical Center in Trenton, New Jersey, where Dr. Eric Osgood posted the MATH+ protocol on a private Facebook group for thousands of ICU doctors after it stopped the dying in his hospital, and talked it up with his colleagues around the nation.  READ MORE