All those doctors, nurses, airline pilots, being thrown into the sea. Shocking.
Spain sends military to border as tensions continue with Morocco following an influx of migrants by sea
Spanish military was deployed in an effort to stop thousands of Moroccan migrants from entering the seaside enclave of Ceuta and, as of Tuesday, over half of the migrants have been returned to their home country, CNN reports.
Spain deployed troops to Ceuta after thousands of migrants swam into the northern African enclave. Spanish Prime Minister Pedro Sanchez called it a crisis for Spain and Europe https://t.co/RltSukBYgR pic.twitter.com/qHztgtwpMN

— Reuters (@Reuters) May 18, 2021
– At least 8,000 people had crossed the border from Morocco into the Spanish cities of Ceuta and Melilla since early Monday, the Spanish government said. Some 2,000 of the total are thought to be teenagers, according to The Associated Press. – Spain's PM Pedro Sánchez arrived in Ceuta on Tuesday, calling for the country to resolve the "serious crisis" with "respect for territorial integrity," according to El País.
Images of Spanish soldiers beating migrants/refugees and throwing them into the sea on the Moroccan border. #EU #HumanRightspic.twitter.com/i5E634U1yi

— Josep Goded (@josepgoded) May 18, 2021
The situation in North Africa comes after weeks of rising tensions between Morocco and Spain
"The diplomatic row began in April when Moroccan intelligence services found out that Brahim Gali, the 73-year-old founder of the Popular Front for the Liberation of Saguia el-Hamra and Río de Oro (Polisario Front), had been admitted under a false name to a hospital in the Spanish city of Logroño when he was suffering from Covid-19. The Polisario Front is a liberation movement by the Sahrawi people and is outlawed in the parts of Western Sahara under Moroccan control." — El País
They are not being attacked by French people. The attackers are allahuakbaring savages who should not be in France.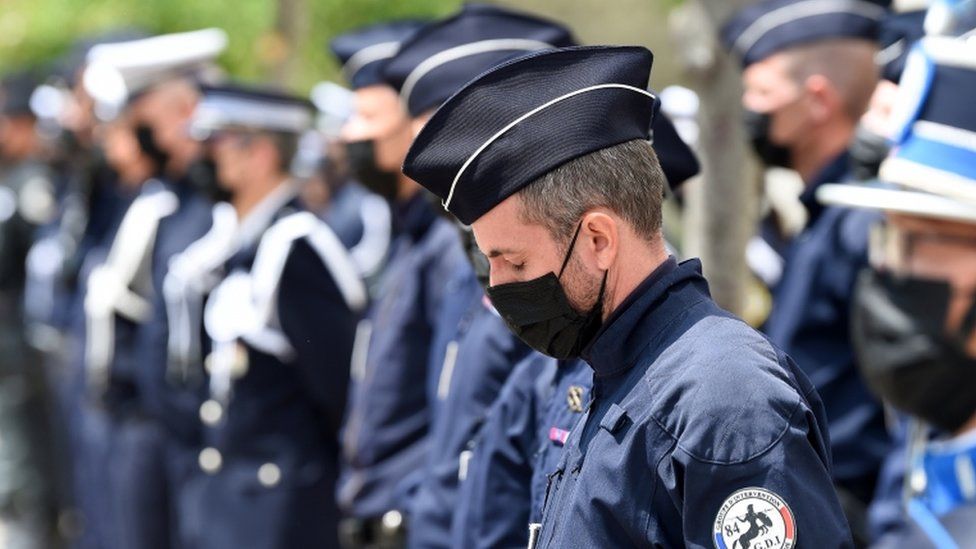 Police officers gathered outside France's National Assembly make for a powerful image: the proximity of security and politics, made real on the banks of the Seine.
Often criticised for overly aggressive tactics during protests, French police come here on Wednesday as protesters themselves, calling for a tougher response to the aggression security forces face.
Within the past month, a policeman was killed during an anti-drugs operation, and a policewoman was stabbed to death in a targeted attack. "It was the straw that broke the camel's back," said Stanislas Gaudon, head of the Alliance police union. "It was something we were afraid of, almost expecting."
.
The following video is another excerpt from Eric Zemmour's conversation with the French writer Jacques Attali about the "Great Replacement" of the French people. An earlier excerpt was posted here.
Many thanks to MissPiggy for the translation, and to Vlad Tepes and RAIR Foundation for the subtitling:
Video transcript: