AstraZeneca vaccine now only recommended for people aged 60 and over, health minister announces
It accelerates  their departure. Making younger people sick doesn't seem to benefit the tyrants who foist this on us.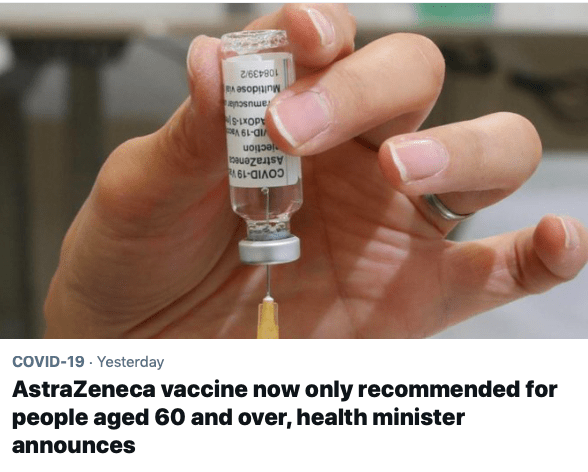 Health Minister Greg Hunt announced on Thursday that the AstraZeneca vaccine will now only be recommended for people aged 60 and over. The decision follows advice from the Australian Technical Advisory Group on Immunisation (ATAGI) after 12 cases of the rare blood clotting condition linked to the vaccine, seven of which were in the 50 to 59 age group, were reported last week. ATAGI still strongly recommends that anyone under 60 who has received their first dose of AstraZeneca also receive their second dose.
Four Healthy British Airways Pilots Die in One Week – Airline Says No Link to Covid-19 Vaccine
Warning: COVID Vaccine 'Spike Protein Shedding' Damages Placenta, 'We Are Being Experimented On'
Eric Clapton interview: "A world where you are not allowed the story of your own experience"
Disgraceful! What a bunch of corrupt cowards! What's their science worth when all these creatures in white aprons are worthless?
Top Virologists Admit Lying to American Public for Months on Likely Wuhan Lab Leak Theory Because They Didn't Want to be Associated with President Trump
Killers from Banglatrash
OK, so it's not smallpox, but COVID-19. And instead of blankets, the people traffickers are using "refugees" from Bangladesh to infect Italy.