Of course it is. But it works. That's why they do it. And we let them get away with it.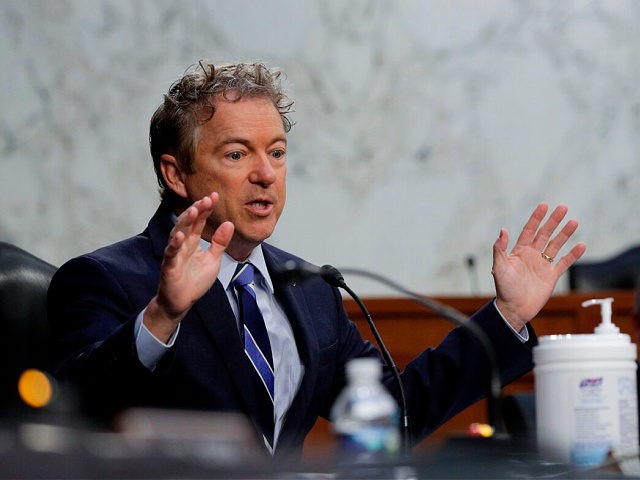 Biden & Fraudci targeting "young, unvaccinated people"
Here's the deal: The Delta variant is more contagious, it's deadlier, and it's spreading quickly around the world – leaving young, unvaccinated people more vulnerable than ever. Please, get vaccinated if you haven't already. Let's head off this strain before it's too late. pic.twitter.com/9gBeRpvCe8

— President Biden (@POTUS) June 24, 2021
More Vax Terror: Get Ready For the "Variants"
Oxford University is going to investigate the effectiveness of ivermectin as a COVID-19 treatment.
Emeritus Professor Robert Clancy, an immunologist at the University of Newcastle, tells Paul Turton that he believes they'll find the drug useful, and that it will become part of our coronavirus response.
CDC Admits to Finding More Cases of Rare Heart Inflammation than Expected in Young Adults after COVID Vaccine Shots
Telling people they can only travel freely within their own country if they are vaccinated is NOT an incentive – it is government coercion and potentially a crime against humanity –Rowan Dean
Mr. Steve Kirsch, entrepreneurial founder of Covid Early Treatment Fund:
"if I had known what I know today, I would never have vaccinated my three young daughters. I would have done everything in my power to have tried to change their minds."
No evidence mandatory masks curb Covid
Alan Jones The Daily Telegraph June 23, 2021
.
We continue to be trapped in a vortex of alarmism engendering an almost permanent state of coronavirus fear, even though, while almost four million people have died, that is 0.04 per cent of the world's population. However, NSW now has recorded 16 new cases, not a word about whether they are mild or serious. But now it's on again. Unless it's essential, you can't travel beyond metropolitan Sydney.
.
The one per four square metre rule is back in place.
How many times can you bury the hospitality body? How can people book or plan anything?
.
Queensland is "poised to slam its border shut to NSW residents;" "Tens of thousands of people who attended Westfield Bondi Junction were ordered to get swabbed after the Bondi cluster ballooned to 21 cases."
.
Whether you can legally "order" someone to take a medical procedure is an interesting point.
.
Days out from the second State of Origin, the NRL will reimplement level three biosecurity protocols "for the protection of the entire code;" and "New Zealand last night (Tuesday night) paused its quarantine free travel bubble with NSW… it comes as a plane passenger was infectious on board flights between Sydney and New Zealand."
.
Then there is the uncertainty over the vaccine.
.
"Seven non-fatal cases of extremely rare blood clots among Australians in their 50s, who received the Astra Zeneca vaccine, have prompted health officials to recommend only those 60 and older to get the jab."
.
But hang on. Health experts then advised those aged 50 plus who have had one dose of Astra Zeneca, without a reaction, to get Astra Zeneca for their second dose, a day after health officials were recommending only those 60 and older get the Astra Zeneca jab.
.
We are getting bogged in serious territory of fear and uncertainty.
.
The manifestation of this comes in many forms – lockdowns (don't worry that 20,000 hospitality workers were stood down or lost their jobs in Victoria after the State's recent fourth lockdown); yet world authorities, like the Nobel prize winner Michael Levitt, a Professor at Stanford University, have claimed, in relation to our lockdown measures that: "the level of stupidity going on here is amazing" and that lockdowns are "a huge mistake."
.
Then, we have the mask mania.
.
No epidemiological evidence is provided for the mask mandate but people, in fear, drag them out of the glove box, off the back seat, out of their handbags, knowing there is no check as to whether they are manufactured to quality controls to ensure that they effectively filter air.
.
A peer reviewed study of 6000 by Professor Christian Torp-Petersen, in Denmark, concluded "mask mandates show no benefit in curbing subsequent peaks of infection".
.
Where does this lead us? To a recently released book by Laura Dodsworth, A State of Fear: How the UK government weaponised fear during the Covid-19 pandemic.
.
Even when its clear that people aren't dying in excessive numbers, one has died from coronavirus this year in Australia, politicians and mainstream media feed us continuous updates on the growing number of "cases" without ever putting such figures into context or explaining that the vast majority were mild or false positives.
.
What Laura Dodsworth analysed and established is that in the UK, and dare I say here, Government was using fear to control and manipulate the population.
In Dodsworth's book, she quotes members of the Scientific Pandemic Influenza Group on Behaviour, a subcommittee that advises the Scientific Advisory Group for Emergencies in the UK.
.
London's Telegraph newspaper reported on May 14: "Scientists on a Committee that encouraged the use of fear to control people's behaviour during the Covid pandemic have admitted its work was unethical and totalitarian."
.
What Dodsworth found was that fear and anxiety were being generated (witness the headlines I've quoted above) in order to keep the public confused.
.
Steve Baker, the deputy chairman of the Covid Recovery Group of Tory MPs, said: "If it is true that the State took the decision to terrify the public to get compliance with rules, that raises extremely serious questions about the type of society we want to become. If we are really being honest, do I fear that Government policy today is playing into the roots of totalitarianism? Yes, of course it is."
.
What other conclusion can be drawn when, for nearly 18 months, Governments around the world and the media doing their bidding, with few exceptions, have fed the people a steady diet of frightening news.
.
Why have we never been told how many of the coronavirus "cases" are mild when, for month after month, well over 99 per cent were classified as being just that.
.
Remember the newly-appointed Governor of Queensland, Dr Jeannette Young, and what a farce that is, told the Queensland Premier on March 26 to shut down schools.
.
She said that while evidence showed schools were not a high risk environment for the spread of the virus, closing them down would help people understand the gravity of the situation.
.
You see, play the fear card.
She said: "If you go out to the community and say 'this is so bad, we can't even have schools, all schools have to be closed' you are really getting to people … so sometimes it is more than just the science and the health, it is about the messaging."
.
Yes, it is about the fear.
In recent times, the fear and anxiety have been further generated by keeping us confused about vaccines and their effectiveness.
.
As Dodsworth said, in May: "When you create a state of confusion, people become ever more reliant on the messaging (the Jeannette Young word). Instead of feeling confident about making decisions, they end up waiting for instructions from the government."
.
We have seen these instruments of fear being used at critical times in our lives.
Lockdowns at Christmas, Easter and Mothers' Day.
.
As Dodsworth writes: "Family Christmases were on, then off, then back on, then off again. You have someone tightening the screw, then loosening the screw, then tightening it again. It is like a torture scenario."
.
Dodsworth is not the only person who has said: "People use the pandemic to grab power and drive through things that wouldn't happen otherwise … we have to be very careful about the authoritarianism that is creeping in."
.
It was George Orwell, the English novelist, essayist and critic, who said: "We know that no one ever seizes power with the intention of relinquishing it."
I think it might be time we all woke up.