"Our Government needs to stop the fearmongering tactics."
 "They have almost locked down the entire country due to a handful of cases. They are power mad."
A lot of noise is made about vaccination,  but….there plainly are no benefits.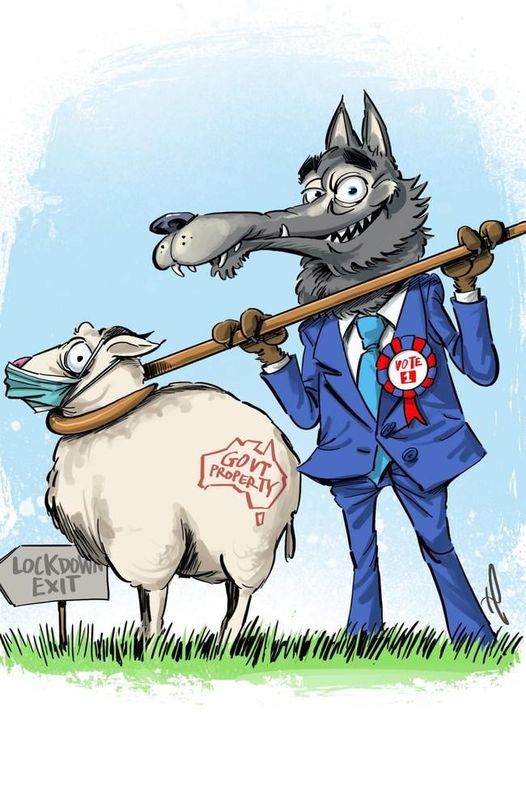 Premiers need to know Covid lockdowns are not the answer
Alan Jones The Daily Telegraph June 30, 2021
The Premiers of Queensland and Western Australia may have succeeded by riding the coronavirus narrative to victory but, for those political leaders facing elections down the track, their fate may be decidedly different. It appears that no matter what world authorities say, Australia's so-called "leaders" continue to take the nation into a viral dead end; or are some of us are living in a parallel universe?
.
Perhaps politicians have forgotten that they're meant to be servants of the people, not masters — overly paid servants, some might volunteer.
What is clear is that the public view has almost no currency in Australia's political response, without debate.
SICK Dr. Fauci Awarded $61 Million for Barbaric Research Including Study that Sewed Aborted Baby Parts on Rats
Jordan has written: "Our Government needs to stop the fearmongering tactics."
Kevin: "They have almost locked down the entire country due to a handful of cases. They are power mad."
.
Lachlan: "Such a tiny percentage of the population is no reason to lockdown a nation."
.
Ryan: "The Government and media have continuously pushed a fear narrative."
Laura: "It would seem this virus has mutated into a full-scale, totalitarian dictatorship."
.
Tammy: "We are being herded up by a pandemic-panicked Government."
Grace: "The mental and financial impacts from the consistent fear campaigns will take their toll on the public."
.
Nonetheless, day by day, hour by hour, the alarmism continues.
Only yesterday we had the Townsville mayor, another prisoner of fear, pleading for more help because people are waiting up to seven hours for a Covid-19 test.
You're standing in a queue, up to seven hours.
You're not sick, but you're waiting for a test to find out if you are.
.
The latest among an endless stream of scaremongering is the Delta variant.
We are told that Queensland Health confirmed on Wednesday that a new Covid case was the Delta variant. So get out the hammer and nails and get the coffin ready.
.
The reality is, according to world authorities, the Delta variant is a new strain but, as with every pandemic, the virus may be more transmissible but it grows weaker.
.
None of this is told to the public. One can only assume the withholding of such information is deliberate.
.
Why wouldn't the Prime Minister tell Australians and his National Cabinet that Dr David Navarro, the special envoy on Covid-19 for the World Health Organisation, in a very recent interview with the British magazine The Spectator said: "We in the World Health Organisation do not advocate lockdowns as the primary means of control of the virus … the only time we believe a lockdown is justified is to buy time to reorganise, regroup, rebalance your resources, protect your health workers, who are exhausted. But, by and large, we'd rather not do it."
.
None of these circumstances apply, rebalance your resources, or protect your health workers who are exhausted.
.
Dr Navarro went further: "Lockdowns have just one consequence that you must never, ever belittle and that is making poor people an awful lot poorer."
Bill Clinton once famously said that politics was about the arithmetic.
As I write there are 171 active cases in a NSW population of 8.1 million. That is 0.0021 per cent of the population.
.
And right throughout all of this, while we have been in full panic mode, the virus has an over 99 per cent recovery/survival rate.
In Australia, with a population of 25.3 million, while Palaszczuk, Berejiklian, Andrews, Marshall, McGowan, Gunner and Morrison fill us daily with fear, there are 312 infected patients. One is serious.
.
The percentage infected is 0.0012 per cent but the people of Australia are shut off from one another. Businesses are permanently destroyed.
.
Cafes, restaurants, retail stores may never recover, to say nothing of mental health damage, suicide and the betrayal of children denied a continuous and optimistic education.
.
There is no apology to anyone.
And while all the noise has been made about vaccination, there plainly are no benefits.
.
Vaccinated or unvaccinated, you're still locked down because of a disease that is so bad you have to be tested to know whether you have it.
What is the response of the so-called "leaders" to the latest statements out of Singapore, one of the world's most successful countries in combating Covid-19.
The Government there have stated that in the city state of Singapore, Covid will be treated like any other endemic disease, such as flu. There will be no goals of zero transmission.
.
Quarantine will be dumped for travellers and close contact of cases will not have to isolate.
Singapore will no longer announce daily case numbers.
.
Senior Singaporean Ministers have said the new "normal" is "living with Covid".
As Health Minister Hong Ye Kung has said: "It means that the virus will continue to mutate and therefore survive in our community."
.
In what must pose as a significant danger to blindfolded politicians, Emeritus Professor Ramesh Thakur, a senior research fellow at the Crawford School of Public Policy at the ANU, wrote recently: "Freedom died of Covid. Unchecked medical tyranny seems hellbent on destroying freedom in Western society with the presumption that we're all sick, whether we know it or not; or will soon be sick; and we must be dealt with as potential germ-ridden disease carriers who pose a constant threat to all others."
.
Professor Thakur rightly says: "In the name of keeping us safe, the entire machinery of state, backed by a fear-peddling media and unprecedented censorship of social media by Big Tech, has been let loose upon our citizens."
For a while, trusting Australians believed the alarmism and fear. They don't anymore.
.
In America, the Florida governor Ron De Santis has legislated against any Covid restrictions and made the very valid point that our political and ideological enemies must be thinking: "If we can instil panic and fear, we can get them to close down their whole society and cripple the strongest economy in the world."
Perhaps hubris has overtaken the political elite who say look at the figures and look how well we have done, compared with the rest of the world.
.
We have given you this success story, our strategies have worked.
Is it uncharitable to point out that in only three nations have lockdowns appeared to reduce excess mortality — Australia, Malta and New Zealand.
Is this because we have brilliant politicians and clever health bureaucrats or may it be that all three are islands?
.
If the public voice is not heard, the warning of the late American journalist Edward Murrow will be more than valid: "A nation of sheep will beget a government of wolves."