French migration policy is to eradicate Western Civilization by eradicating the people who created it — namely, Caucasians."
The apparent purpose of leftist immigration policy is to eradicate Western Civilization by eradicating the people who created it — namely, Caucasians.
Pointing out that the strategy is working would get any member of the establishment canceled immediately. It led to this site being blacklisted by both Google AdSense and Taboola, the ad revenue owed to it being confiscated in the name of wokeness.
Imagine someone on any radio station or cable channel pointing out that massive Third World immigration, miscegenation, and cratering Western birth rates thanks to feminism and moral decay will inevitably lead to there being no more white people and that this may not be entirely good. If someone started to tell the truth about soft genocide, your TV screen would go to a test pattern until the thought criminal had been hauled off and gagged.
Yet people know it is true. In France, only a minority believe that Europeans are not likely to become extinct as they are displaced by massive immigration from Africa:
France | Protests erupt nationwide against domestic vaccine passport in 9th consecutive weekend@WestphalianNewshttps://t.co/hfSuJUIiD1

— Marie Oakes (@TheMarieOakes) September 12, 2021
The apparent purpose of leftist immigration policy is to eradicate Western Civilization by eradicating the people who created it — namely, Caucasians."
The Caucasian race comprises peoples derived from Europe, North Africa, the Middle-East and most of the Sub-continent of Asia / India.
So to put a finer point on the subject, it's European Caucasians — aka white people / the white race — who're being targeted for extinction.
Obviously the attack on white people is not limited to Europe, it's worldwide in scope.
The USA and Canada are a prime examples of whites being replaced by nonwhites. Any sentient being can see the process unfolding in real time and apace.
The bizarre part in all this is very few ppl in prominent positions are willing to confront the issue; they are too afraid they'll be labeled a "racist".
At the hands of their own ruling-class, whites have been browbeaten to the point where most whites would rather sacrifice their own kith and kin than be labeled a "racist".
Amazing!
Migrants in the town of Alençon, France, rioted, set fire to vehicles and attacked police and firefighters after authorities arrested a 16-year-old suspect for dealing drugs.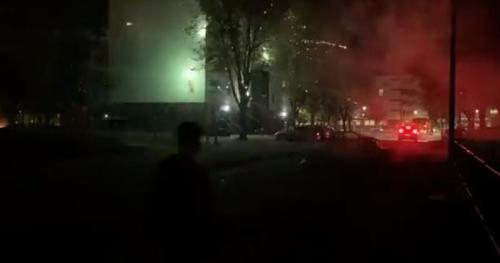 Around 20 young men hit the streets to cause chaos in response to the arrest, throwing fireworks at emergency personnel, a common tactic during migrant riots.
"We deplore this night of urban violence in Perseigne, in Alençon, in which there were a dozen vehicles set on fire," Françoise Tahéri, prefect of the Orne district, told BFMTV.
Apparently, the state has been dispersing the migrants over the whole area recently in a bid to help them "integrate" better.
That looks like it was a resounding success.
Cities and towns in France are routinely plagued by migrant riots that are sparked by violent confrontations between police and criminals.
In May last year, migrants in Paris staged unrest for multiple nights, attacking police and setting fire to vehicles in protest against the accidental death of a motorcyclist.
Some areas are so out of control that during the first COVID-19 lockdown, a top government official said restrictions shouldn't be imposed on migrant-heavy areas due to the threat of riots.
Unrest in France's notorious high crime banlieues is commonplace and a clear sign that multiculturalism has failed, although the media has repeatedly tried to frame the very existence of no-go zones as a conspiracy theory.
However, the issue is treated deadly seriously in France, with mass migration becoming a core issue for voters in the run up to next year's presidential election.
As we discuss below, a new poll found that the majority of French people fear they are being replaced by Muslim migrants and that Christianity will go 'extinct'.
Emmanuel Macron's main challenger, author Eric Zemmour, who previously called for migrant areas to be "re-conquered by force," has moved to within 5 percentage points of the president.
"Mass immigration, resignation from the state, lack of justice and abandonment of our police officers: # Alençon , it's all of this at the same time," tweeted Zemmour in response to the riots.