It is no secret that Shrillary has a rather twisted concept of democracy. But then again, there are many countries that call themselves 'democratic' that are nothing but totalitarian hell holes. Obamunism ruined America, let's not forget that.
Hillary Thinks Democracy Will "End" If Trump Wins 2024, Says U.S. Will Be Unrecognizablehttps://t.co/s8rfdMSOTE

— George Papadopoulos (@GeorgePapa19) December 13, 2021
Hillary Clinton said if President Trump wins in 2024, it 'could be the end of our democracy.' Our democracy was saved the two times the American people rejected her at the ballot box.
Previous blog entries:
Shrillary is 'responsible'- no shiite!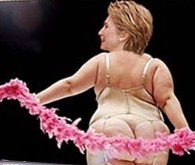 Hillary: 'I Want to Retire Trump'; 'I Feel a Sense of Responsibility'
Former Secretary of State Hillary Clinton is reconsidering her decision not to run for president again next year. Mrs. Clinton said in an interview that she feels it is her responsibility to retire Donald Trump.
"Europe is Dying" — 50,000 Polish 'Patriots' March to Save Country From "Disastrous European Union"
More than 50,000 Polish nationalists paraded on the streets of Warsaw for this year's Independence March on Monday.
Why will Poland not take in any Muslims?
We challenge a member of Poland's governing Law and Justice Party and discuss the ongoing hijab controversy in France.
Poland stands by its immigration policy.
"We don't want Poland being taken over by Muslims, Buddhists, or someone else … and no one will ever force us to take Muslims, Buddhists, non-believers in huge numbers," said Tarczynski.
Finland: Somali-Born Politician Apologizes for Faking Racist Hate Crime
He was just trying to do a little Smollet, you know… like starting a race war… and no one's thinking about firing him.
A Somali-born Social Democratic Party (SDP) politician in Finland has apologized for lying about kicking a passenger out of his taxi after the passenger allegedly hurled racist abuse at him.
Greta Thunberg Hitches [Another] Free Ride Across the Atlantic, Slams Trump
Climate activist Greta Thunberg has found a free, carbon-neutral ride back across the Atlantic, leaving U.S. shores on Wednesday with some stinging words for President Donald Trump.
Hong Kong to Close All Schools Amid Escalating Protests
Hong Kong has announced that all schools including kindergartens will be closed on Thursday as the territory faces another day of escalating unrest.