This is absolute madness.
And Facebook's constantly repeated exhortations to swallow the official narrative about the vakses is infuriating and an insult to the intelligence of anyone with critical ability.

Germany: Heringsdorf shop window sprayed with "Kauft nicht bei Ungeimpften" (translation: "Do not buy from the unvaccinated").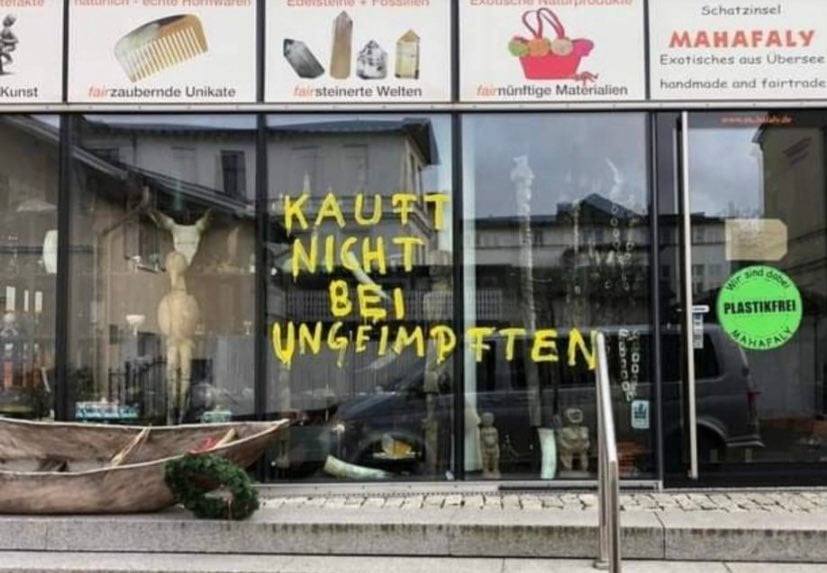 Here's a rant from  reader Josh Fielding:
.
It's safe to say after 2 years of this and 2 varients in this "pandemic" has never been about a virus or its "Variants" predicted every couple of months to 2024 and likely beyond.
.
With less than 2% infection rate of 7.9 billion humans over 2 years of exposure.
With 98% of said infected recovering within a month.
.
The remainder divided into two group's 99.94% minor symptoms and 0.6% serious symptoms.
.
With 0.6% serious symptoms risking a 0.05% chance of death.
Nor is it about a vaccine that causes blood clots, paralysis, heart attacks/ strokes, heart damage, neurological damage and death.
.
A vaccine (absent harmful and lethal effects) which works exactly like Ivermectin or Hydrochloroquine in reducing the lethality of Chinese flu aka covid 19.
.
However, unlike the vaccine, Ivermectin and Hydrochloroquine
were available at the very start and denied to patients. Like all potential 21st century medical treatments which could gave saved lives.
.
This is why this "pandemic" was never about saving human lives either.
.
When Governments, mainstream media and the medical establishment wasn't busy denying humanity potential life-saving treatments.
.
They were have remaining entirely silent on the top 10 deaths and abortion.
Causes of death which have claimed 100 million lives combined per year for over a decade.
No, what this "pandemic" has been entirely about is forcing a Totalitarianism style dictatorship upon us.
.
While simultaneously reducing humanity to the exact same status as the unborn.
Who aren't regarded as human thus unborn human children aren't entitled to;
.
Section 10(2) of the Human Rights Act 2004 says that: No-one may be subjected to medical or scientific experimentation or treatment without his or her free consent. Note: The prohibition on torture and cruel, inhuman or degrading treatment under international law apply at all times and under all circumstances.
.
Under Article 32 of the 1949 Geneva Convention IV, "mutilation and medical or scientific experiments not necessitated by the medical treatment of a protected person" are prohibited. According to Article 147, conducting biological experiments on protected persons is a grave breach of the Convention.
.
The Nuremberg Code some of the elements of the code are:
Voluntary consent is essential
Experiments should be conducted by avoiding physical/mental suffering and injury
No experiments should be conducted if it is believed to cause death/disability
.
Nor Constitution, Federal or State consensual rights.
Thus world wide 40,000,000 unborn are legally murdered per year for the last 45 years to a total of 1,800,000,000 human lives.
Which likewise are never mentioned…..
.
So the question is what will our governments be willing to do to me, you and the next generation if we surrender the exact same rights denied to the unborn?
.
The absence of said Human rights and consensual rights have enabled the most horrific and yet most celebrated genocide in human history of 1,800,000,000, human lives.
.
We are next and without our human rights and consensual rights, we are at our government tender mercies…..